Local Officials Skeptical Trump Will Talk to India Prime Minister About Citizenship Law Critics Claim Is Anti-Muslim
City officials in the United States were skeptical that President Donald Trump's visit to India would include a public conversation with Prime Minister Narendra Modi about India's citizenship law that critics argue discriminates against Muslims.
"It would send a message if he were to bring it up in public, that this is something that is a priority for the United States," Cambridge, Massachusetts, City Councilor Jivan Sobrinho-Wheeler told Newsweek.
The Citizenship Amendment Act (CAA) that fast-tracks citizenship for certain religious minorities, such as Hindus, Buddhists, Sikhs and Christians, from Afghanistan, Bangladesh and Pakistan passed India's parliament and was signed into law in December. However, the law does not include Muslims among the groups who are eligible.
Modi championed the law for alleviating the "suffering" of those persecuted, but critics argued that basing citizenship on a person's religion is unconstitutional and that excluding Muslims, who are not a minority group in the three countries but are in India, from the fast-track process serves to marginalize the religion.
To express their disapproval of the law, the Seattle and Cambridge City Councils passed resolutions opposing the policy in February. Now that Trump is in India, council members told Newsweek they hope the president capitalizes on the opportunity to call attention to the law.
"Given the fact that so many senators and congresswomen and men have probably brought it up to his administration, I think it's incumbent on a president to do that," Cambridge, Massachusetts, Mayor Sumbul Siddiqui told Newsweek.
Ahead of Trump's visit, Democratic Senators Dick Durbin and Chris Van Hollen and Republican Senators Todd Young and Lindsey Graham co-authored a letter to Secretary of State Mike Pompeo requesting a human rights assessment of the rights of religious minorities in India. The senators called the CAA one of several "troubling steps" the Indian government has taken and asked for details about how many individuals were at risk of arbitrary denial of nationality and any excessive force used against demonstrators opposing the new law.
Newsweek reached out to the White House and State Department but did not receive a response in time for publication.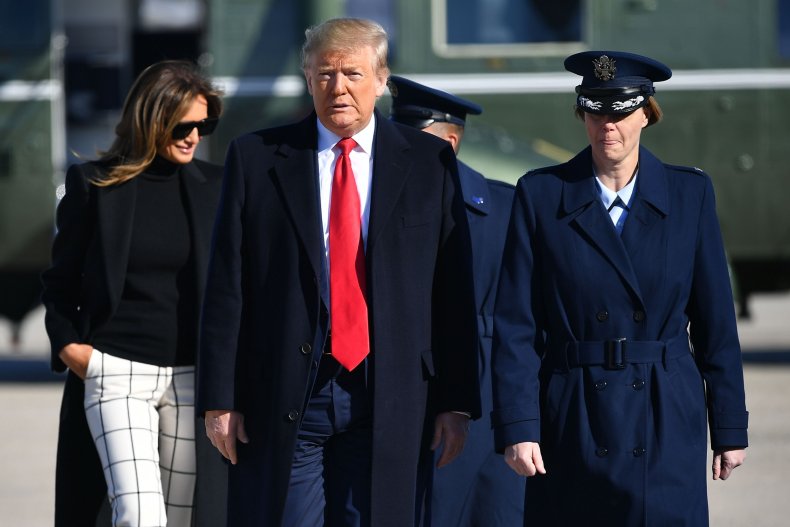 Trump is expected to raise the issue of religious freedom with Modi during his two-day visit to India on Monday and Tuesday, a senior administration official said on Friday. The official said religious freedom is "extremely important" to the Trump administration and it's likely Trump will stress to Modi that the world is "looking to India to continue to uphold its democratic traditions," including respect for religious minorities.
"I'm not sure how likely it is that he will discuss it in private but it's almost guaranteed that they're not going to have any public discussions which is ultimately what matters ... because that's what subjects you to public scrutiny," Seattle Councilmember Kshama Sawant, who introduced the city's resolution told Newsweek.
If city officials had their choice, the president would address the topic publicly while he was in India, not just during a private conversation with Modi.
According to Siddiqui, Trump commenting publicly is the "right thing to do," and would eliminate discrepancies that can arise from private conversations where people have to rely on second-hand accounts. "It's harder to square the two without a strong public statement," Sobrinho-Wheeler added.
Trump didn't mention the CAA specifically during Monday's rally but applauded India for being a democratic nation where people of varying religious backgrounds can worship side by side.
"India's a country that proudly embraces freedom, liberty, individual rights, the rule of law and the dignity of every human being," Trump said.
Nearly 600 miles from Ahmedabad, where Trump was speaking, in New Delhi, people protesting the new citizenship law clashed with police. Indian journalist Zafar Abbas told Newsweek protests have been taking place for two months and a "huge police force" was deployed to "control violence" using methods that included tear gas.
On the one hand, Siddiqui said the protests could prompt Trump to address the issue with Modi, but at the same time, she noted there are many protests in the U.S. and Trump doesn't "bat an eye."
Aside from the CAA, demonstrators also oppose the National Register of Citizens (NRC), an official record of those who are legal Indian citizens. When the final list was released in August, 1.9 million people in the Indian state of Assam found their names were left off it, the BBC reported, and were given 120 days to appeal their exclusion.
Critics of the NRC and CAA fear the two policies could be used in conjunction to deem Indian Muslims illegal immigration if they can't provide adequate proof of citizenship, according to India Today.
If Trump and Modi don't discuss the citizenship law, as Sawant expects to be the case, she said the strength of the protest movement would keep the issue in the limelight after the president leaves India. "It's going to be inevitable that the media will keep asking about it," she predicted.
While city officials hoped Trump would broach the topic with Modi, they claimed the travel restrictions enforced by the president's administration that prevent residents from some Muslim-majority countries from entering the U.S. hurt his credibility.
In January, Trump expanded his controversial travel restrictions to include suspending immigrant visas to citizens of Nigeria, Myanmar, Eritrea and Kyrgyzstan and barring people from Sudan and Tanzania from the diversity visa program.
After a battle in the Supreme Court, a version of Trump's initial order was allowed to go into effect that restricted entry of some citizens from Iran, Libya, Somalia, Syria, Yemen, Venezuela and North Korea. The order faced heavy backlash for targeting Muslims, but the administration has remained resolute that it's the product of legitimate security concerns, not religious or racial bias.
Even if Trump does bring up the CAA with Modi, officials were skeptical the issue would be addressed in any significant way or produce meaningful results.
"I don't think Trump saying a few magic words would change policy in India," Sobrinho-Wheeler said.