Seattle Capitol Hill Autonomous Zone Drone Footage Shows Protesters Created Giant Black Lives Matter Mural
Aerial footage from the Seattle Capitol Hill Autonomous Zone (CHAZ) shows artists have created a large Black Lives Matter mural reportedly spanning the length of an entire block.
The giant mural painted in the area occupied by protesters stretches between 10th and 11th Avenue along East Pine Street, according to local media reports.
Footage and pictures of the artwork posted on social media show that the mural simply reads: "BLACK LIVES MATTER."
The originally plain white letters are now individually distinct after local artists painted unique designs and patterns on each of them.
Posting aerial footage of the mural on social media, the photographer Kyle Kotajarvi said: "A masterpiece was created in the Capitol Hill Autonomous Zone today #BlackLivesMatter #CHAZ."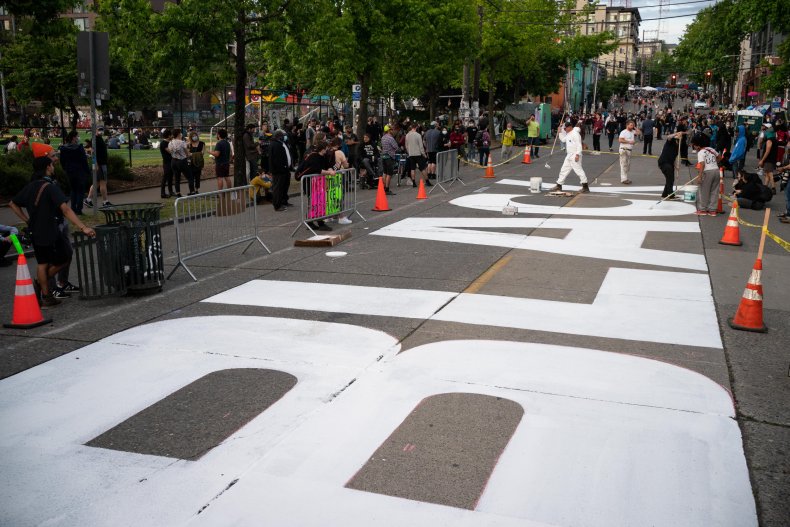 At the end of his footage, it could also be seen that crosswalks had been given a rainbow coloring, with the initials "BLM" painted over the top in white.
Further pictures posted on Twitter by the KIRO 7 reporter Deedee Sun showed more murals painted in the Seattle Capitol Hill Autonomous Zone, also known as the CHAZ.
Among the protest artwork were calls for police to be abolished, amnesty to be offered to all protesters, and tributes to George Floyd.
"Ninety percent of the artists are Black, and the rest are people of color," one organizer told The Seattle Times. "I mean, this is a Black Lives Matter mural. It should be painted by people of color."
The anonymous organizer also told the local newspaper that funding for the giant mural on East Pine Street had been paid for through donations.
Newsweek has contacted local organizers for further comment and details.
Protesters in Seattle occupied the CHAZ area—which covers roughly six blocks around the Seattle Capitol Hill area—after officers in the Seattle Police Department's East Precinct boarded up the building and left.
Uniformed police officers are not patrolling the area, but are still handling emergency calls from the city district. A sign above their precinct building now reads: "Seattle People Department East Precinct."
Responding to the occupation of the area in a statement, Seattle Mayor Jenny Durkan said: "The City is committed to creating a safe space for peaceful demonstrations, and will also take steps to minimize property damage or potential injuries."
President Donald Trump signaled that he was less willing to allow the peaceful protest to be observed, calling demonstrators "domestic terrorists" earlier this week.
Posting on social media on Thursday, he said: "Domestic Terrorists have taken over Seattle, run by Radical Left Democrats, of course. LAW & ORDER!"
The president also warned Washington Gov. Jay Inslee and Seattle Mayor Durkan that he would "take back" the city if they did not step in and break up the demonstration.
"Radical Left Governor Jay Inslee and the Mayor of Seattle are being taunted and played at a level that our great Country has never seen before," Trump tweeted. "Take back your city NOW. If you don't do it, I will. This is not a game. These ugly Anarchists must be stopped IMMEDIATELY. MOVE FAST!"