After officers left Seattle Police Department's East Precinct and boarded the building up amid demonstrations, protesters quickly began occupying the surrounding area.
Spanning around six city blocks, this space has been named the Capitol Hill Autonomous Zone, or CHAZ.
The sign above the station's door has been reworked with spray paint to read "Seattle People's Department East Precinct," while a banner reads: "This space is now property of the people."
Photos have shown barriers around the area, with suggestions those occupying the area are monitoring who goes in and out.
The situation in Seattle has caught the attention of President Donald Trump, who wrote on Twitter: "Domestic Terrorists have taken over Seattle, run by Radical Left Democrats, of course. LAW & ORDER!"
He has also suggested he could intervene in the city, after criticizing its mayor, Jenny Durkan, and Washington Governor Jay Inslee.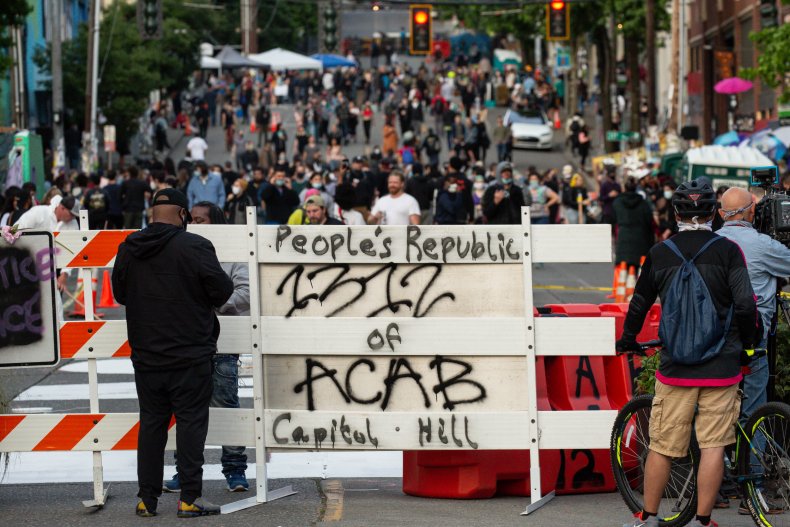 What is happening in the area?
A large group of protesters is within the zone. While uniformed police are not patrolling the area, officers are responding to 911 calls and emergencies, according to the department's Assistant Chief Deanna Nollette.
Speeches and discussions have been hosted within the area, with a people's assembly having gathered to discuss the situation.
The event held on June 10 was described as: "Open to everyone who wants to talk about life in the new autonomous zone, everyone who positions themselves for Black lives and against the police."
There were said to be "no leaders or managers," as people were asked to attend to express what they wanted to see happen.
As well as this there have been performances in the zone, with bands and poetic readings.
There have also been screenings of films, including the documentary 13th, Ava DuVernay's documentary addressing systemic racism within the prison system.
This caught the attention of DuVernay herself who tweeted: "Blessings and bravery to all the good people at #CHAZ tonight. Onward. xo."
Others in attendance spoke of food being handed out, as well as a medical tent set up to assist anyone who should need such attention.
Calls have been made online for those able to donate to such efforts within the zone, including calls for help in setting up rest areas to allow those remaining for longer periods to recuperate.
Amid these reports, Seattle Police Department has suggested there have been more sinister situations occur within the zone.
Nollette said the decision was made to vacate the East Precinct after threats the building would be set on fire.
In a news conference, she said community members have told police they have been subjected to barricades run by "armed individuals running them as checkpoints into the neighborhood."
She said while Washington is an open-carry state and there is a constitutional right to bear arms, "there is no legal right for those arms to be used to intimidate community members."
"No one at these checkpoints has the legal authority to demand identification from anyone," she said.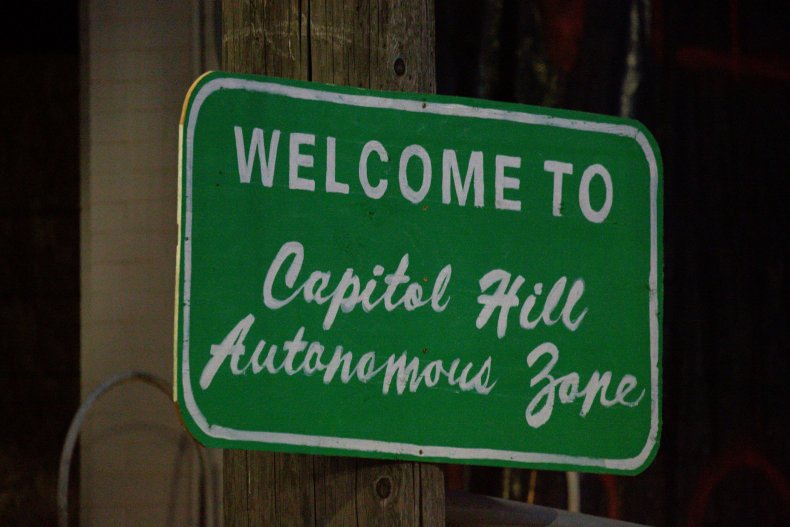 "We ask if anyone is subjected to these demands that they call 911 and report the incident."
Nollette also suggested there have been acts of extortion in the area.
"We have heard anecdotally reports of citizens and businesses being asked to pay a fee to operate within this area, this is the crime of extortion," she said, again urging people to call 911.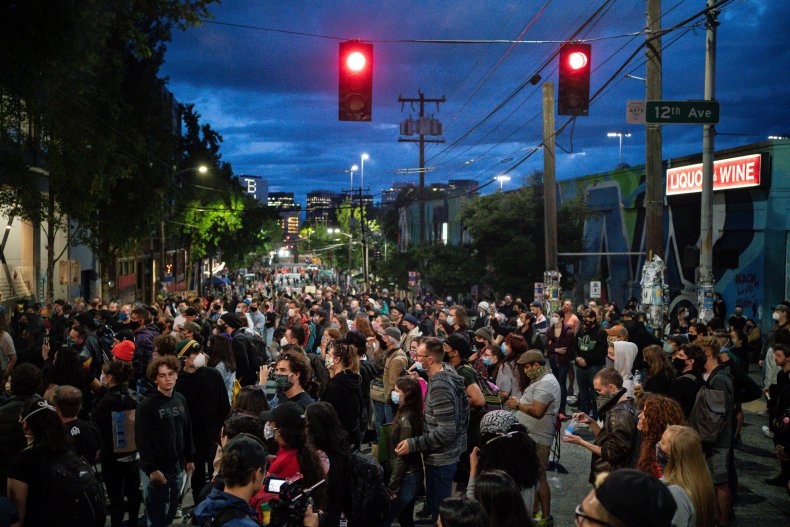 However, protesters have rejected claims of such activity, with one named Raz Simone telling KOMO News: "Definitely no extortion, definitely nothing of that.
"We've invited people to come in."
There have also been videos shared of people walking freely in and out of the zone. Images, however, have shown some of those in attendance are armed.
Newsweek has contacted several attendees of the CHAZ as well as the Seattle Police Department for comment.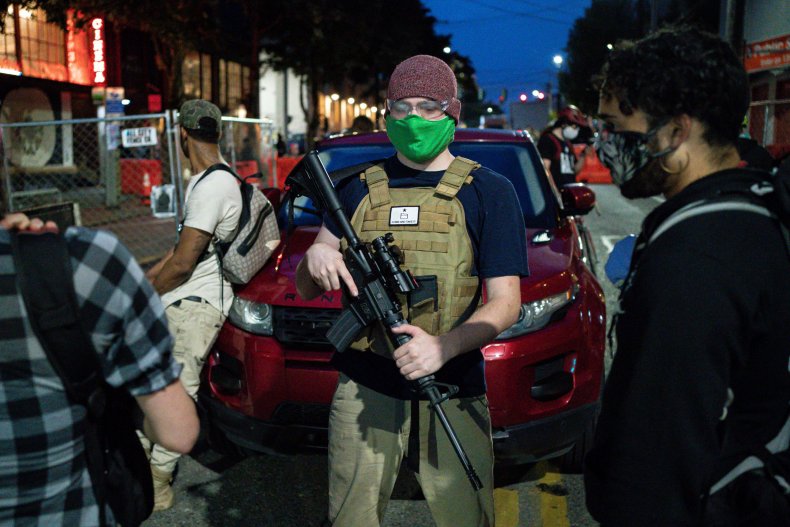 What do the protesters want?
Those gathered have raised a range of issues, largely focused around police reform.
In demands, they have echoed messages to "defund the police," which have risen amid widespread protests following the killing of George Floyd, who died after an officer put his knee on his neck while arresting him. Some calls have gone further, asking for the abolition of the police department in Seattle.
A list of demands was released under the banner "Free Capitol Hill," with the title: "THE DEMANDS OF THE COLLECTIVE BLACK VOICES AT FREE CAPITOL HILL TO THE GOVERNMENT OF SEATTLE, WASHINGTON."
It read: "This is no simple request to end police brutality. We demand that the City Council and the Mayor, whoever that may be, implement these policy changes for the cultural and historic advancement of the City of Seattle, and to ease the struggles of its people."
These demands were broken down into four areas looking at changes to the justice system, economic changes, health and human services, as well as moves for education reform.
On the police, it said: "The Seattle Police Department and attached court system are beyond reform. We do not request reform, we demand abolition. We demand that the Seattle Council and the Mayor defund and abolish the Seattle Police Department and the attached Criminal Justice Apparatus. This means 100% of funding, including existing pensions for Seattle Police. At an equal level of priority we also demand that the city disallow the operations of ICE in the city of Seattle."
It said that in a transition period, the use of armed force should be banned entirely. There are also calls for youth jails to be abolished, an investigation from the federal government into police brutality in Seattle, and for the funding to be redistributed into areas such as housing and healthcare.
Economically, the demands called for rent control and "the de-gentrification of Seattle."
Free college education was also asked for "due to the overwhelming effect that education has on economic success, and the correlated overwhelming impact of poverty on people of color, as a form of reparations for the treatment of Black people in this state and country."
On health, the document called for medical and care facilities to employ black doctors and nurses "specifically to help care for black patients."
It also stated there should be a system manned by mental health experts "to respond to 911 calls pertaining to mental health crises, and insist that all involved in such a program be put through thorough, rigorous training in conflict de-escalation."
The commitment to these issues though may vary among protesters, with attendees having made it clear there is no central organizing body or leadership. Police have spoken of not knowing who is leading the zone.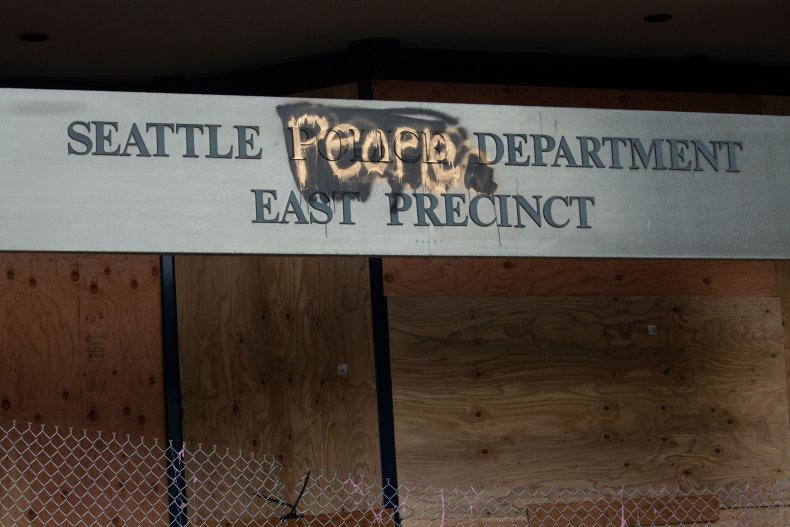 In regards to suggestions of police funds being reallocated, Teresa Mosqueda, Seattle city council member and chair of the council's select budget committee, previously spoke of a commitment to reallocating funds from the police department in order to move money to community-based initiatives.
"I commit to defunding the Seattle Police Department to reinvest in community-based public safety programs and solutions. We must first do a thorough, transparent deep dive into the Seattle Police Department's funding. The police department's $400 million-plus budget for too long has been a black box, a lack of information on where that money is going, as often departments will only share details with Mayoral approval. The budget is a reflection of the City's values and priorities, and must be in alignment with our constituents' needs, not an austerity budget that does not address these unprecedented times," she said.
Newsweek has contacted Seattle City Council for comment.
Will police take the area back?
Authorities in Seattle have expressed a desire to allow peaceful protests in the city to be facilitated.
A statement from the office of Seattle Mayor Jenny Durkan said: "The City is committed to creating a safe space for peaceful demonstrations, and will also take steps to minimize property damage or potential injuries."
The evacuation of the East Precinct was for safety reasons, according to Assistant Chief Deanna Nollette, due to concerns it could be set on fire, posing a risk to those who would respond and people in the vicinity.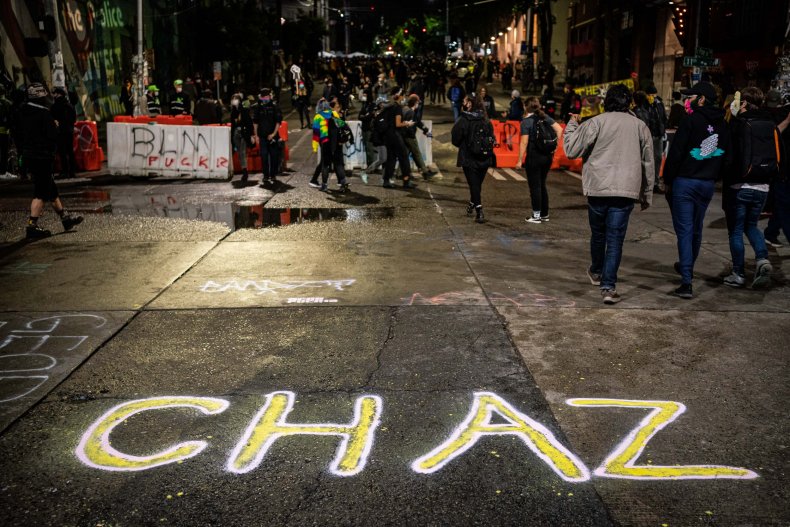 In the same conference on Wednesday where she shared alleged issues of exploitation in the zone, she spoke of her desire for the East Precinct to be taken back by officers.
"We would like to be able to return to the police precinct to our normal operations. This would improve our response times and our capabilities within the neighborhood. It would allow our detectives to return and to work the criminal investigation cases they are working," she said.
"We need to formulate a plan where we could achieve that while providing for public safety."
On the topic of police reform, she said: "We feel incredibly strongly as a department that what happened to George Floyd was wrong and it was a crime. We fully support efforts to improve police accountability and to work towards improved racial equity.
"We are dedicated to working with peaceful protesters to figure out a way to move forward. We can only move forward if we can speak with one another in an atmosphere of safety and trust."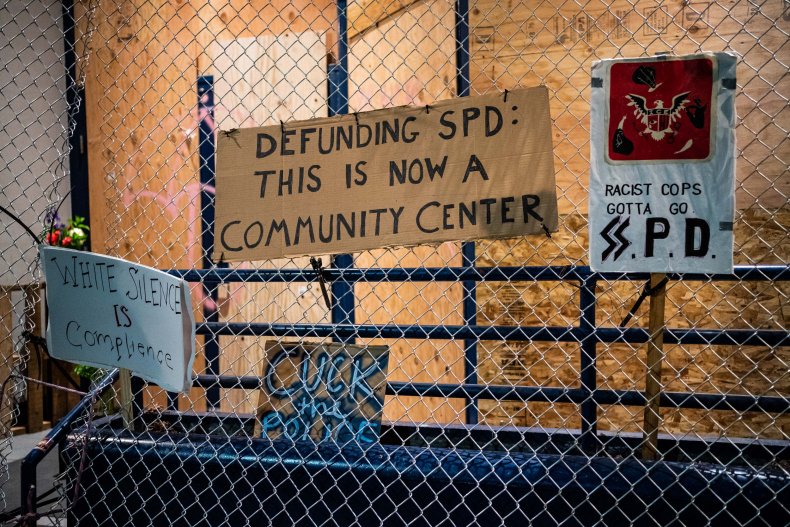 Asked about the CHAZ being legal and if people can legally stop others entering, she said: "It is not legal, however, in an effort to try to cooperate and collaborate and move forward peacefully, we're trying to get a dialogue going so that we can figure out the way to resolve this without unduly impacting the citizens and businesses that are operating in that area."
Newsweek has contacted Mayor Durkan and Gov. Inslee to ask for comment on CHAZ.