Seattle Mayor Tells Trump 'Go Back to Your Bunker' After President Tells Her to 'Take Back' City From Protesters
President Donald Trump has been told "go back to your bunker" by Mayor of Seattle Jenny Durkan after urging her to "take back" the city amid ongoing protests.
Trump said Durkan and Washington Governor Jay Inslee were "being taunted and played at a level that our great Country has never seen before."
He renewed his suggestions "anarchists" were behind the unrest, as well as stating he could intervene should the situation not be dealt with to his liking. He previously said he would look to send in troops to areas he deemed necessary.
In a tweet mentioning Inslee and the mayor of Seattle, but not Durkan by name, he said: "Take back your city NOW. If you don't do it, I will. This is not a game. These ugly Anarchists must be stooped IMMEDIATELY. MOVE FAST!"
He said in a subsequent post: "Domestic Terrorists have taken over Seattle, run by Radical Left Democrats, of course. LAW & ORDER!"
Responding to his first comments, Durkan recalled a situation in which Trump is said to have been taken down to the White House bunker amid protests surrounding the building. Trump had denied he visited the bunker for safety reasons, stating he had gone down to inspect it. Attorney General William Barr later said the Secret Service had recommended the president go down due to the situation.
"Make us all safe. Go back to your bunker," Durkan wrote, alongside #BlackLivesMatter, to Trump's take back your city tweet.
Inslee also replied to Trump's comments, urging him to not intervene in Washington.
"A man who is totally incapable of governing should stay out of Washington state's business," he wrote.
Inslee also noted a typo in Trump's tweet, where he said anarchists must be "stooped," adding: ""Stoop" tweeting."
Newsweek has contacted Durkan, Inslee and the White House for comment.
The president's comments come amid reports a section of Seattle has been occupied by protesters and named the "Capitol Hill Autonomous Zone" or "CHAZ."
This area, around the size of six city blocks, was formed after Seattle Police Department vacated its East Precinct amid the protests.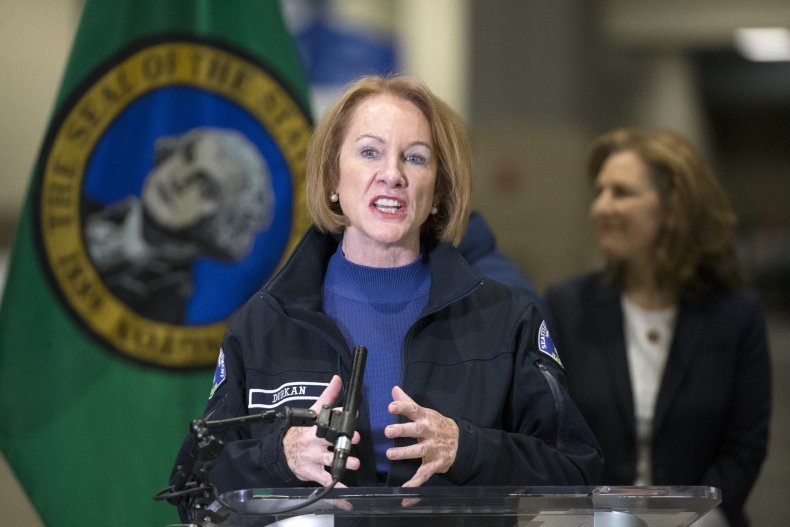 Police have said they are having discussions with protesters in regards to reopening the precinct.
Trump's comments come amid widespread protests across the U.S. following the killing of George Floyd, who died after a police officer put his knee on his neck while arresting him in Minneapolis.
Trump has previously claimed far-left groups are behind scenes of violence amid the protests, with Barr also having suggested the gatherings were hijacked by people with ulterior motives.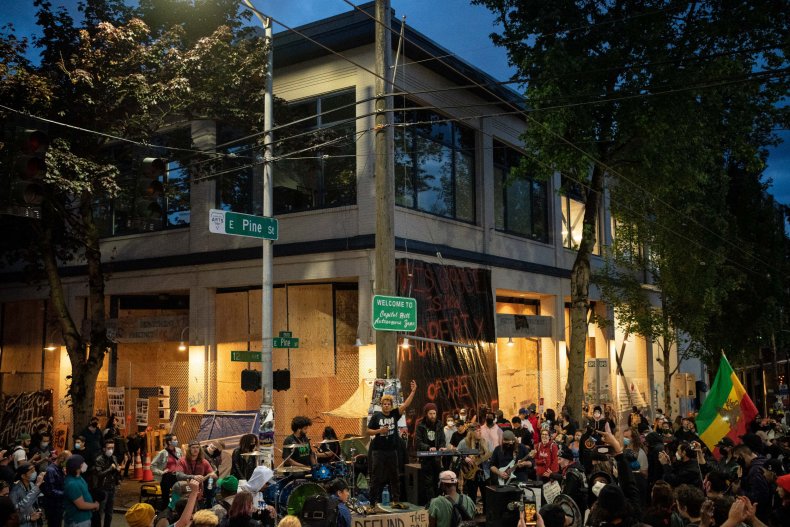 The president previously spoke of deploying troops to areas amid the unrest, unless scenes were quelled, urging governors to "dominate the streets" with law enforcement and to deploy the national guard.
This suggestion met with push back from governors, while former military officials and diplomats urged for troops not to be used against protests.