More Than 280 Former Military Officials, Diplomats Call on Donald Trump Not to Use Troops Against Protests
More than 280 retired foreign service and military officials released a letter to President Donald Trump Friday saying they were "alarmed by calls from the President and some political leaders for the use of U.S. military personnel to end legitimate protests in cities and towns across America."
"There is no role for the U.S. military in dealing with American citizens exercising their constitutional right to free speech, however uncomfortable that speech may be for some," the letter, drafted by former U.S. ambassadors Doug Silliman and Deborah McCarthy as well as career diplomat Thomas M. Countryman, said.
The message came days after Trump's announcement that he sought to invoke the 1807 Insurrection Act to deploy the U.S. military to quell nationwide demonstrations that erupted in the wake of the killing of George Floyd, a black man, under Minneapolis police custody. Trump's military threat prompted a major backlash calling for him to walk back from his threat to deploy troops against protesters demanding law enforcement reform across the United States.
The authors of Friday's letter specifically expressed concern toward reports of U.S. forces in the capital using low-flying helicopters to disperse protesters and striking images of service members deployed in large numbers to the steps of the Lincoln Memorial. The letter also condemned Trump's use of the terms "thugs" and "terrorists" to describe the sometimes violent rallies that the president claims have been infiltrated by leftist antifa and anarchist elements.
"The deployment of military forces against American citizens exercising their constitutional rights will not heal the divides in our society," the letter said. "Ultimately, the issues that have driven the protests cannot be addressed by our military. They must be resolved through political processes."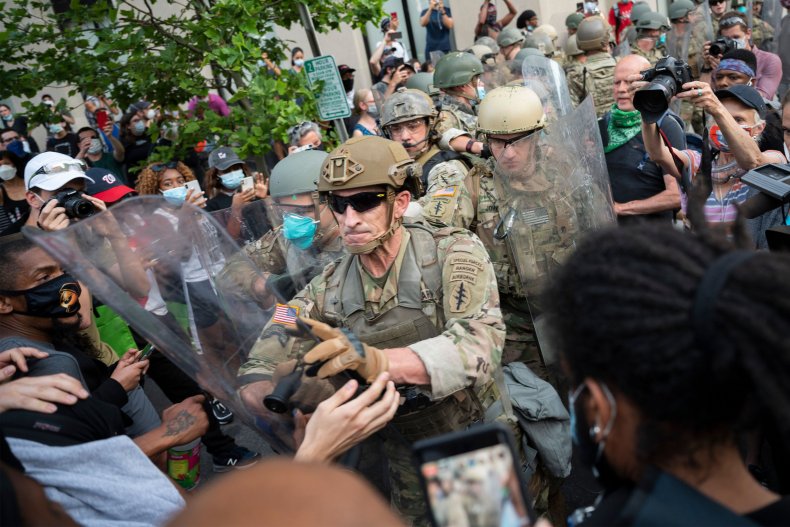 The number of former officials coming out against Trump's hardline approach to end the civil unrest across the country has increased in recent days. After Trump's Secretary of Defense Mark Esper publicly expressed his opposition to invoking the Insurrection Act on Tuesday, his predecessor James Mattis issued a scathing rebuke of the president's actions in a statement published Wednesday by The Atlantic.
The retired Marine general, who resigned in protest of Trump's policies last year, said he was "angry and appalled" as he witnessed how recent events unfolded throughout the country.
"Donald Trump is the first president in my lifetime who does not try to unite the American people—does not even pretend to try. Instead he tries to divide us," Mattis wrote. "We are witnessing the consequences of three years of this deliberate effort. We are witnessing the consequences of three years without mature leadership."
Responding to Mattis' remarks, former White House Chief of Staff John Kelly told ex-White House Communications Director Anthony Scaramucci on Friday, "I agree with him."
"He's quite a man, General Jim Mattis, and for him to do that tells you where he is relative to the concern he has for our country," Kelly, himself a retired Marine general who previously served as Trump's head of Homeland Security, said.
Kelly said he thought "the partisanship has gotten out of hand" and that "we need to look harder at who we elect," examining their "character" and "ethics" among other qualities, Trump hit back at both Kelly and Mattis on Twitter, but their remarks came a day after other esteemed military officials joined the fray.
In a statement sent to Politico, former Defense Secretary William Perry, who served from 1994 to 1997, said that it "is both wrong and dangerous to threaten to deploy American soldiers against American citizens unless there is a complete breakdown of law and order in a state and the governor requests that assistance. And yet President Trump has repeatedly threatened to do just that against demonstrators, the vast majority of whom are peacefully exercising their constitutional rights for the redress of very real grievances."
Retired Marine General John Allen, who served as the special presidential envoy to the U.S.-led coalition in 2014 and 2015, against the Islamic State militant group (ISIS) went as far as to say that Trump's domestic military actions "may well signal the beginning of the end of the American experiment."
Retired Army General Martin Dempsey, former Joint Chiefs of Staff Chair in 2011, told NPR that the widespread protests at been mostly peaceful and even despite the occasional outbreaks of violence, the idea "the idea that the president would take charge of the situation using the military was troubling to me." He warned bringing in troops to restore order could be "very dangerous."
His predecessor, retired Navy Admiral Mike Mullen, said he was "sickened" by Trump's use of the National Guard to disperse protesters blocking the president's path to nearby St. John's Church in an article published Tuesday by The Atlantic. He warned against "an overly aggressive use of our military, active duty or National Guard" to disrupt the right to peaceful protest.
Mattis, Perry, Dempsey, Mullen, Allen and the over 280 former national security officials who signed Friday's letter also all took exception to Esper's use of the term "dominate the battlespace" to refer to the U.S. streets that incensed citizens have swarmed to in a collective outcry against systematic racism and police brutality. The term also shocked former Special Operations commander Army General Raymond Thomas.
"The 'battle space' of America??? Not what America needs to hear...ever, unless we are invaded by an adversary or experience a constitutional failure...ie a Civil War..." he tweeted Monday.
While some elected officials such as Republican Senator Tom Cotton of Arkansas have called for even tougher military measures to deal with the demonstrations, other such as DC Mayor Muriel Browser have pushed back. Bowser, a Democrat, wrote a letter to Trump calling for him to withdraw extraordinary federal personnel from the capital and threatening to expel them if he did not.
Trump hit back on Twitter: "The incompetent Mayor of Washington, D.C., @MayorBowser, who's budget is totally out of control and is constantly coming back to us for "handouts", is now fighting with the National Guard, who saved her from great embarrassment......over the last number of nights. If she doesn't treat these men and women well, then we'll bring in a different group of men and women!"
The White House did not immediately respond to Newsweek's request for comment.