Trump Says Antifa and Radical-Left Criminals Are Behind Violence, Vows to Stop Mobs
President Donald Trump said far-left groups, including radicals from Antifa, were inciting unrest across the United States and dishonoring the memory of George Floyd, the black man who died in police custody on Monday.
Trump, who was in Florida for the launch of the first space flight from American soil in a decade, began by saying he had spoken to the family of Floyd, and expressed the "sorrow of our entire nation."
"The memory of George Floyd is being dishonored by rioters, looters and anarchists. The violence and vandalism is being led by Antifa and other radical left-wing groups who are terrorizing the innocent, destroying jobs, hurting business and burning down buildings. The main victims of this horrible, horrible situation are the citizens who live in these once lovely communities," the president said.
"Right now, America needs creation, not destruction. Cooperation, not contempt. Security, not anarchy, and there will be no anarchy," he added.
Trump also had praise for "the overwhelming majority of police officers," and said that officers were upset about "the small handful who failed to abide by their oath to serve and protect." He also promised to stop "mob violence."
"Radical-left criminals, thugs and others all throughout our country and throughout the world will not be allowed to set communities ablaze. We won't let it happen. It harms those who have the least. And we will be protecting those who have the least," the president said, adding that the Justice Department had been in coordination with local law enforcement across the country.
"In America, justice is never achieved by the hands of an angry mob. I will not allow angry mobs to dominate—won't happen. It is essential that we protect the crown jewel of American democracy, the rule of law and our independent system of justice," he added.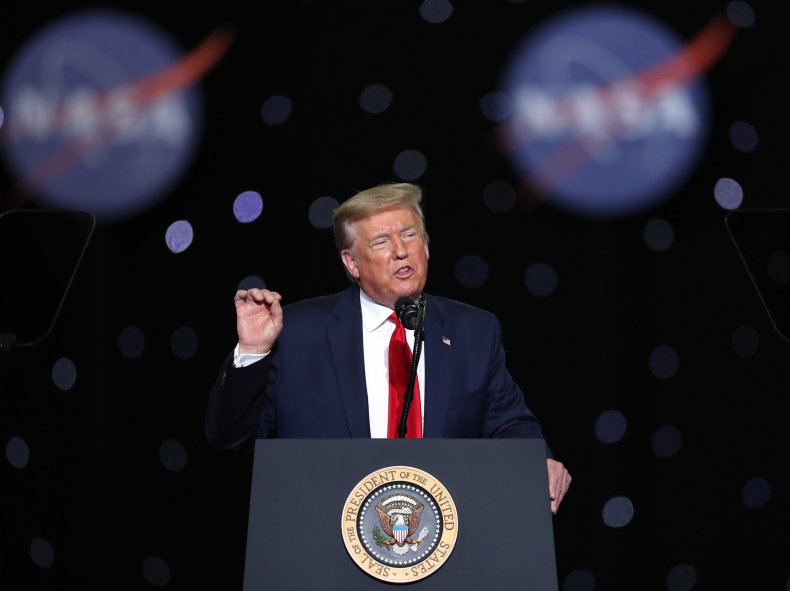 U.S. Attorney General William Barr also pinned the blame on far-left groups in a brief statement on Saturday.
"In many places it appears the violence is planned, organized and driven by anarchic and far-left extremist groups using Antifa-like tactics, many of whom travel from outside the state to promote the violence," Barr said.
Antifa is a loosely defined left-wing movement. The movement takes its name from a shortening of "anti-fascist," and is not one organization, but a network comprised of different groups that oppose neo-Nazis, fascism and white supremacy. Critics, like Sen. Ted Cruz (R-Texas) have called Antifa a "left-wing anarchist terrorist organization that routinely relies on violence to intimidate and punish its political opponents."
In July 2019, Trump said he wanted the government to classify Antifa as a terrorist organization.
"Consideration is being given to declaring ANTIFA, the gutless Radical Left Wack Jobs who go around hitting (only non-fighters) people over the heads with baseball bats, a major Organization of Terror (along with MS-13 & others)," the president tweeted at the time. "Would make it easier for police to do their job!"
Floyd died during an arrest Monday, and was the subject of a viral video appearing to show former Minneapolis police officer Derek Chauvin kneeling on Floyd's neck. Floyd can be heard in the video telling the officers that he cannot breathe.
The videos led to protests over the last four days, and the protests have led to unrest and vandalism across the United States. On Friday night, the mayor of Minneapolis instituted an 8 p.m. curfew, which is expected to be lifted on Sunday.
In Atlanta, protesters broke windows and sprayed graffiti at the CNN Center, the headquarters of the cable news channel.
Meanwhile in New York, protests turned violent, with demonstrators reportedly throwing bricks and police pepper spraying the crowd. And in Louisville, Kentucky—where protests also focused on the police killing of Breonna Taylor—police shot pepper balls at a reporter on live TV.