Clashes in New York, Atlanta, LA, Curfew in Minneapolis as George Floyd Unrest Sweeps Nation
Protests around the killing of George Floyd intensified and continued to spread across the country on Friday, with at curfews being issued in Minnesota after several demonstrations turned violent.
An 8 p.m. curfew was put in effect in anticipation of further violent protests in Minneapolis, Minnesota, where Floyd died Monday. A video circulated after his death appearing to show Floyd pinned to the ground by police who ignored his pleas for help. Curfews were also in place in St. Paul and neighboring suburbs, while the National Guard was also deployed in an attempt to control crowds. Protesters continued to march through the city despite the measures, although more dramatic scenes emerged in other locations throughout the country.
In Atlanta, Georgia, protesters broke windows and sprayed graffiti on the walls of CNN's headquarters during a protest on Friday night. Vandals also reportedly targeted police cars, breaking windows and setting some of the cars on fire. Police deployed SWAT teams and used tear gas and rubber bullets to control the crowd. At least seven people were arrested, according to CNN.
Authorities in Charlotte, North Carolina said a protest there resulted in "several arrests for property damage." Police also denied using any "chemical agents" on the crowd in a twitter post, despite multiple videos on the social media platform appearing to show officers dispersing some type of gas.
A protest in New York City's Brooklyn borough was said to be peaceful at first before turning violent, with some demonstrators reportedly throwing bricks while police used pepper spray and physically tackled some of the crowd. Protests were also reported in several other areas of the city. On Thursday night, over 70 people were arrested after a demonstration erupted into chaos in Manhattan's Union Square.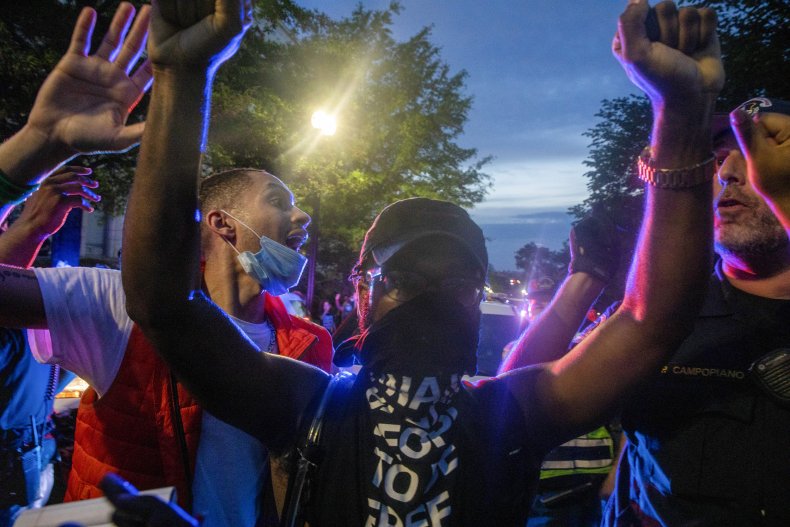 Protesters in downtown Los Angeles, California reportedly blocked the busy 110 Freeway on Friday night, after a different freeway was blocked in a protest the previous day. One fight was reported but no arrests had been made as of 7:30 p.m., according to The Los Angeles Times.
In Northern California, protesters in San Jose blocked the 101 Freeway, before reportedly smashing windows of some of the stopped cars. Riot police reportedly fired tear gas and flash grenades into crowds of protesters, who had also gathered outside San Jose City Hall.
The Secret Service assisted local law enforcement in Washington, D.C. after protesters gathered outside the White House to chant "I can't breathe" and call for the resignation of President Donald Trump. The White House was temporarily locked down as a precaution.
In an early Friday tweet that Twitter later restricted for violating rules against "glorifying violence," Trump had called protesters "THUGS [who are] dishonoring the memory of George Floyd," warning that "when the looting starts, the shooting starts."
Police shot pepper balls at a reporter covering a protest in Louisville, Kentucky during a live broadcast. Floyd was not the sole focus of the Louisville protest, which primarily called for justice in the killing of Breonna Taylor, an EMT who was shot dead by Louisville police after they entered her home in March.
Additional protests featuring violent clashes with police were reported in locations throughout the country, including in Des Moines, Iowa and Denver, Colorado. Peaceful demonstrations were reported in several more locations, like Memphis, Tennessee and Jackson, Mississippi. Further protests are planned to take place in multiple locations over the weekend.
Earlier on Friday, Minnesota authorities arrested former police officer Derek Chauvin for murder and manslaughter. Chauvin, who had been fired on Tuesday along with three other officers, was seen in the viral video that brought the case to national attention, his knee placed on the neck of Floyd for several minutes until he lost consciousness and died.
On Thursday, Floyd's family urged protesters to remain peaceful, according to a statement from attorney Benjamin Crump, who represents the family.
"They told me they want peace in Minneapolis, but they know that Black people want peace in their souls and that until we get #JusticeForFloyd there will be no peace," Crump said. "We also cannot sink to the level of our oppressors and we cannot endanger each other as we respond to the necessary urge to raise our voices in unison and in outrage. Looting and violence distract from the strength of our collective voice."
Newsweek reached out to Crump for additional comment. This article will be updated with any response.