Protesters Want Seattle De-gentrified—This is How It Could Happen
For more than a week, protesters against police brutality and racial injustice have occupied a six-block stretch of a Seattle neighborhood and turned it into a festive hub for their demonstrations.
They named it the Capitol Hill Autonomous Zone, or CHAZ, since renamed the Capitol Hill Occupied Protest (CHOP), after police withdrew from a police station in the neighborhood after clashing with protesters.
Since then, the protesters—who come from a variety of groups and interests— have formed a movement known as Free Capitol Hill and demanded broad reforms, including to the criminal justice system and healthcare. Also among their list of demands is a call for the "de-gentrification of Seattle, starting with rent control."
But why are protesters calling for the city's gentrification—where the character of neighborhoods is changed with an influx of affluent residents and businesses—to be reversed?
Over the past two decades, the city has experienced a construction boom as companies like Amazon added tens of thousands of workers and other tech giants, including Google and Facebook, expanded operations.
But competition for scarce housing and rising rents has led to many being forced out of their homes.
Gentrification is 'ripping the soul' out of neighborhoods
Seattle City Council Member Kshama Sawant explained to Newsweek that the influx of corporations has made the city richer in recent years, but caused rent and housing costs to soar for many of the city's working class residents.
"Rents have skyrocketed so much that ordinary people, working people, and also small businesses have been increasingly pushed out of the city because they can't afford to live here anymore," Sawant said.
Those who have managed to maintain a foothold in the city are paying unsustainable rents, she said.
Christoper Persons, the CEO of affordable housing provider Capitol Hill Housing, which this week rebranded itself as Community Roots Housing, agreed. "People are being forced to leave neighborhoods where they've lived all their lives just because somebody else can pay more for that apartment," he told Newsweek.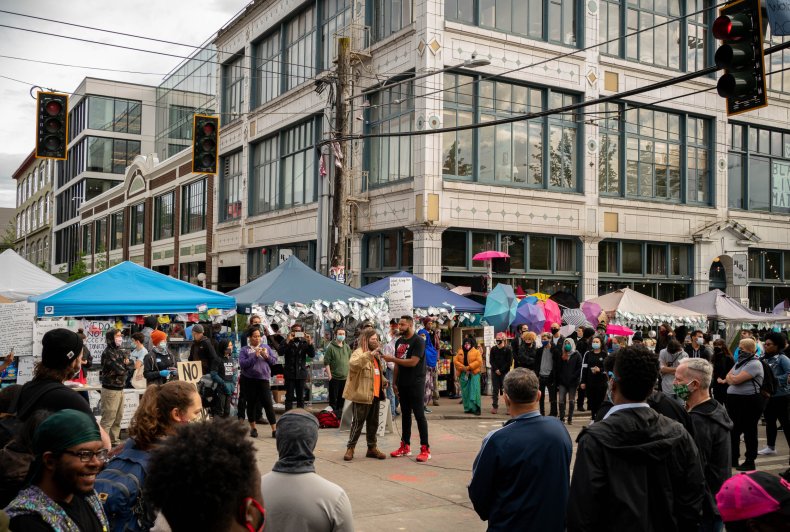 Washington House Rep. Nicole Macri, who represents the district where Capitol Hill is located, added that Seattle has some of the highest housing costs of any U.S. city.
Between 2010 and 2018, rents in the Greater Seattle area rose by 69 per cent, according to The Seattle Times.
Macri said her constituents have been pushing for policies to stabilize rent prices for a long time. "The rent is too high for too many people, and the majority of evictions are due to inability to pay rent," she said.
Omari Salisbury, a citizen journalist and affordable housing advocate who has been documenting Seattle's anti-racism protests, told Newsweek that he knows people who were paying $750 to $1,000 in rent a few years ago who are now having to pay up to $3,000 every month.
Bobby Stills, 38, who has lived in his apartment in Capitol Hill for 13 years, said his rent dropped sharply after his apartment was bought by Capitol Hill Housing.
But he said some of his friends have seen their rent rise by up to 60 per cent over the past seven or eight years simply because their neighbourhoods have "become popular."
Stills added that gentrification was "ripping the soul" out of neighborhoods like his and others like Seattle's historically African American Central District.
"Capitol Hill was a gay neighborhood when I first moved here and it was a hub for arts and culture," he said. "Now it's been turned into every other cut-copy-paste neighborhood like Williamsburg... you have these businesses, these larger companies come in, and they're ripping the soul of what made this neighborhood great."
He added: "It's disgusting the way that the people who made the city so much fun are being almost punished for making their city cool because now they're not cool enough to live here."
And the brunt of the housing affordability crisis is "borne disproportionately by working class communities of colour and very poor people," Sawant says.
Macri noted that in Washington's King County, where Seattle is located, 70 percent of black households are renters, compared to only 30 per cent of white households.
"This disparity is not accidental. It also means Black families are more likely to see their housing costs increase, and to be evicted from their homes," she said.
The black community was 'ran out of town'

For Seattle's African American community, housing discrimination is not new.
Decades of systemic racism and disinvestment, including redlining that forced African Americans into specific neighborhoods, have left communities of color and those with low incomes most vulnerable to displacement.
K. Wyking Garrett, the president and CEO of the Africatown Community Land Trust, told Newsweek that his family have lived in the Central District for three generations.
His grandfather migrated West in the 1940s from Alabama and Kansas, where harsh Jim Crow laws enforced racial segregation— only to find racially restrictive covenants meant he could only live in certain areas of the city.
Garrett noted that William Grose, a pioneer who was Seattle's second black resident, had bought a dozen acres of land in the area now known as the Central District and sold them to African Americans in the late 19th century because they were not able to purchases homes elsewhere.
And the practice of racially restrictive covenants continued for decades.
Such covenants are "the reason for the ghetto," Quintard Taylor Jr., a professor of American History at the University of Washington previously told The Seattle Times. "In Seattle, blacks and Asians were restricted to the areas not covered by restrictive covenants. They got what was left over, often the least-desirable parts of the city."
Aviation pioneer William Boeing used racial covenants to enforce segregation in Seattle in the 1930s and 1940s.
Boeing and his wife Bertha set aside a large amount of land they owned north of Seattle's city limits for subdivision, but they placed racially restrictive covenants on the land to prohibit anyone who wasn't white from buying or leasing them, Dorset E. Taylor noted in her book Toxic Communities.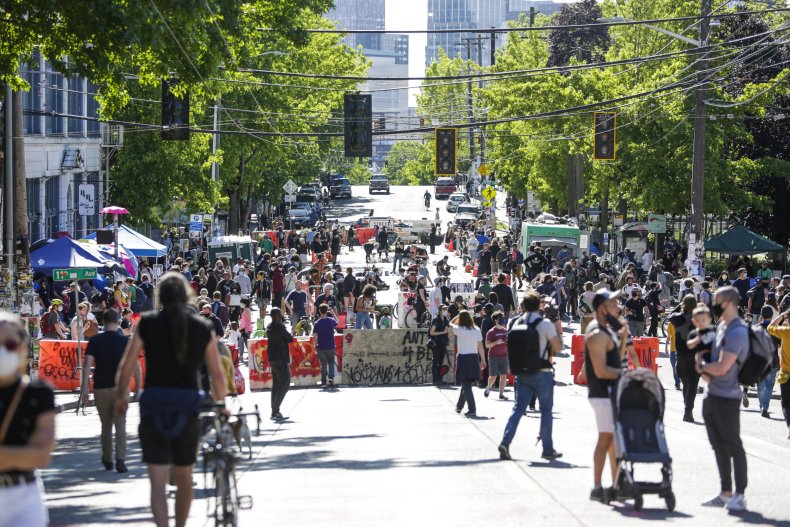 The U.S. Supreme Court ruled such covenants were unenforceable in 1948, but they continued to operate in private agreements for years after—and only became illegal with The Fair Housing Act in 1968.
It was only after the assassination of Dr. Martin Luther King Jr. in 1968 sparked racial unrest in more than 100 cities across America, including in Seattle, that the Seattle City Council passed its open housing ordinance.
But Garrett noted the irony that in King County—named for the late civil rights icon—inequality in terms of housing and land ownership for black people persists to this day due to policies like predatory lending.
"The black community is being destroyed through a variety of policies and practices in collusion between the public sector and the private sector," he said.
Salisbury, 45, who also lives in the Central District, cited Operation Weed and Seed as an example of how African American communities have been targeted in the more recent past under the guise of clamping down on crime.
The program was unveiled by the U.S. Department of Justice in 1991 in a bid to improve the quality of life in American cities by tackling "violent crime, drug trafficking and drug-related crime in designated high-crime neighborhoods." In Seattle, the program focused on the Central District.
In The Politics of Community Crime Prevention: Operation Weed and Seed in Seattle, author Lisa L. Miller noted that opponents of the program recognized it as a plot to gentrify the area at the time.
"Opponents were concerned that the whole purpose of the program was to 'weed' out lower income blacks and 'beautify' the areas that whits would be enticed to move in," Miller wrote.
She noted that the neighborhood was desirable as it had "numerous older, charming homes" that could be purchased for a fraction of the cost of homes in the adjoining, affluent neighbourhoods and was also conveniently located near downtown and several popular shopping districts.
A group called Mothers Against Police Harassment, which had been focusing on police harassment and brutality agains black people, joined with other black residents to form the Coalition to Stop Weed and Seed.
The coalition aimed to inform residents in the area of the program and its consequences, including that Weed and Seed was "simply a gentrification strategy the would move blacks out of a well-situated, underdeveloped area of the city," Miller wrote.
Garrett—who was a teenager when Weed and Seed was launched in Seattle—recalled how the program was used to target young, black men in the neighborhood.
"It was very clear," he said. "Weed and Seed, you have a whole population of patients have been identified for removal from their community
"We experienced overpolicing, police terrorism, violence and all of these things... criminalization for just being in your community."
Seattle's long history of housing discrimination against the African American community was even acknowledged in a bill passed by the Washington State Legislature last year.
House Bill 1918 noted that the Central District is "the oldest surviving residential neighborhood in Seattle where, historically, residents who faced housing and economic discrimination elsewhere in the city could settle and raise families, resulting in a richly diverse multicultural community."
It also found that the neighborhood is "widely recognized as the historical center of the Seattle African American community which is reflected in the historic buildings, institutions, and culture of the neighborhood.
"The legislature further finds that the Central District has been adversely impacted by public works, capital projects with significant public funding, and other land use decisions which have contributed to dislocation, displacement, and the disintegration of an identifiable existing community and its historical and cultural character."
"The language clearly states that the black community in Seattle was systemically targeted, basically ran out of town," Salisbury said. "Gentrification against black people has been so bad that the legislature unanimously acknowledged it, and said that measures should be put into place to be able to do something about it."
He added: "It's never been a fair ground for black people in the city of Seattle, when it comes to housing, equality and everything else.
"Throughout the timeline of black people's existence here in Washington state, before Washington even became a state... it's almost an uninterrupted timeline of either some kind of legislation, or brute force or anything else that is trying to remove black people from their properties."
'We have to fight'
Working to counteract that are developers like Capitol Hill Housing, founded in 1976, which Persons described as an "anti-displacement organization."
"I think we have to fight [displacement]," he told Newsweek, noting that the population of African Americans in the Central District used to be around 70 per cent in the 1960s and 1970s, but is now less than 15 percent.
Capitol Hill Housing owns 48 buildings in many of Seattle's gentrified neighborhoods and Persons says rents are about half of what they would be in the private market.
Persons said around 40 per cent of residents living in the organization's 1,600 units are African American and tenants have an average income of around $20,000 a year. Seattle's median household income is around $85,000, according to the latest figures from the U.S. Census Bureau.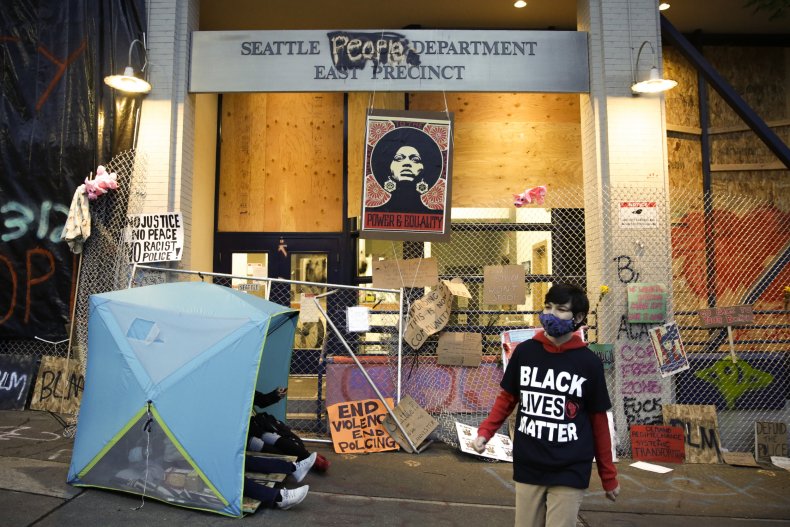 But Garrett says while subsidized housing helps prevent people from being pushed out of their neighborhoods, it won't help black people achieve upward social mobility in the coming years and close the wealth gap.
He set up the Africatown Community Land Trust to help the black community thrive through land ownership.
Garrett said the organization "develops and stewards land so that the black community that have called the Centre District in Seattle home for almost 140 years can grow and thrive."
His grandfather had co-founded the Liberty Bank, he said—the only black-owned bank in the Pacific Northwest when in opened in 1968—to help black people and businesses who were otherwise denied get access to financial services.
Liberty Bank closed in 1988 and was eventually bought by KeyBank, who sold it to Capitol Hill Housing below market value with the intention that the land would be used for affordable housing to honor the building's history.
Africatown Community Land Trust and other community groups worked with Capitol Hill Housing on the Liberty Bank Building project, which features 115 affordable homes and 2,695 square feet of space for black-owned businesses.
Persons said the project was an example of how gentrification could be stopped.
"Close to 90 perecent of the people were people who had been displaced or people who were at risk of being displaced and largely African American," he said, "proving that you can actually work to stop gentrification."
Stills said the develop is "setting an example" in Seattle for other affordable housing providers.
"I've watched the landscape change over the years and I watched the prices go up and my neighbourhood change," he said. "But Capital Hill Housing came in and bought some buildings, built some new properties, and now I'm watching my neighborhood change a little bit and go back to a little bit more like it was."
Nevertheless, Garrett and other community organizers say more needs to be done.
They recently launched the King County Equity Now campaign, calling for a halt in "all predatory development in the Central Area and other historic areas of color, and establish a $500 million anti-gentrification, land acquisition fund," according to the campaign's website.
The campaign is "committed to changing the current Jim Crow apartheid socioeconomic conditions that have persisted and are getting worse by the day, as we speak, in Seattle, in what is now the only county in America named for Martin Luther King, Jr.," Garrett said.
Earlier this month, he spoke to protesters in Seattle about the campaign and addressed the harm gentrification has had on the city's black community.
"They got their knees on our necks in the Central District, in the South End. We can't breathe, all these predatory developers," Garrett said, the South Seattle Emerald reported. "We're gonna show that this land now has to come to the community!"
'We have to push for rent control in Seattle'
The only solution Seattle protesters have do far outlined to combat gentrification in their list of demands is through rent control.
The Washington State Legislature passed a ban on rent control in 1981 and since then, politicians like Sawant and Macri—who has twice introduced bills on the matter—have unsuccessfully pushed for it to be lifted.
"We've made great strides on other renter protections in recent years, but unlike Oregon and California, efforts to cap rent increases have failed to gain enough traction in the Washington legislature," Macri said.
Sawant says the Democrat-dominated Legislature could repeal the law if it wanted to, but it is beholden to corporations.
But the "sharpest edge of opposition" to policies like rent control come from the landlord lobby, she said.
Sawant says that small landlords are increasingly being bought out as the price of land skyrockets, while big corporations and developers move in.
"Their interests lie together and they are hand in glove in opposing policies like rent control," she said. "That is why we believe that strategically speaking, we have to push for it in Seattle."
She added that rent control doesn't mean that prices would be frozen, but that they would increase sustainably.
"We're proposing that rent increase annually by no more than the inflation rate, meaning it will allow landlords to be able to maintain their property, it will also allow them to make profit," she said. "What it would not allow is the kind of a rapacious price gouging that is going on right now that the majority of renters are facing."
Sawant says any rent control on its own wouldn't solve the problem of housing not being affordable. As well as any rent control policy being free of loopholes, an expansion in social housing is needed, she said.She noted the issues with Oregon's rent control policy, which grants exemptions to certain buildings.
"It's those kinds of loopholes that have been put in place because of the corporate lobby, real estate lobby that weaken the policy. And that's what we need to fight for strong rent control policies free of loopholes," she said.
"But rent control has to be paired with an expansion of social housing, which is the idea that more and more housing should be taken out of corporate or private profit control, because that is a mechanism of capitalism, build for profit, not for affordability," she said. "That is what causes the problem of housing not being affordable."
Persons adds that more funding needs to be directed to allow for more affordable housing.
"We just need more public resources to build more housing for people so that people aren't being displaced," he said.
'The story of Seattle is the story of America'
Sawant says she's hopeful that the CHOP protesters' demand for rent control could gain traction because the issue isn't only affecting the African American community, but the vast majority of the working class.
And the problem has only been exacerbated during the coronavirus pandemic which has thrown millions of people across the U.S. out of work.
She noted that while Washington has a moratorium on evictions due to the pandemic, when it is lifted, countless renters will be forced out of their homes.
"The story of Seattle is the story of America," she said. "One of the ways in which we can really expand this movement to make it stronger is to amplify demands like rent control because it will bring in a wider layer of the working class into the struggle."
"It will unify people, so it's very good that the activist community has included demands like rent control in their list."
Macri also praised the protesters for raising awareness about the issue.
"I have lifted up these racial justice issues in my work to enact more protections for renters, including implementing rent control," she said.
"I am grateful that protesters are helping raise greater awareness about these inequities and the government's power to change them."
She added that the impact of the pandemic is already "shifting the perspectives of policy makers on the role rent control can have in increasing housing stability."
She noted that Washington Gov. Jay Inslee's moratorium on evictions including a prohibition on rent increases and fees. "This is unprecedented in our state," she said.
In a statement to Newsweek, Kamaria Hightower, a spokesperson for Seattle Mayor Jenny Durkan said combatting gentrification is "not a one size fits all approach."
"As one of the fastest growing cities in the nation, skyrocketing rents and housing costs has led to the rapid displacement of families of color," Hightower said.
"Combatting gentrification is not a one size fits all approach but rather a holistic set of strategies centered on the diverse needs of the impacted communities.
"Displacement strategies must first and foremost be community led and Seattle is committed to building on our significant anti-displacement work like the community preference policy, home ownership opportunities, the Equitable Development Institute, and more to keep our long-term residents grounded in the communities they've lived and with deep connections."