'Border Wall' Built Around Seattle's CHOP As City Vows to Clear Occupants
A "border wall" barricade has been erected around Seattle's Capitol Hill Organized Protest (CHOP) after the city vowed to push ahead with plans to clear the encampment.
The self-declared autonomous zone was established by racial justice protesters in the summer and has been at the center of an ongoing dispute between residents, businesses, police and Seattle lawmakers.
Photos shared on social media on Thursday showed the block surrounded by wooden pallets forming a makeshift wall.
CHOP residents were also appealing to members of the public to donate food and other supplies.
It comes after a judge denied a request from resident Ada Yeager—who had been living at Cal Anderson Park—to halt a clear-out by Seattle police and park workers of the encampment, located in the city's Capitol Hill district.
In court papers Yeager argued that removing the site would violate the constitutional rights of those who had been living there.
Seattle officials have said their goal is to provide homes for those living in the camp and return the park to its former use, while the city's mayor, Jenny Durkan, has described the CHOP as a "political occupation."
Action to clear the area had been due to take place earlier this week but was postponed after Yeager's lawsuit was filed.
The city said in a statement released to the Seattle Times: "Mayor Durkan believes our city can have mutually shared values: individuals experiencing homelessness should be in safer shelters and spaces, and our parks should not be places with illegal fires, barricades, and individuals who are threatening city workers.
"The City's goal remains the same—to bring individuals experiencing homelessness inside into safer spaces including hotels and partner with community to reopen the park."
Newsweek contacted the Seattle Police Department and mayor's office for further comment.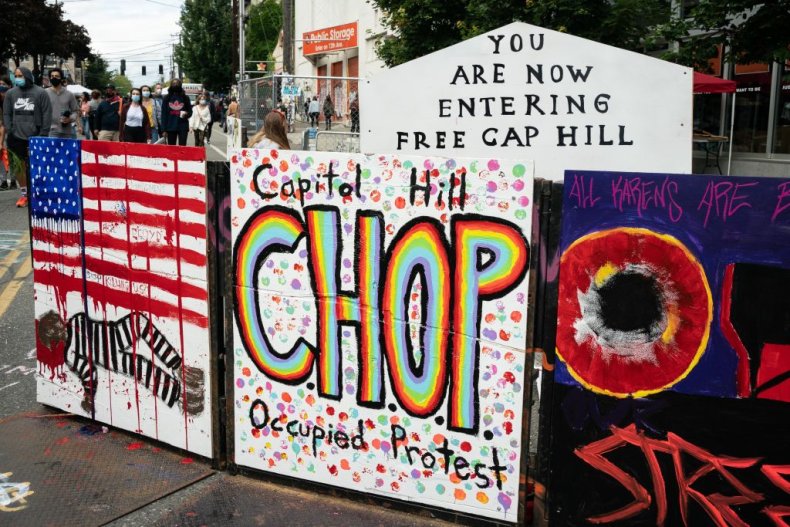 The CHOP zone was first established in June after officers abandoned the Seattle Police Department's (SPD) East Precinct in an effort to de-escalate a week's worth of conflicts between racial justice protesters and police.
Afterwards, CHOP's occupiers demanded that Seattle release all arrested protesters and slash its $409 million police budget in half in order to donate the other half to services within the city's Black communities.
In October, a federal district court judge allowed a lawsuit brought by 21 businesses against Seattle to proceed, despite the city's attempt to have it dismissed.
The lawsuit accused the city of harming local business owners by allowing the existence of the CHOP.