Seattle Mayor Jenny Durkan said city officials will work with Black-led community organizations to dismantle the Capitol Hill Occupied Protest (CHOP) zone.
Durkan on Monday announced the city will move to end protesters' occupation of several blocks in the Capitol Hill neighborhood, but officials have yet to outline exactly when or how it will be done.
However, Durkan noted that efforts to clear the area, originally named the Capitol Hill Autonomous Zone (CHAZ), of protesters would be led by community organizers, rather than law enforcement.
She said people would be encouraged to leave the area voluntarily and those experiencing homelessness would be moved to services that can help them.
However, she said that "additional steps" would be taken to ensure community safety if people continued to remain in the area, without stating what those steps would be.
"It's time for people to go home. It's time for us to restore Cal Anderson and Capitol Hill so it can be a vibrant part of the community," Durkan said.
She added: "In recent days, we have deployed community resources to both de-escalate the area and to move people to services. We will continue working with and deploying these community organizations to change the circumstances on Capitol Hill."
Durkan also said that Seattle police are set to return to the East Precinct building, located in the CHOP zone, after it was abandoned by officers earlier this month following violent clashes with protesters during demonstrations sparked by the death of George Floyd.
The mayor said officers would return to the building "peacefully" and in the "near future," but did not elaborate.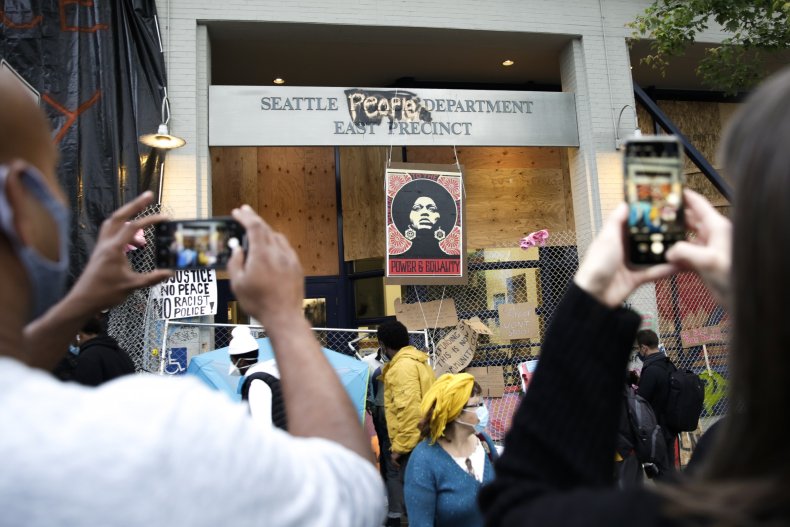 Protesters have called for the precinct to be turned into a community center, but Seattle Police Chief Carmen Best said officers need to get back in the building to respond to 911 calls.
She said officers had been met by a "hostile crowd" when they tried to respond to a shooting in the police-free zone on Saturday. Best also said there had been instances of rape, assault, burglary, arson and property destruction in and around CHOP zone.
"This is about life or death, so we need a plan," she added. "I cannot stand by, not another second, and watch another Black man, or anyone really, die in our streets while people aggressively thwart the efforts of police and other first responders from rescuing them."
Hundreds of protesters have gathered in the CHOP zone day and night for the past two weeks, with organizers giving speeches and people giving out free food amid a festival-like atmosphere.
Durkan said gun violence in and around the CHOP at night was distracting from the protesters' cause.
Three people were shot in two shootings over a span of 48 hours at the weekend. A 19-year-old was killed and another man was critically injured on Saturday and a 17-year-old sustained a gunshot wound to the arm.
She said that while peaceful protesters could continue, the "cumulative impacts of the gatherings and protests and the nighttime atmosphere and violence has led to increasingly difficult circumstances for our businesses and residents."
Durkan and Best also acknowledged during the news conference on Monday that they must "reimagine and rethink" policing in Seattle.
Durkan's office and the Seattle Police Department has been contacted for additional comment.