Seattle resident Kyle Tornow was arrested Wednesday under allegations that he threatened to blow up a police precinct in Portland, Oregon.
Portland has been the site of 98 consecutive nights of protests against racism and police culture. Portland police have been the subject of criticism for their response to the demonstrations, which has included the usage of less-than-lethal weapons against protesters. President Donald Trump sent federal agents to Portland in July to assist local law enforcement during the protests.
Many activists, including some from the advocacy group Black Lives Matter, have called for police forces in Portland and across the U.S. to be defunded. Tornow allegedly sent the bomb threat through Portland's TrackIT system, which allows residents to communicate privately with the Portland Police Bureau.
"I am going to bomb a police precinct in Portland, OR.," Tornow allegedly wrote according to the arrest complaint. "The bomb is already in place and has been packaged in a way that prevents detection from canine officers. Unless your officers disengage your war with the citizens of Portland I will blow up this precinct. You are weak. We are strong, many and fluid in nature. If I am caught, others will take my place and immediately detonate the bomb."
"This is a felony threat," the message concluded. "Please take this seriously to avoid death."
According to Portland's official website, there are three police precincts in the city. In a statement sent to Newsweek, the DOJ said no specific precinct building was identified as the location of the alleged bomb.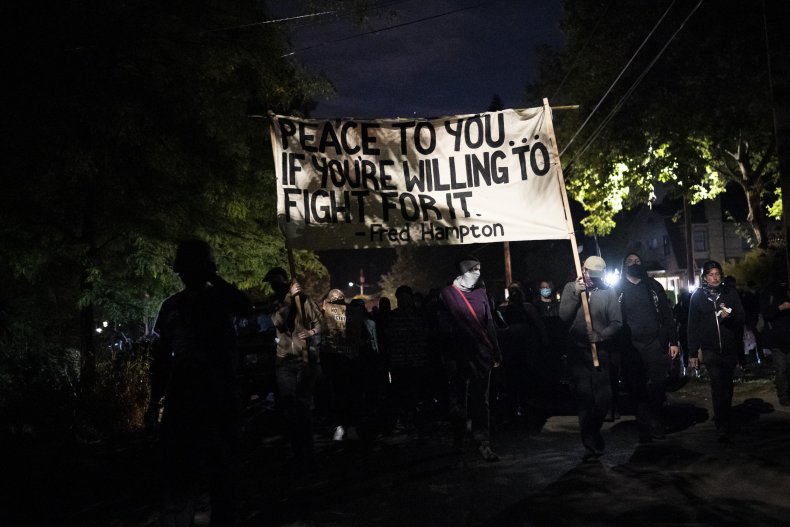 Authorities were able to trace the message back to Tornow who allegedly sent the message using a Yahoo email address. Tornow was arrested without incident.
Threatening to damage or destroy a building carries a ten-year maximum prison sentence and a $250,000 fine.
Violence during Portland's protests has received national attention because of President Trump's deployment of federal troops to the city. Portland Mayor Ted Wheeler said he did not ask for the assistance. After protests kept occurring even after federal agents left Portland, Trump said he was ready to send agents back into the city.
"On behalf of the City of Portland: No thanks," Wheeler wrote in an open letter to Trump on Friday. "When you sent the Feds to Portland last month, you made the situation far worse. Your offer to repeat that disaster is a cynical attempt to stoke fear and distract us from the real work of our city."
On Saturday, clashes between protesters and a group of Trump supporters led to the shooting death of Aaron Danielson, who has been linked with a right-wing religious group called Patriot Prayer. Members of Patriot Prayer were allegedly present at the Saturday demonstration.
Acting Secretary of the U.S. Department of Homeland Security Chad Wolf responded to Wheeler's letter on Trump's behalf on Monday.
Wolf wrote that Wheeler had "stood by passively, arguing that the nightly violence 'will ultimately burn itself out.' The evidence demonstrates otherwise."
"The chaos, destruction, and suffering in Portland are evils you can stop—and must stop," Wolf added, encouraging Wheeler to request federal assistance to "restore law and order in Portland."