Seattle Police May not be Staffed to Handle Election Unrest | Opinion
Seattle's police force may not be staffed to handle significant civil unrest if President Donald Trump wins reelection. And if the city does experience widespread rioting or looting, nefarious actors could exploit an already light staffing situation to victimize Seattleites while Antifa and anarchists destroy buildings downtown.
Thanks to months of unrelenting attacks and unreasonable scrutiny, the Seattle Police Department saw a historic mass exodus. By the end of September, at least 118 officers separated from the force. Some retired early while others transferred to agencies in neighboring cities. A majority of them were patrol officers.
Consequently, Seattle has only 1,200 deployable officers available—the fewest the city has had on staff since 1990. But even this number is somewhat inflated. Of the 1,200, many are burning accrued sick time as they look for other work.
To be blunt, Seattle is not adequately staffed. Interim chief Adrian Diaz warned in late October that the city is not safe.
"You have to have close to about 1,400 to then have a reasonable number, which puts us to about 1,250, 1,275 that are deployable," Diaz told The Jason Rantz Show on KTTH. "So you really need about 1,400 people to have a much more reasonable staffing when it comes to having enough in patrol investigations and special operations."
Of course, the SPD has a staffing plan in place and is ready to enact its Gold/Blue Plan if needed, according to multiple sources. That essentially means the department would work 12-hour days with no time off. But what happens if there is unplanned mass violence on Tuesday or Wednesday after a Trump reelection?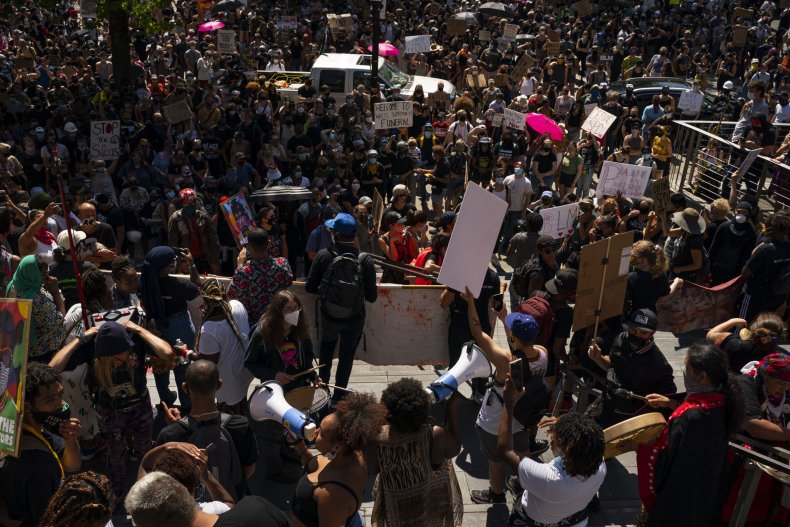 A hyper-partisan, radical city council has put the city in this precarious situation.
The Seattle City Council offers little more than ire when police break up demonstrations—even violent ones. And the mayor believes the mere presence of police can make a bad situation worse. These views informed the decisions that created the deadly Capitol Hill Autonomous Zone over Seattle's now infamous "Summer of Love."
With police focused on rioting downtown—something Antifa has been more than happy to do over the past several months—other neighborhoods could be left vulnerable. If there's a significant need for police in other areas of Seattle, not only will they be stretched dangerously thin, the response times could be extremely problematic.
More alarmingly, however, one officer tells me the impression he gets is that the "department is trying to save money and are just hoping for the best." Just a few weeks ago, the Seattle City Council voted to defund the police and proposed an additional 17 percent cut for the 2021 budget.
The King County Sheriff's office could help during a staffing crisis, either directly in response to unrest or in surrounding neighborhoods that need assistance. Indeed, the sheriff is adding staff around the county. But Sheriff Mitzi Johanknecht is concerned.
"We have prepared for and will stand up a command post and support King County Elections if called upon to do so," Sheriff Johanknecht tells me. "My worry is that we do not have enough deputies and officers if protests or rallies get out of hand."
Cities across the country, from Denver and Portland to Los Angeles and D.C., are planning for potential civil unrest. Businesses are boarding up their windows and law enforcement are on alert despite no specific threats being reported publicly.
You'd hope election results wouldn't lead to mass unrest, but we've seen conflict break out because diners at restaurants won't ditch their meal to join a march. In Seattle, Antifa and other agitators have shown a willingness to riot on a moment's notice. It's hard to see them not take advantage of election results they don't like. For the sake of the city, I just hope we're ready.
Jason Rantz is a frequent guest on Fox News and is the host of the Jason Rantz Show on KTTH Seattle, heard weekday afternoons. You can subscribe to his podcast here and follow him on Twitter @jasonrantz.
The views expressed in this article are the writer's own.