Seattle Police Acted Unlawfully by Pepper-Spraying Retreating BLM Protesters, Firing Blast Balls—Judge
Police in Seattle violated a court order limiting the department's use of pepper spray and blast balls during Black Lives Matter protests, a federal judge has ruled.
District Judge Richard Jones said the Seattle Police Department (SPD) was in contempt of court over four occasions when officers used pepper spray and blast balls during the demonstrations in August and September.
The ruling was made in relation to a temporary restraining order on police tactics following legal action by BLM protesters earlier this year, the local station said.
It prohibited officers from launching chemical irritants or projectiles at peaceful protesters. Officers could still use blast balls, pepper spray and tear gas in certain circumstances involving threats of violence, physical harm, or property destruction.
Jones found four "clear violations" of the order: three involving blast balls—which, when detonated, can unleash a loud noise, bright light and pepper spray—and one involving the use of pepper spray.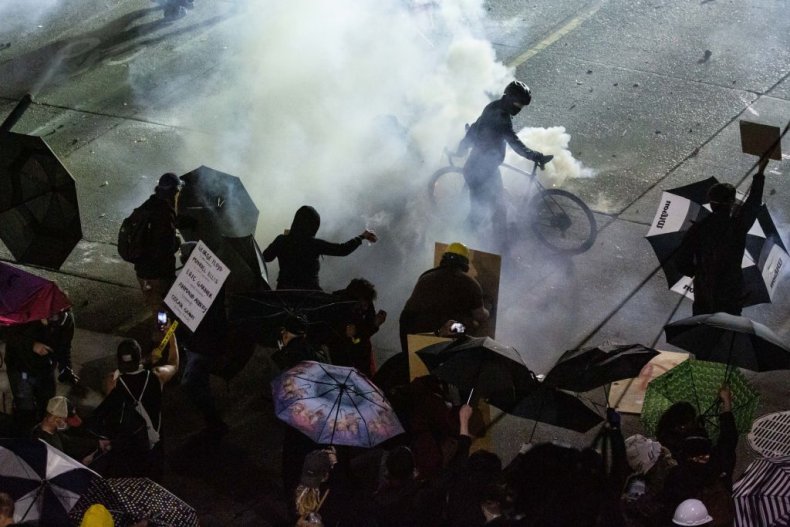 In a 27-page order issued on Monday, the judge referenced one example in which an officer used pepper spray on retreating protesters in what he called "a plain violation" amid "no specific imminent threat of physical harm."
Jones also found that the "SPD has often hurled blast balls into crowds of protestors," despite no immediate threat having been identified.
Protests were held against police brutality and racial injustice around the world following the killing of George Floyd, an unarmed Black man, during an arrest in which a police officer kneeled on his neck for more than eight minutes.
Jones reviewed four of the protests before making his ruling. Three were held on Capitol Hill. They were: on August 26 during a memorial for BLM demonstrator Summer Taylor, who was killed during a freeway protest; on September 22 in response to a jury's decision not to indict the officers who killed Breonna Taylor; and another on September 23.
The fourth was held outside the Seattle Police Officer's Guild headquarters on September 7.
"Some might say that four clear violations—out of four days of protests and countless uses of less-lethal weapons—must surely be insufficient to 'vitiate' (spoil) the City's otherwise substantial compliance," Jones added. "But this is misguided."
Lisa Nowlin, a staff attorney with the American Civil Liberties Union (ACLU) who represents the protesters, told KING-TV: "We think this is an important step in holding the police department accountable for how it treats the protesters."
"Seattle police's continued use of less-lethal weapons against protesters is disturbing and the city needs to focus on protecting freedom of speech and freedom of assembly, rather than using force to prevent protesters from exercising their constitutionally protected rights," she added.
In a statement to the news outlet, Seattle City Attorney's Office said: "We're reviewing the order and intend to confer with City clients as we assess next steps in this case."
Involved parties can submit briefs outlining possible sanctions for the violation before Friday.