Seaworld: Travel Agency Stops Selling Tickets To Destinations Holding Killer Whales
A British holiday firm will no longer sell trips to animal parks like SeaWorld in Florida which keep captive killer whales.
Thomas Cook chief executive Peter Fankhauser said his company's decision had been taken after consultation with animal welfare specialists over the last 18 months.
There has been much negative publicity surrounding the captivity of killer whales, especially after the Blackfish documentary in 2013.
The decision means that Thomas Cook would no longer offer trips to animal parks that had orcas in captivity. This will also mean a ban on trips to Loro Parque in Tenerife.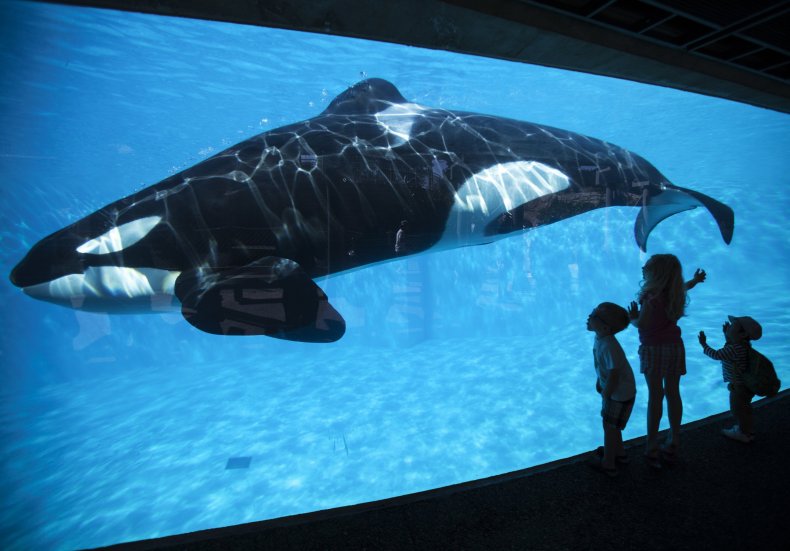 Fankhauser said on the company's website: "We have also taken feedback from our customers, more than 90 percent of whom told us that it was important that their holiday company takes animal welfare seriously."
Thomas Cook sells over 10,000 day trips a year to SeaWorld and has sold 40,000 tickets to Loro Parque this year, the Mirror reported.
Both parks had passed the minimal animal welfare guidelines set by the Association of British Travel Agents (ABTA) and made improvements to the way they treat animals, but this was not enough for Thomas Cook to continue promoting them.
Animal welfare group People for the Ethical Treatment of Animals (PETA) praised the move by Thomas Cook.
PETA manager of special projects, Elisa Allen said: "This momentous victory means that Thomas Cook has now become the world-leading travel provider for animal welfare that it had claimed to be.
"If other travel providers hope to maintain a shred of credibility with animal-loving British holidaymakers, they must follow its lead," she added, according to Agence France Presse.
Thomas Cook said it had audited 49 animal attractions, and removed 29 which didn't meet the minimum ABTA animal welfare standards.
In a statement to Newsweek, a spokesperson for SeaWorld said: "Millions of U.K. guests have visited our parks for fun, education and to help contribute to the protection of marine animals and their habitats.
"They have seen first-hand the incredible care we provide all of our animals and learned about how we are protecting and saving species in the wild.
"Although we have ended breeding for orcas, the current animals in our care will be with us and our visitors for many years to come. We will continue to welcome the public into our parks for the unmatched experiences we create every day," SeaWorld said.
In a statement to Newsweek, Loro Parque said: "The decision of Thomas Cook is clearly influenced by anti-zoo organizations leaded by a minority of activists not really concerned about the animals, but just aimed in destroying the zoos and their conservation, research and educational activities.
"Fortunately, Loro Parque is this year welcoming more visitors than ever, and even without the partnership of Thomas Cook we will continue offering all our visitors a unique opportunity to get to know the wonders of wildlife and become part of our mission: to protect and preserve the animals and their natural habitats for future generations."
This article has been updated to include a statement from Loro Parque.