People Think It's 'Wise to Get a Gun' During Pandemic, Says 2nd Amendment Attorney as Firearms Sales Soar
An attorney who has argued Second Amendment cases in the Supreme Court has said that record numbers of firearms background checks in March show that people fear an upcoming breakdown of law and order during the coronavirus pandemic.
Figures just released show that in March, the Federal Bureau of Investigation (FBI) processed 3.7 million requests on the National Instant Criminal Background Check System (NICS) from federally licensed firearms dealers. The figures for background checks act only a proxy for sales, but provide the closest available numbers for firearms purchases in the U.S.
March's figures were the highest since NICS was launched in 1998 and were 1.1 million higher than for the same month in 2019. Meanwhile, March 20 saw the highest number of background checks recorded in one day.
"A lot of people believe in individualism and figure that 'Really, I really am my first responder, what if I can't protect my family when seconds count and law enforcement is minutes away.' That is an American thought," Stephen Halbrook, constitutional attorney and author of The Founders' Second Amendment, told Newsweek.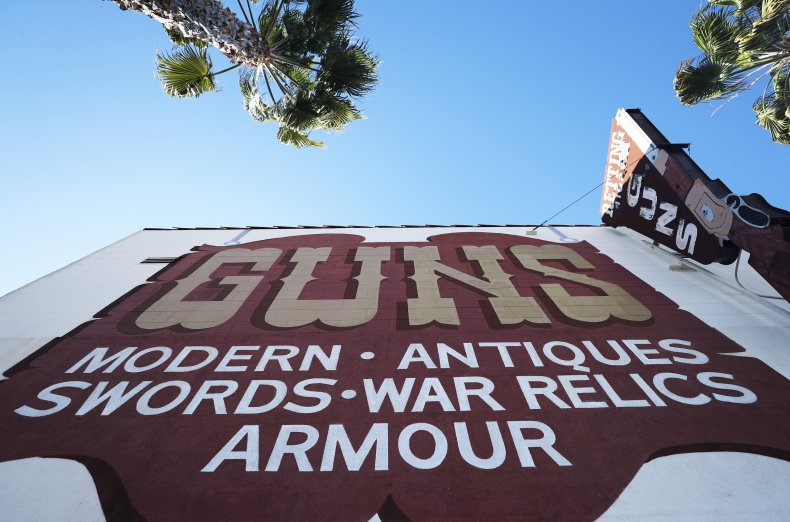 He believed sales had already been starting to rise on the Democratic primary campaign trail when frontrunner Joe Biden talked about tougher gun laws.
Also fueling the rush to gun stores, in Halbrook's view, were the rulings in some states such as New Jersey, to initially ignore federal guidance that gun stores were essential businesses that should stay open during the pandemic.
Gun rights groups argue gun dealers are essential because they sell firearms and ammunition to law enforcement. New Jersey governor Phil Murphy has since allowed firearms shops in his state to reopen.
As Newsweek has previously reported, gun retailers in Los Angeles, Tempe, and New Orleans, have spoken of unprecedented demand.
Halbrook said that with the release of some prisoners due to the coronavirus, and fears of overstretched law enforcement in the coming months during a time of panic, "people, especially first time gun owners, have a sense of uneasiness and they want to get guns to protect themselves."
"People have just come to the conclusion, 'well maybe it would be wise to get a gun if I don't have one or to get more ammunition,'" he added.
However Kris Brown, who is president of the gun violence prevention group Brady, believed the pro-gun lobby was stoking people's fears and was concerned many firearms were being purchased by inexperienced first-time buyers.
"There isn't time for training with these kinds of sales — it's more like going into McDonald's and buying a burger and fries," she told Newsweek. "A lot of the new gun purchasers had not even considered buying a gun even a few weeks ago. These are panic purchases induced by COVID and a sense of what happens if things really fall apart.
"We will get get a vaccine, we will get immunization for this in the longer term but there is no immunization for that gun that is now sitting in that person's home.
"We are very concerned, especially with people feeling isolated and job loss being an issue. The suicide risk is very real, and the only antidote to any of those things is to make sure you are safely storing the gun or to reconsider the purchase," she said.
The Statista chart below shows the growth of confirmed coronavirus cases in New York as of April 1.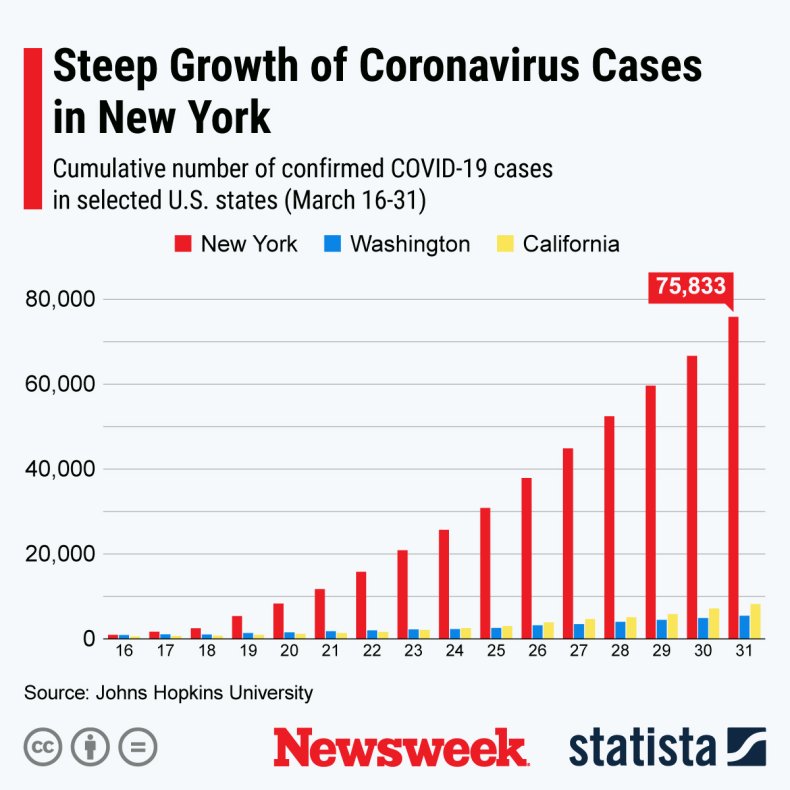 Correction (03/04/2020 3:30a.m. ET): This story has been updated to clarify that Brady is a gun violence prevention group and the spelling of Stephen Halbrook's name has been corrected.