Second Coronavirus Vaccine Candidate Enters Late-Stage Clinical Trial
A second coronavirus vaccine candidate entered a late stage-clinical trial on Monday, shortly after another potential vaccine began a similar trial.
The second vaccine, which is known as BNT162b2, is one of four vaccine candidates being jointly developed by biopharmaceutical companies Pfizer and BioNTech. The randomized, observer-blinded and placebo-controlled trial will give up to 30,000 volunteers two divided doses of either the vaccine or a placebo. Participants are aged 18 to 85 and located in 39 U.S. states, as well as in several other countries.
"The initiation of the Phase 2/3 trial is a major step forward in our progress toward providing a potential vaccine to help fight the ongoing COVID-19 pandemic, and we look forward to generating additional data as the program progresses," Kathrin U. Jansen, Ph.D., Pfizer's senior vice president and head of vaccine research and development, said in a statement.
If it is proven safe and effective, the companies will seek emergency approval for the vaccine and hope to have up to 100 million doses available by the end of 2020, along with an additional 1. 3 billion doses by the end of 2021.
"We selected BNT162b2 as our lead candidate for this Phase 2/3 trial upon diligent evaluation of the totality of the data generated so far," said Ugur Sahin, M.D., CEO and co-founder of BioNTech. "This decision reflects our primary goal to bring a well-tolerated, highly effective vaccine to the market as quickly as possible, while we will continue to evaluate our other vaccine candidates as part of a differentiated COVID-19 vaccine portfolio."
Earlier on Monday, it was announced that a vaccine candidate developed by Moderna in conjunction with the National Institute of Allergy and Infectious Diseases (NIAID) had begun its own phase 3 clinical trial, involving around 30,000 participants and conducted at U.S. research sites.
Both the Pfizer/BioNTech and Moderna vaccines were developed using messenger RNA, a promising but so far unproven approach that has yet to yield a single vaccine approved as safe and effective for human use. Initial trials of both vaccine candidates yielded potentially virus-neutralizing antibodies in trial volunteers.
Dozens of vaccines aimed at the virus are currently being developed around the world, including both RNA vaccines and those developed using more traditional approaches, as illustrated in the graphic below provided by Statista.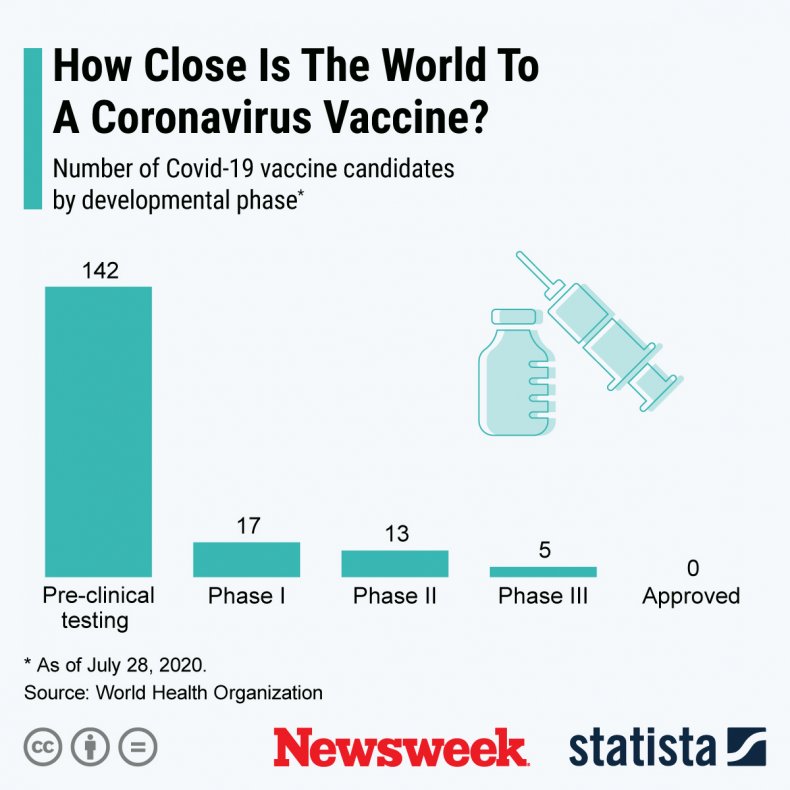 Many of the vaccines are progressing at unprecedented speed, raising concerns from some about safety issues, although experts have insisted that safety is not being compromised while stressing the urgent need for a vaccine.
"Although face coverings, physical distancing and proper isolation and quarantine of infected individuals and contacts can help us mitigate SARS-CoV-2 spread, we urgently need a safe and effective preventive vaccine to ultimately control this pandemic," NIAID Director Dr. Anthony Fauci said in a statement.
President Donald Trump, who had expressed support for discredited anti-vaccine conspiracy theories before becoming president, praised progress on vaccine developments and expressed confidence that his administration's vaccine development program, Operation Warp Speed, would soon lead to an end of the pandemic.
"Under Operation Warp Speed, we've shaved years off of the time that it takes to develop a vaccine, in some cases many years," Trump told reporters. "It's unparalleled, never been done before, but we suspect its going to work and work very well ... America will develop a vaccine very soon and we will defeat the virus, we will have it delivered in record time. "
Trump's presidential election rival, former Vice President Joe Biden, also spoke positively about vaccine developments on Monday. However, he stressed cautious optimism and said experts should be trusted above politicians on scientific matters, while taking the opportunity to blast the president for overconfidence in "hyping" potential solutions for COVID-19.
"We all hope the next phases of clinical trials will yield positive results to support an approval based on the scientific evidence, but the development of a new vaccine requires a dedication to science, coordination, transparency, truth, and fairness to all -- and we have a President who stands for none of these things," Biden said in a statement.
Update 7/28/20: This article was updated to include an infographic.