The Los Angeles Unified School District (LAUSD) has pushed back its COVID-19 vaccination mandate deadline for district employees, local media outlets reported this week.
Instead of sticking with its initial October 15 deadline, LAUSD said on its website all employees must be at least partially vaccinated by that date but will not lose their jobs so long as they have been fully vaccinated by November 15.
"The effective date of separation for employees without record of any vaccine by October 15, 2021, will not be prior to November 1, 2021," according to the district. "Employees will remain in paid status through October 31, 2021."
An LAUSD spokesperson pointed Newsweek to the updated deadlines listed on the district's website when contacted Tuesday for comment and said the health and safety of all individuals within the district's community "is of utmost importance."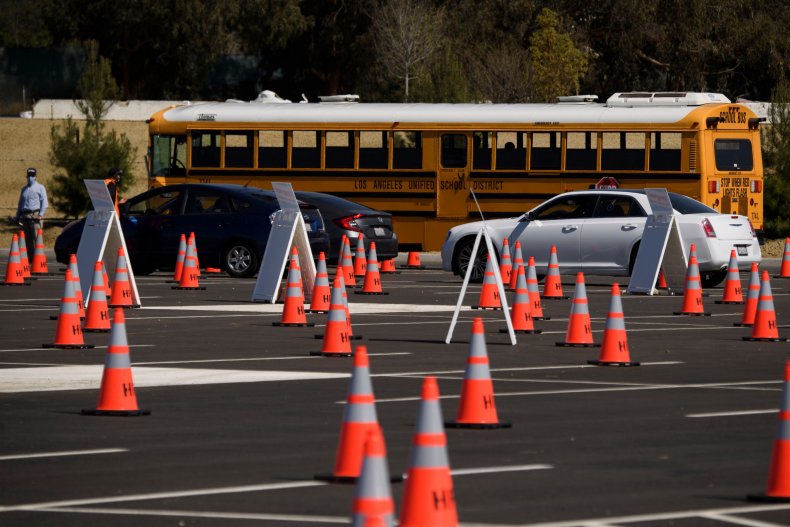 In addition to the updated vaccination deadlines for district staff, the spokesperson said LAUSD students and staff "will continue to participate in weekly COVID-19 testing through the end of the first semester."
The district's interim superintendent, Megan Reilly, said during a recent interview with The Los Angeles Times that the district is striving to keep schools safe while maintaining its current workforce as much as possible.
"We don't want people to be out of jobs," Reilly told the Times, adding the district's workforce is "one of the strongest assets that we have."
Even so, she said "there is not an endless amount of time" for LAUSD employees who are not yet vaccinated to change their minds. "People have to be vaccinated or they're not going to be part of the district," Reilly told the paper. Unvaccinated employees who intend to keep their jobs must take steps to change their vaccination status this week, she said.
Reilly announced the district's decision in August to require all employees to get vaccinated against the virus amid the ongoing pandemic. LAUSD expanded that requirement to include eligible students in September.
California Governor Gavin Newsom has since announced all students will be required to get vaccinated against COVID-19 once the vaccines have been fully approved by the U.S. Food and Drug Administration, making California the first state to add the COVID-19 vaccine to its list of required immunizations for students. That state requirement will go into effect at the beginning of the term immediately following the FDA's approval decision, which Newsom said could be as soon as January 1 or July 1 of next year for some age groups.
LAUSD, which is the largest school district in California and the second-largest in the U.S., told Newsweek last month more than 80 percent of its employees were fully vaccinated and others were expected to complete their vaccinations ahead of the initial mid-October deadline. LAUSD declined to comment Tuesday when Newsweek inquired about updated percentages of the district's fully vaccinated employees.