Second Plane Crashes on California Roadway in Nine Days
A plane crash in El Cajon, California, left one person injured and marks the second personal aircraft crash in the state this month.
A small plane crashed on Thursday around 10:30 a.m. near Interstate 8 outside of San Diego, news station KTLA reported. The plane hit a white SUV before crash landing, with no injuries reported for any of the vehicle's passengers. In a statement to Newsweek, the Federal Aviation Administration (FAA) said the plane was a single-engine Cessna 195, and that only the pilot was onboard during the crash.
"The FAA and the National Transportation Safety Board will investigate. The NTSB will be in charge of the investigation and will provide additional updates," the agency said.
The pilot, a 65-year-old man from San Diego, was taken to the hospital to be treated for non-life-threatening injuries, according to KTLA, which cited a California Highway Patrol officer who spoke with reporters after the incident.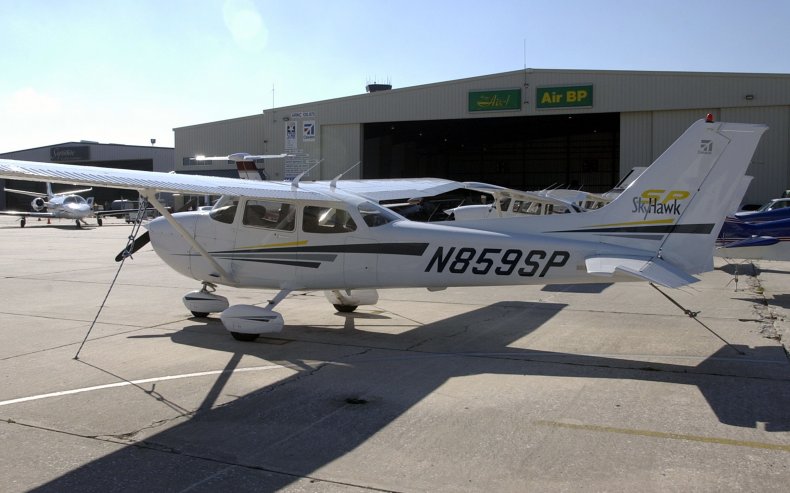 Carrie Zub, whose vehicle was struck by the plane, told the news organization OnScene that she was driving onto the freeway when "all of a sudden this — I didn't know what it was — but a plane just kind of hit the front of my car and then crashed," according to KTLA.
"I just immediately was like, oh my God, and then I just pulled to the right and stopped and I'm just so grateful that I'm OK," Zub said.
The scene of the crash was 5 miles from a local airport in San Diego County.
Newsweek reached out to California Highway Patrol for comment.
Previously this month, a plane crashed into a freeway in Corona, California, on August 9. The Los Angeles Times reported that two people onboard the aircraft survived with no injuries. The plane crashed while attempting to land at an airport and underwent a "possible engine failure," the newspaper reported, citing the California Highway Patrol.
In a separate incident in July, a father and son died after their plane crashed in the Idaho wilderness. Investigators reported finding a fire and a crash site in a designated wilderness area and later retrieved the remains.
In May, two people died when a plane crashed at a Florida airport after taking off. Two others were critically injured in the crash.
Also in May, video of a plane making a crash landing onto a Miami bridge went viral. The plane lost power while carrying three passengers before it crashed. At least one person died following the incident.