Second Stimulus Check, 'Similar' to First, Will Be in Next Coronavirus Relief Package, Mnuchin Says
Treasury Secretary Steve Mnuchin on Wednesday said Democrats and Republicans have agreed that a second round of stimulus checks will be included in the next coronavirus relief bill.
While Mnuchin didn't reveal specific details surrounding the checks, the Trump administration official told Fox Business host Lou Dobbs that direct payments will be "similar" to the first round provided for by the Coronavirus Aid, Relief and Economic Security (CARES) Act.
But as the months-long stimulus deadlock continues into October, it is still unclear when lawmakers in Congress will negotiate a deal—or if another bill will ever be passed.
As Americans grow impatient, both sides of the aisle have blamed each other for their failure to pass another much-needed stimulus package amid the pandemic. Democrats have criticized the GOP for allegedly refusing to provide sufficient funding and Republicans have accused Democrats of using the COVID crisis to advance their political agenda.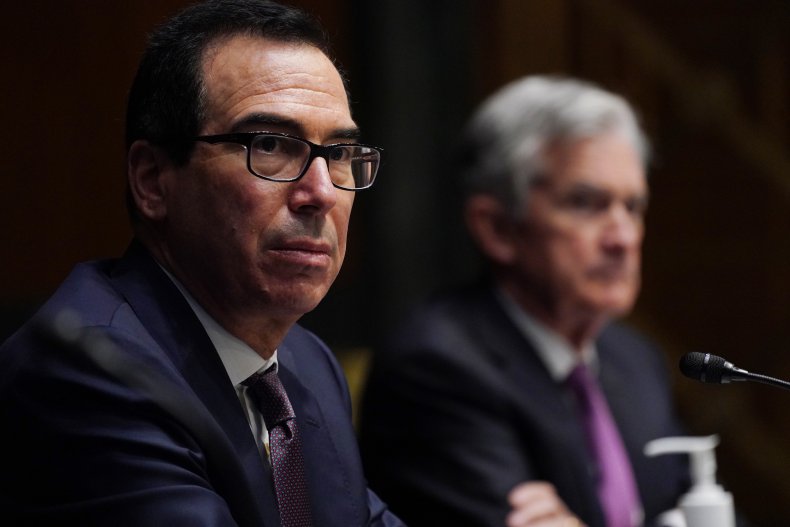 Newsweek reached out to the Treasury Department for additional information.
The $2 trillion CARES Act, which went into effect late March, provided over $200 billion in direct payments to more than 130 million Americans. Under the legislation, individuals earning under $75,000 annually were eligible to receive $1,200 and married couples with a combined income of under $150,000 were eligible to receive $2,400. An additional $500 was provided to under 17-year-old dependents.
House Speaker Nancy Pelosi on Wednesday evening delayed plans to vote on a $2.2 trillion stimulus package until Thursday shortly after she revived negotiations with Mnuchin. The Democrat hopes that the decision will "give further room for talks," a Democratic aide told Newsweek.
The HEROES Act 2.0, unveiled by Democrats this week, is a trimmed-down version of the $3.6 trillion HEROES Act passed by the House in May. At the time, Republicans blocked the legislation, calling it a "wish list" due to its high price tag. Only one GOP congressman—Representative Peter King—voted for the bill.
The new version includes a second round of $1,200 stimulus checks, a $600 weekly federal supplement to unemployment insurance and $436 billion in aid for state and local governments.
But Senate Majority Leader Mitch McConnell has already indicated that lawmakers in his party won't allow a bill so large to pass. Republicans, who want a much smaller package, recently proposed a roughly $500 billion package, half the amount in the previous $1 trillion GOP-proposed HEALS Act. "We're very, very far apart," McConnell said. "[$2.2 trillion] is too high."
"The thought that Senate Republicans would jump up to $2.2 trillion is outlandish."