Second Stimulus Package Will Focus on 'Kids, Jobs, and Healthcare': McConnell
Senate Majority Leader Mitch McConnell (R-Ky) said the Congress' second stimulus package will focus on "kids, jobs and healthcare."
Republicans and Democrats are working on a second GOP-backed Coronavirus Aid, Relief and Economic Security (CARES) Act designed to provide relief to Americans struggling in the wake of the economic crisis triggered by the coronavirus pandemic.
While Sen. McDonnell did not elaborate on the fine details of the new GOP-backed relief package, he outlined three key areas the stimulus will focus on.
"The CARES Act provided Kentucky and our nation with the tools to endure the first phase of the coronavirus crisis," McConnell tweeted on Friday. "But America's fight continues, so Congress's support for our people must continue as well. CARES 2 will focus on three things: Kids, jobs, and healthcare."
Depending on how quickly Congress can agree to pass the bill, up to 160 million Americans could receive a direct impact payment as early as next month. The aim for both Republicans and Democrats is to agree a deal before legislators leave Washington, D.C. for the summer recess which begins the first week of August.
Speaking to CNBC earlier this month, Treasury Secretary Steve Mnuchin said the Treasury Department will ensure to get funds "into hardworking Americans' bank accounts very, very quickly."
The next stimulus bill being discussed is likely to include an extension to unemployment benefits, which under the terms of the CARES act end on July 31.
The plan is also likely to increase financial help to small businesses by easing the terms of the Paycheck Protection Program.
CARES 2 is also expected to include a fresh round of direct $1,200 cash payments, along with $25 billion invested in virus testing and approximately $105 billion to help reopen schools across the country.
On Friday, negotiations between Republicans and Democrats appear to hit an impasse after the White House floated a proposal to cut unemployment benefits boost to as little as $100.
"We call upon Leader McConnell to get serious," House Speaker Nancy Pelosi and Senate Democratic leader Chuck Schumer said in a statement.
McConnell, however, reassured the Senate that the GOP will present its proposal for a new relief package on Monday.
According to a study from Columbia University's Center on Poverty and Social Policy, the first stimulus package prevented around 12.5 million people from falling below the poverty line.
Meanwhile, he admitted the novel coronavirus pandemic had taken its toll on the U.S.
"This has been one heck of a challenge for everybody in the country," the Senate Majority Leader said at an event in Ashland, Kentucky, on Friday when speaking of the COVID-19 outbreak.
"Hopefully we can come together behind some package we can agree on in the next few weeks."
As of Saturday morning over 4.11 million cases of coronavirus had been reported in the U.S.
Of the over 639,700 deaths recorded worldwide so far, more than 145,500 have been in the U.S., according to Johns Hopkins University, which has been tracking the outbreak using combined data sources.
There have been over 15.7 million confirmed cases globally since the outbreak of coronavirus was first identified in Wuhan, a city located in China's central Hubei province, late last year.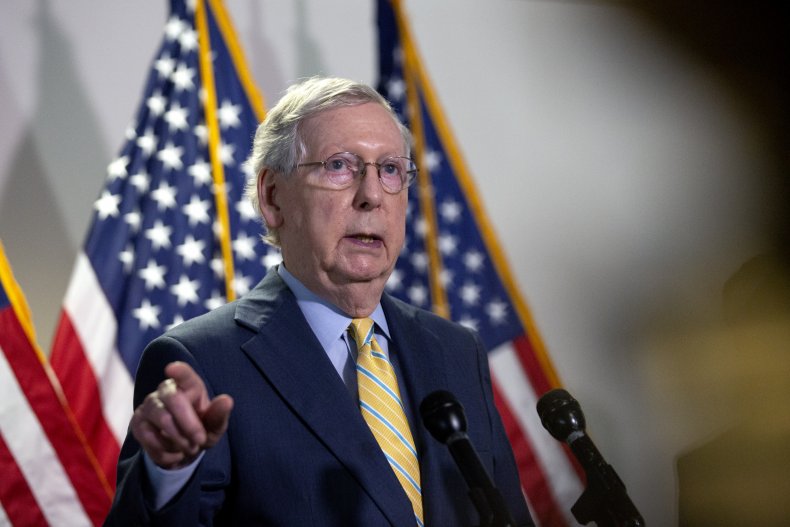 Second Stimulus Package Will Focus on 'Kids, Jobs, and Healthcare': McConnell | U.S.