The Secret Service is facing criticism after a protester armed with a gun was seen near President Joe Biden's home in Wilmington, Delaware.
The lone protester was seen wearing a neon yellow and orange safety vest, khaki cargo shorts, tan boots while walking down the road toward the Biden home on Sunday afternoon, according to a White House pool reporter. He appeared to have a holstered firearm.
The man carried a sign that read "Bidens are criminals, 20 shell companies?! Where's the laptop? 10% for the big guy" on one side and "Joe has aliases?! Robert L. Peters, Robin Ware, JRN Ware" on the other.
It was not clear if the man was asked to leave the area, but the pool report said a Secret Service vehicle followed the man down the road.
Another pool report at 1:20 p.m. said reporters "could see the protester down the road and the [president's] motorcade passed right by him."
U.S. Secret Service spokesperson Steve Kopek said: "The individual expressing his constitutional rights had no impact on any of the Secret Service's protectees' movements."
Some called out the Secret Service's response on social media.
"An armed man approached President Biden's home, and this is how Secret Service responded. Just... wow," one person wrote on X, formerly Twitter, alongside a screenshot of the agency's statement.
Although Delaware is an open carry state, some noted that does not mean armed people should be allowed near the president.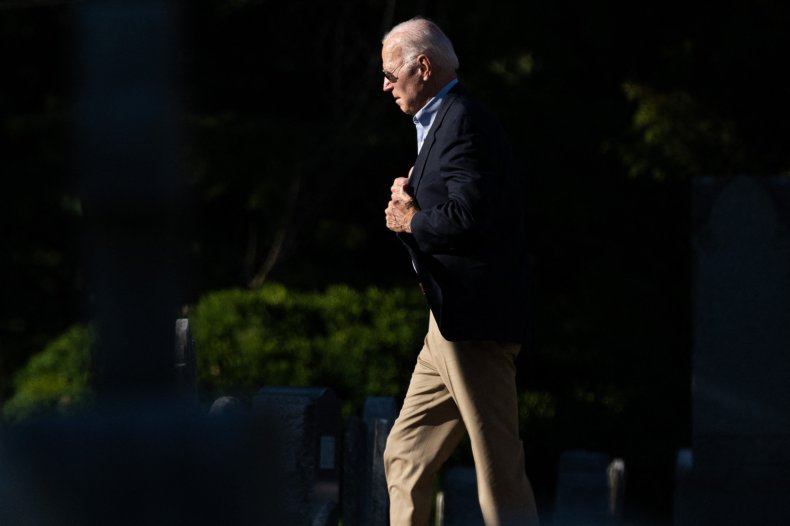 "Since when did the US Secret Service demure to allow armed persons near the president's home," another person wrote. "Everywhere the president is / is under control of Federal government so that open carry is meaningless. He is the number one federal protectee."
Newsweek has contacted the Secret Service and the White House for comment via email.
Biden and his family regularly take weekend trips to their Wilmington residence or their home in Delaware's Rehoboth Beach.
He arrived in Wilmington on Friday, attended a church service on Saturday and returned to the White House on Sunday before traveling to New York ahead of the U.N. General Assembly.
The incident comes after an armed man accused of impersonating a federal officer was taken into custody outside a theater in Los Angeles where Democratic presidential candidate Robert F. Kennedy Jr. was due to give a speech.
Kennedy's campaign said his requests for Secret Service protection have been rejected, and he plans to apply again this month.
"I'm still entertaining a hope that President Biden will allow me Secret Service protection," Kennedy wrote on X.