Nigerian Secret Service Arrests "Fake" First Lady Days After President Says He's Not a Clone
This week, the President of Nigeria blasted claims that he was a fake who'd been replaced by an imposter.
But according to the country's secret service, a "fake first lady" really has been walking the halls of power.
Officials arrested Amina Mohammed over suspicions she'd snuck into the presidential palace and started inviting guests, the BBC reported.
She allegedly posed as the first lady of Kogi state to bypass tight security at the villa in Abuja. Next, she asked people to the complex under the pretense of an invitation from the First Lady of Nigeria herself, Aisha Buhari.
According to Peter Afunanya, a spokesman for Nigeria's domestic spy agency the DSS, Mohammed scammed potential guests in November 2017 while Buhari was traveling abroad.
But Mohammed denied the allegations during a press briefing, shouting, "It is a lie." She also alleged the first lady's sister and a former official were in on the deal, Pulse Nigeria reported.
Afunanya said businessman Alexander Chika Okafor complained Mohammed conned him out of 150m naira ($414,000) during the scheme, in which she invited him to the presidential villa. The money was allegedly lost in a bogus property deal he thought was being brokered by Buhari.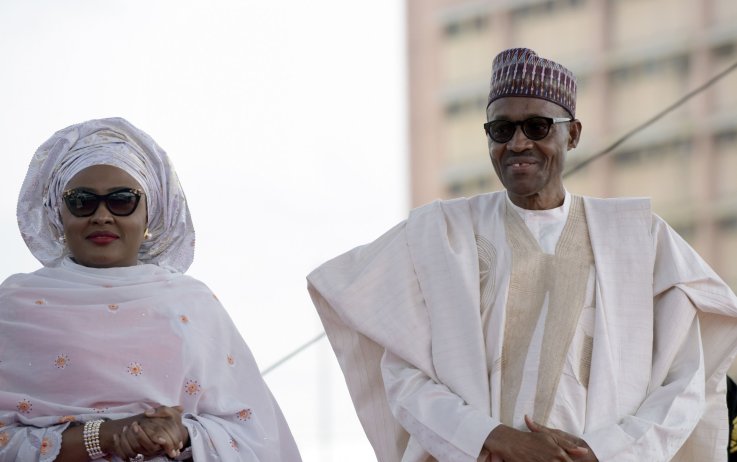 BBC reporter Ishaq Khalid said the Aso Rock complex has robust security measures, including police guards and biometric staff passes.
Mohammed "took advantage of the fact that personalities such as first ladies, ministers and certain categories of officials are not taken through rigorous protocols and security checks at the villa posts", Afunanya said. The real first lady had no knowledge of the "unholy enterprise," he added.
President Buhari recently emerged from his own "fake" scandal, in which conspiracy theorists claimed he was replaced by a Sudanese doppelgänger named Jubil during a five-month stay in the U.K. Videos aiming to prove the president is a lookalike swept through social media.
The president rubbished the rumors in a recent address to Nigerians during a town hall address in Poland. "It's the real me, I assure you. I will soon celebrate my 76th birthday, and I will still go strong," he said. "A lot of people hoped that I died during my ill health. Some even reached out to the vice president to consider them to be his deputy because they assumed I was dead. That embarrassed him a lot, and, of course, he visited me when I was in London convalescing."
He called people spreading the rumor "ignorant and irreligious," in comments which were also shared by his office in the statement: "It's Real Me, President Buhari Responds to Cloning Allegation."
Nigerian Secret Service Arrests "Fake" First Lady Days After President Says He's Not a Clone | World