Secretary of State Pompeo Accuses China of Exploiting George Floyd's Death, Says 'This Laughable Propaganda Should Not Fool Anyone'
United States Secretary of State Mike Pompeo offered a scathing rebuke Saturday of Chinese government officials and their country's state-run media outlets for producing "obscene propaganda," which looks to capitalize on U.S. civil unrest in the wake of George Floyd's death.
Pompeo released a statement accusing the Chinese Communist Party of blatantly attempting to undermine the U.S. government by conflating a crackdown on some racial protests with the "ruthless" repression of human rights in China. He cited the Chinese government's deadly response and massacre after the 1989 Tiananmen Square student protests, as well as their dogmatic suppression of freedom in Taiwan and Hong Kong.
China's state-run media outlets have produced countless articles describing the Trump administration -- and Americans overall -- as "racist," after some U.S. police engaged in violent clampdowns on protests which turned destructive.
"The Chinese Communist Party's callous exploitation of the tragic death of George Floyd to justify its authoritarian denial of basic human dignity exposes its true colors yet again. As with dictatorships throughout history, no lie is too obscene, so long as it serves the Party's lust for power. This laughable propaganda should not fool anyone," Pompeo wrote in the June 6 press statement.
Pompeo drew up several comparisons between real and hypothetical responses from the U.S. government versus that of the Chinese Communist Party. He said American officials would help if a church is burning, while in China it would be likely the government itself started the fire. He criticized Beijing for clubbing peaceful protesters in Hong Kong over the past year and subjugating freedom of speech in the press by sentencing reporters to long prison terms.
"In China, when citizens hold opinions that diverge from CCP dogma, the Party imprisons them in re-education camps," Pompeo wrote. "In the United States, in contrast, even amidst reckless rioting, we demonstrate our robust commitment to the rule of law, transparency, and unalienable human rights."
Several officials with the Chinese Foreign Ministry responded to Floyd's death and President Donald Trump telling governors to "dominate" protesters, by accusing the U.S. of holding a "double standard" in regards to how they treat their own citizens.
"Many people may want to ask this question: Why does the U.S. refer to those 'Hong Kong independence' and black-clad rioters as 'heroes' and 'fighters' but label its people protesting against racial discrimination as 'thugs'?" Chinese Foreign Ministry spokesman Zhao Lijian said recently. "Why did the U.S. have so many problems with the restrained and civilized way of law enforcement by the Hong Kong police but have no problem at all with threatening to shoot at and mobilizing the National Guard against its domestic protesters?"
Fellow Chinese Foreign Ministry spokesperson Hua Chunying took to Twitter and wrote "I can't breathe," a phrase used in U.S. protests against police tactics that have led to the deaths of several black Americans.
China's state-run media has also produced countless stories and printed op-eds that describe the U.S. government and Trump administration as unresponsive to the needs of the American people.
Newsweek reached out to both China's embassy in Washington as well as the State Department for comment Saturday afternoon.
"Prioritizing jobs over lives will lead U.S. to a dark abyss of human agony," read one opinion piece published in the state-run Chinese outlet Global Times Saturday. "U.S. President Donald Trump and his core aides should be blamed for the escalation of the riots. There is no doubt that Trump advocates "white supremacy" and his base is largely right-wing forces that believe in white supremacy."
Pompeo had earlier rebuked Iran last week, after several of its top officials mocked the U.S. and accused Trump of being a racist.
"During the best of times, the PRC ruthlessly imposes communism. Amid the most difficult challenges, the United States secures freedom," the secretary of state concluded in his statement to China Saturday.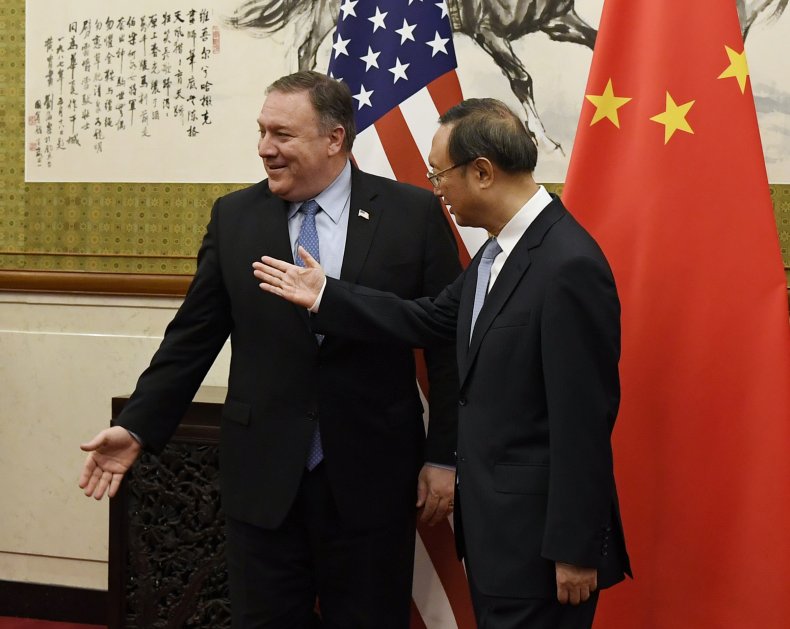 The European Union bureau chief of the state-run China Daily newspaper responded to Pompeo's statement on Twitter Saturday, saying Trump's poor response to the protests doesn't even require the Chinese government to go out of their way to offer criticism.
"Does anyone even need to exploit the situation in U.S..? The protests across US cities and in many cities outside the US tell everything, not to mention the condemnation by Jim Mattis and many other military leaders. I don't expect you to change as Trump's attack dog or syncophant," Chen Weihua tweeted.