Sedona Prince Posted Viral TikTok Because Weight Room Sexism 'Needs to Change'
Oregon Ducks forward Sedona Prince had something to say Thursday, and now millions of people have watched the viral TikTok.
Prince's video, seen over 13.7 million times across both TikTok and Twitter, documented the difference in the weight room for the women's NCAA March Madness tournament -- nothing more than a metal stand with dumbbell weights in San Antonio, Texas -- to what players can access for the men's tournament in Indianapolis, Indiana.
"I got something to show y'all," Prince's video begins before the college athlete explains the situation, including displaying the stack of weights provided for the women contrasted to the outfitted room given for the men — a photo first shared Thursday by Ali Kershner, a sports performance coach at Stanford.
"If you aren't upset about this problem, then you're a part of it," Prince concluded after showing the dumbbell weights and an empty room where equipment could be used versus a heavily equipped room for the men's tournament.
Speaking to Newsweek on Friday, Prince said that her intention with posting the video wasn't to complain but to say "hey, this isn't right, like this needs to change."
Her post prompted widespread social media reaction, including some claiming that the disparities are because men's basketball is more popular and generates more money.
"If womens [sic] basketball made money like men's [sic] does they would have similar equipment. But they dont, you get what you earn," one user wrote to Prince on Twitter Friday.
Other users showed widespread support for Prince's stance and declared that the issue infringed on Title IX, a federal law that forbids sex-based discrimination in education programs and requires gender equality in athletics.
Monica Beck and Chloe Neely, attorneys at The Fierberg National Law Group, told Newsweek that Prince's video "fully captures the gender discrimination that female athletes face on a daily basis throughout their lives, despite Title IX. The NCAA's treatment of Sedona Prince and her fellow women athletes at the basketball tournaments is a mockery of Title IX."
The two women also believe the NCAA is in violation of the policy according to the information publicly available about the two weight rooms. But a second lawyer, Cari Simon, who is also a Title IX expert, pointed Newsweek toward a 1999 U.S. Supreme Court ruling that does not bind the NCAA to maintain Title IX standards.
Still, the situation drew plenty of attention online, including from WNBA Las Vegas Aces player A'ja Wilson who tweeted: "That ncaa bubble weight room situation is beyond disrespectful."
Golden State Warriors star Stephen Curry also posted his thoughts, saying. "wow-come on now! @marchmadness @NCAA yall trippin trippin."
Prince said she understands why people are bringing up Title IX because "the whole purpose of it is to create equality for men's and women's sports, you know, completely equal."
"If one doesn't have the same then it's a violation. And so people were very upset that it was blatantly, you know, not even like a little bit different," she said. "It was literally like complete polar opposite of like, what is, you know, it was just so confusing of like what is going on."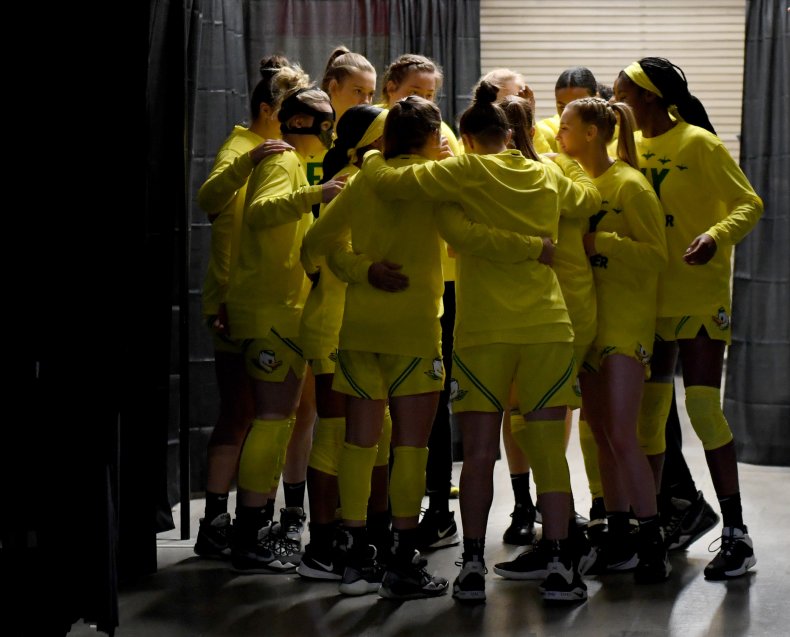 Since Prince's video and posts from other players went viral, the NCAA has been forced into a reckoning of sorts. Lynn Holzman, the NCAA vice president of women's basketball, and Dan Gavitt, NCAA senior vice president of basketball, took responsibility for the weight room differences and apologized to the players and coaches during a Zoom call.
"We fell short this year, and what we've been doing to prepare in the last 60 days for 64 teams to be here in San Antonio and we acknowledge that," Holzman said, adding that concerns will be addressed, particularly the weight room issue.
"This is on me," Gavitt said during the Zoom call. "We will get it fixed as soon as possible." The two administrators promised to enact changes by Saturday.
Prince confirmed to Newsweek that the NCAA has promised the teams they will address the issues, but still questioned why the women's teams were being treated "differently than the men." Still, she said it is "pretty amazing" that her voice "has been used" to highlight the problems in women's sports.
"I've changed hopefully history and how women's basketball players are treated," she added. "[The post] was really just to incite change and open the forum for discussion. And if that made you mad then, like I said in my video, you're a part of the problem."