See Terrifying Snake Try to Crawl Up a Baby Stroller in Viral Photo
Here's one viral snake photo that might make your skin crawl. A mom recently witnessed a wild snake slithering into her baby's stroller on a walk through the Australian outback, and snapped a photo to prove it.
The mom, named Kelly, told ABC Adelaide that she and her 22-month-old child went for a bushwalk when they noticed the creepy critter, who was suddenly way too close for comfort. "I had just taken my 22-month-old daughter and my dog for a walk, my daughter was just off to the left of me and I picked her up then turned around to see a snake climbing up the pram," she recalled.
That's when Kelly took her photo of the snake close to the stroller's wheel. Apparently, it didn't stop there, though. "I just stood still as it climbed up and crawled across the wheel and up the pram and look at me then slithered off. Thankfully my dog was up the path and didn't even notice."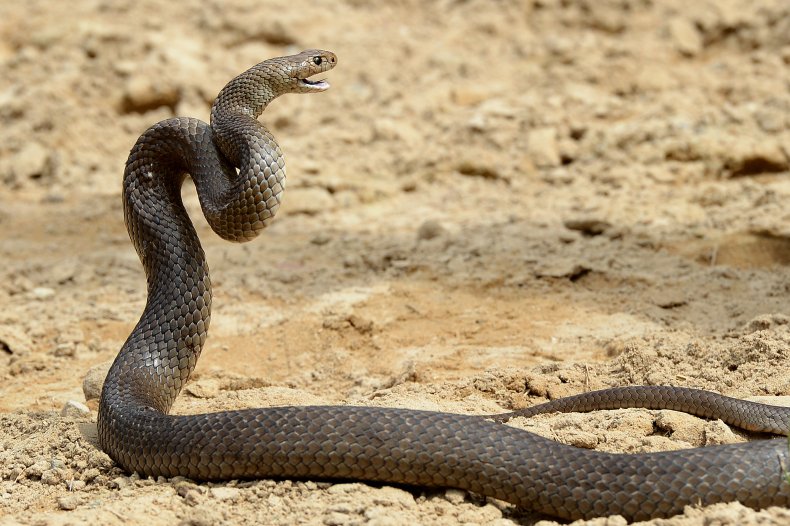 Thankfully, Kelly's daughter wasn't in the stroller at the time that the photo was taken. If she was, it seems the snake would have gotten within cuddling distance of the almost-two-year-old. ABC Adelaide hasn't confirmed what kind of snake it was, though, so there's no telling if the reptile was venomous or deadly. Still, we can say with a fair amount of certainty that the snake probably wasn't looking to simply make some new friends.
Facebook commenters based in Australia warned others to be cautious when they're out in nature this time of year. Many shared similar occurrences and snake-related finds on their own property. "She did the right thing, leaving the snake alone and waiting for it to move away," one Facebook user wrote. "They have no interest in us as we're too big to eat."
Another even urged readers to reconsider ever taking a bushwalk, as the natural landscape caters to hard-to-see predators like snakes. One person suggested that bushwalks should be abandoned entirely, to avoid snakes. Others chimed in and said avoiding nature altogether wasn't a productive way to live.
Australia has no shortage of snakes and other threatening creatures, and shocking encounters can be found all over the Internet. Newsweek recently found a video of a frog eating a snake (not the other way around), also filmed in Australia, which might unsettle and stick with you even more than this snake and stroller saga.