Selena Gomez has called out the CBS series The Good Fight for making a "tasteless" reference to her kidney transplant.
The Texan singer and actress had the surgery in 2017 as part of her treatment for lupus, an autoimmune disease.
In Season 5, Episode 4 of The Good Fight, attorney Liz (played by Audra McDonald) is asked by a television executive to run a "sensitivity read" on a comedian's routine.
This prompts Marissa (Sarah Steele), Jay (Nyambi Nyambi) and Jim (Ifadansi Rashad) to discuss the effect of cancel culture on comedy.
Jay asks his colleagues which topics are now off-limits to comedians. The group offers answers including autism, necrophilia and "Selena Gomez's kidney transplant."
After the episode aired on July 15, this exchange was criticized by viewers and Gomez fans on social media. Now the singer has had her own say, posting on Twitter on August 4.
She wrote: "I am not sure how writing jokes about organ transplants for television shows has become a thing but sadly it has apparently.
"I hope in the next writer's room when one of these tasteless jokes are presented it's called out immediately and doesn't make it on air."
In a follow-up tweet, she asked fans who were eligible to become organ donors. Gomez posted: "My fans always have my back. LOVE YOU. If you are able to please sign up to be an organ donor."
A source close to the production told Newsweek: "If you watch the episode in full, the reference to Selena Gomez is part of a discussion the characters are having about topics that are not OK to make fun of and the idea of cancel culture and being canceled for telling a bad joke.
"The reference is that Selena Gomez's transplant is not something you can joke about."
Newsweek has approached Gomez and CBS for comment.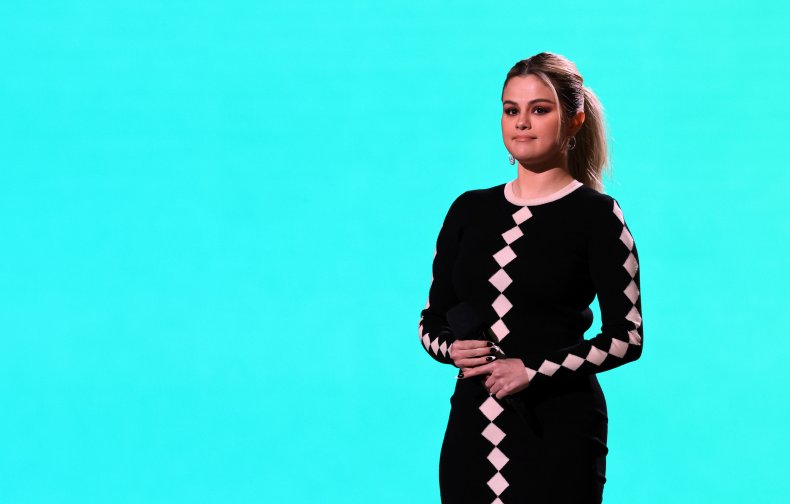 The Good Fight's reference to the 29-year-old's transplant comes not long after Peacock's Saved by the Bell reboot was criticized for making fun of her health problems. After a social media backlash about the November 2020 episode, Peacock apologized and made a donation to the Selena Gomez Fund for Lupus Research at the University of Southern California.
One of Gomez's friends, actress Francia Raísa, was her organ donor for the 2017 surgery. The singer posted a statement on Instagram about the transplant, describing Raísa as her "beautiful friend" who gave her the "ultimate gift and sacrifice" by donating her kidney.
In the four years since the operation, Gomez has been working on her music and acting career, releasing songs in English and Spanish. She has also launched a makeup line, Rare Beauty, and set up her own production company, July Moon Productions.
On August 31, Gomez will be seen in the Hulu comedy series Only Murders in the Building, alongside Steve Martin and Martin Short. It is her first television acting role since she became a child star in Disney's Wizards of Waverly Place.
The Good Fight airs on Thursdays on CBS.