Seller Stages Battered House With Creepy Skeleton, Assures It's 'Not Haunted'
In most Hollywood movies, the spooky goings-on happen after a family move into an old house. For this Michigan listing however, spooking buyers is apparently all a part of the game plan.
Realtors at the Lisa Vela Group and Five Star Real Estate have enlisted the help of a skeleton to drum up interest for one of their fixer-upper properties, which is far from ready to move into, by including it in every picture on the online listing.
On the market for $74,900, the five-bedroom, two-bathroom house in Muskegon, Michigan is currently like something out of a horror movie, even without the bizarre skeleton, with torn down walls and no doors.
"This massive fortress is not for the weak, but those who are willing to invest are sure to reap the benefits! It's secret doorways, stunning woodworking, and FIVE bedrooms will leave you breathless," described the realtor in the description, adding that it is "not haunted."
Popular Instagram account "Zillow Gone Wild" regularly shares shocking and out-there finds from the online real estate site.
"We wanted to do something unique to market this home and get it in front of as many potential buyers as possible. The home is solid, with beautiful features, and potential to be restored—that's where the 'GREAT BONES' idea started," Bre McCarthy with the Lisa Vela Group at Five Star Real Estate told Newsweek.
"So far, we have had a lot of positive inquiries from buyers, but have also received many kudos from fellow agents. This industry can be challenging at times, so it was an added benefit to be able to make other realtors smile. My background is marketing, but started selling real estate a couple years ago—this is a perfect example of combining the two! We are always up for a challenge, and love to provide creative marketing solutions for our clients."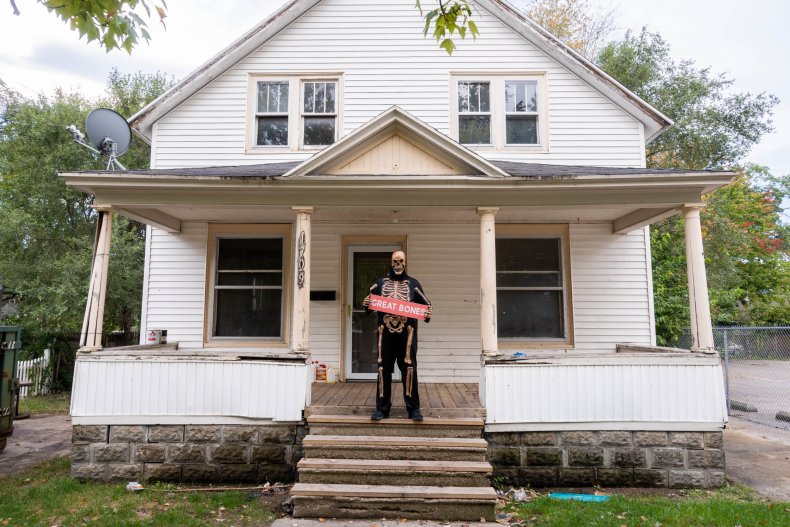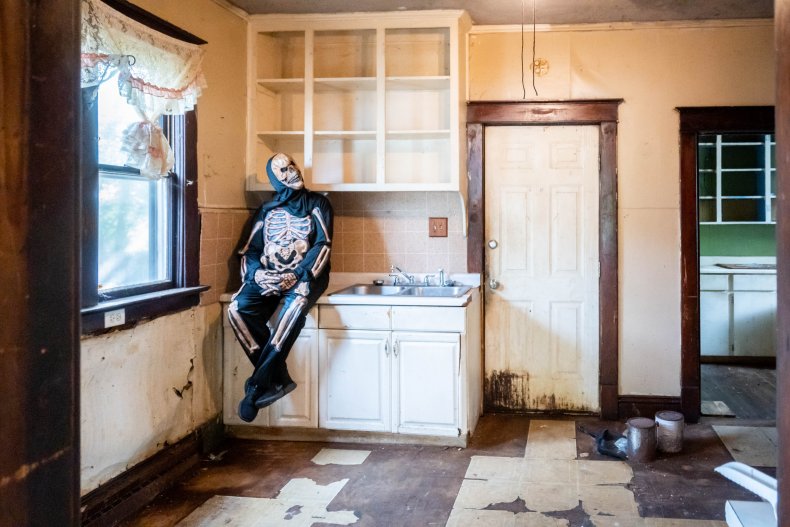 They listed the beaten-up house just two days ago, but have left the presenting work to their skeletal friend, who stands in each and every picture.
Holding a sign reading, "GREAT BONES," the joke here is of course that the house too has "great bones" and is a perfect fixer-upper if all you're looking for is the structure.
In one image, the skeleton is even helping paint the house, while in another it's more than made itself at home, sitting atop the kitchen counter casually. The skeleton is already being put to work too, wiping down the bathroom with Windex in preparation for its future owners.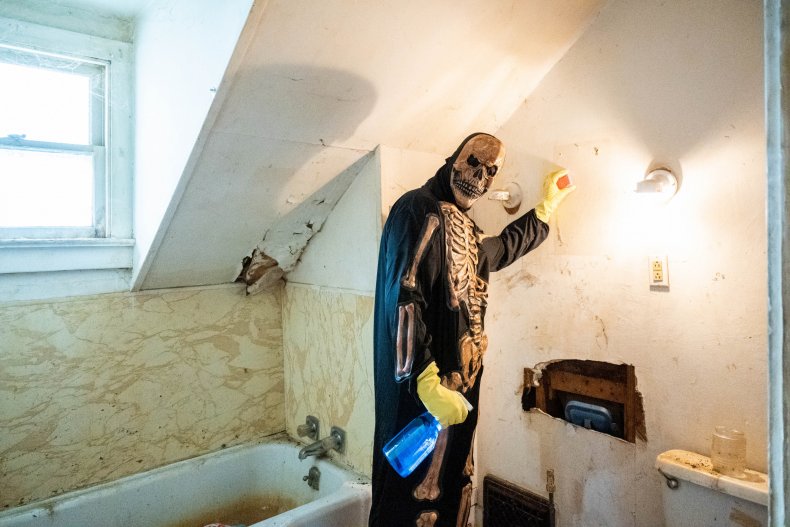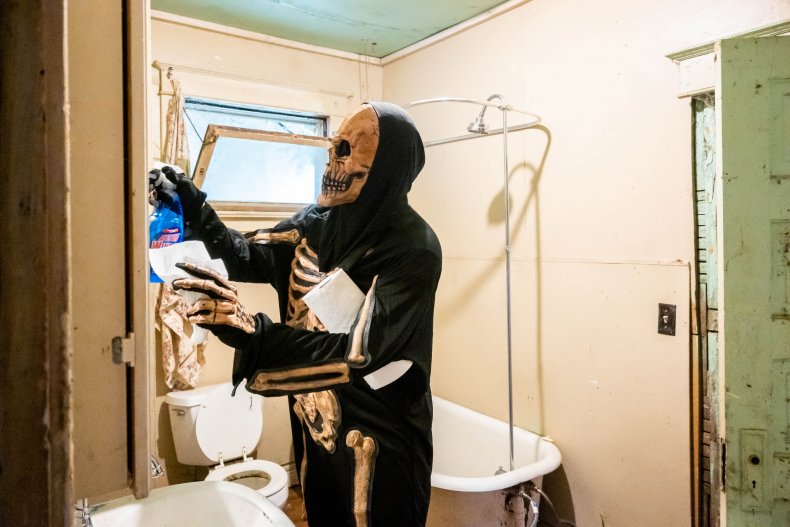 More hauntingly though, are the later images which steer away from the hilarity and are outright spooky. In one picture, the skeleton is poking its head through a hole in the wall, while in another it's peeking over the stairs, barely visible without a second look.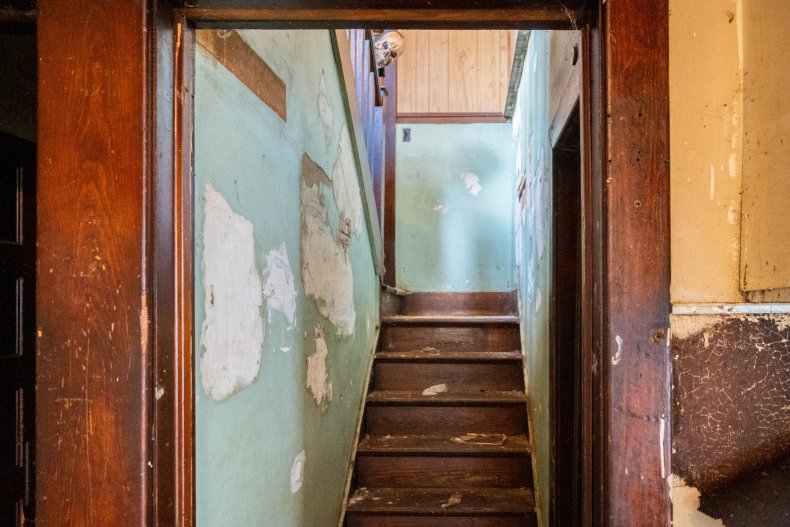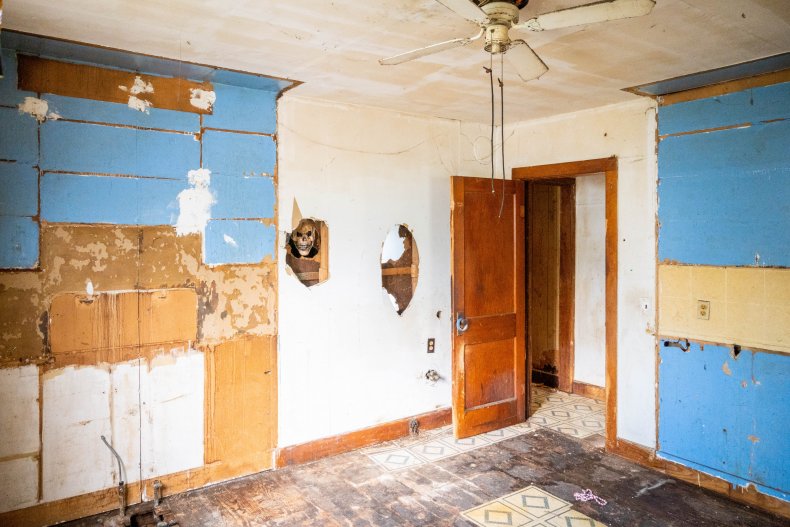 In just two days, the listing has gained over 24,000 views on Zillow, and 81,000 likes on the Instagram repost of it.
"It's the drawn TV with the fake commercial on it for me," commented one entertained Instagram user, referencing the room with a pack of Newport cigarettes also drawn on the wall.
"I actually like what they are trying to do here," wrote another user, while others applauded the "marketing genius" behind it.
"Thanks, I hate it," disagreed another user.
The skeleton is out of the ordinary for listings, but such strange real estate news is becoming more and more common. Just over a week ago, a Massachusetts studio bungalow was listed for almost half a million, despite only just fitting a mattress in it.