'Selling Sunset' Season 3: How Chrishell Stause Found Out About Divorce
Selling Sunset is back as Season 3 dropped on Netflix today as fans gear up for another run of drama from the real estate brokers at The Oppenheim Group. The dramatic Season 2 ending saw real-estate newbie Chrishell Stause reveal she had been blindsided after her husband served her divorce papers.
Spoilers ahead...
Now the new episodes pick up where things left off, with fans eager to find out the details surrounding why Stause's husband, Justin Hartley of This Is Us fame decided to suddenly separate from his wife—and she found out over text message.
In the new episodes, Stause, 39, leaves the home she shared with Hartley in The Valley in Los Angeles and stays in a hotel where she gets a visit from friend and fellow realtor, Mary Fitzgerald.
"I don't know," Stause tells Fitzgerald. "I just feel like... sorry I'm just in shock with it all. I'm trying to keep it together but it's a lot all at once because everybody in the whole world knows the same time that I knew. Have you ever been knocked over by a wave and you don't know which way to swim to get up?"
"We were totally fine that day. I thought we were totally fine," she says.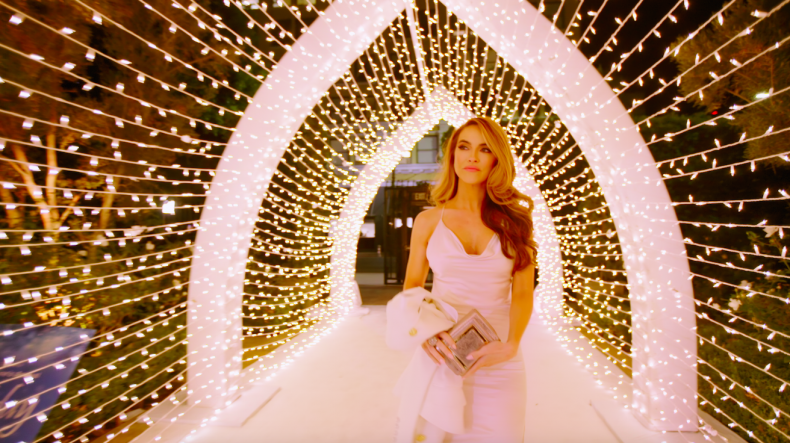 Stause describes how she and Hartley had a fight that morning over the phone and she hadn't seen him since, explaining: "We didn't talk things through and before we had a chance to figure anything out, he'd filed."
When Fitzgerald asks how she found out, Stause revealed the heartbreaking bombshell that it was by text message: "Um, I found out because he text me that we were filed. And 45 minutes later the world knew."
"He just blindsided you?" Mary asks.
In her confessional interview to camera, Stause says: "Because of the crazy way in which this went down, people want answers. I f***ing want answers."
Stause later explains she got the text as she was about to leave the house for work.
"I immediately just grabbed a few things and I just got out of there as fast as I could. I don't think I really knew where I was going or what I was going to do, but I just had to leave."
Hartley filed for divorce in late November, citing "irreconcilable differences." They had been married since 2017.
Fitzgerald describes Hartley's actions as "s*****," and adds: "Part of a relationship is you talk about it and compromise and try and change for the other person. But those are two different things—getting upset and going down to the courthouse and filing. That's huge."
Stause amits she thought Hartley was joking at first, saying: "I thought that must be a joke but that was kind of the end of the communication. What am I supposed to say? What do you say after that? Now I have to find a place to live, now I have to scramble and figure this out."
She also said the experience has taken a toll on her mental health, telling Fitzgerald: "It takes a toll on your self-worth where you just feel the anger, like, how could you do it this way? And the sadness of I love him so much, this was my best friend and who do I talk to now? It's such a rollercoaster."
Selling Sunset Season 3 is streaming on Netflix now.