All You Need to Know About New 'Selling Sunset' Cast Member Chelsea Lazkani
Selling Sunset Season 5 is on Netflix this April – and a new cast member is joining the show.
Chelsea Lazkani is being added to the reality show this season as a brand new realtor at the Oppenheim Group. In the Selling Sunset Season 5 trailer, it seems like Lazkani will be a much-needed ally for Christine Quinn, with the pair seen bonding while calling everyone else "peasants."
The Netflix show features a host of glamorous realtors from all over the world, but Lazkani is the first British member of the Selling Sunset cast.
Here's what else we know about the Oppenheim Group's latest realtor and Selling Sunset Season 5's new cast member.
Who Is Selling Sunset Star Chelsea Lazkani?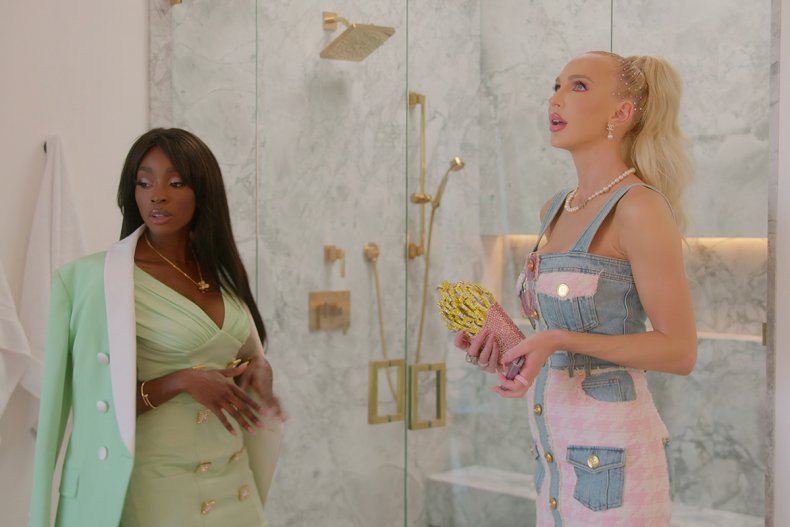 On the Oppenheim Group website, Lazkani is described as a "wife, mother, and luxury realtor," with five years experience in the industry.
The British-Nigerian realtor comes from a real estate family, with her father being London-based architect and property developer Segun Adefioye, while her mother Elizabeth Adefioye holds an executive title at engineering company Emerson.
Unlike other Selling Sunset cast members like Chrishell Stause and Vanessa Villela, who were soap opera actors, Chelsea has a more academic background. She completed a BA in economics at the University of Buckingham, followed by a master's degree in oil and gas economics from the University of Dundee before moving into real estate.
This move has already been a success. Per the Oppenheim Group, her first year sales totaled over $10 million. As for her personal life, she is married to Jeff Lazkani, a managing partner of a media agency, who was also the one who introduced her to Jason Oppenheim. Together, Chelsea and Jeff have two children, Maddox, 3, and Melia, 2.
Prior to working at Oppenheim, Lazkani worked at another real estate firm with ties to reality TV – Rodeo Reality, as featured in Million Dollar Listing Los Angeles.
In the lead-up to her Selling Sunset Season 5 debut, Lazkani gave an interview to People, in which she said she hoped her appearance on the Netflix show provided inspiration for fellow Black women, a group underrepresented in American real estate.
She said: "I saw this as an opportunity to really open doors in an industry that has lacked diversity and where minorities are underrated...This was kind of my time to give back and to educate and really mentor and push forward Black women in this luxury sector in real estate. So just knowing that I've got a greater purpose kind of prepared me for this."
Asked by the magazine about her relationships with the girls, who she did not know before signing up to the series, she said: "I just adore Christine. We have such a great relationship...​​Emma and I have a very special connection. I think the world of Chrishell...To be honest with you, I just have a budding relationship with all the girls."
Selling Sunset's Seasons 1 to 5 are streaming now on Netflix.