Florida Governor Ron DeSantis' recent push of the coronavirus vaccine has provoked Republican ire, with some even accusing the GOP governor of taking bribes. Their pushback indicates the difficulties facing conservative leaders who have pivoted their messaging after months of vaccine disinformation by right-wing outlets.
DeSantis, whose name has been mentioned as a possible 2024 presidential candidate, praised the effectiveness of vaccines in his most direct effort to encourage Floridans to get vaccinated in a press conference Wednesday.
"These vaccines are saving lives. They are reducing mortality," he said. "If you look at the people that are being admitted to hospitals, over 95 percent of them are either not fully vaccinated or not vaccinated at all."
"If you are vaccinated, fully vaccinated, the chances of you getting seriously ill or dying from COVID is effectively zero," DeSantis added.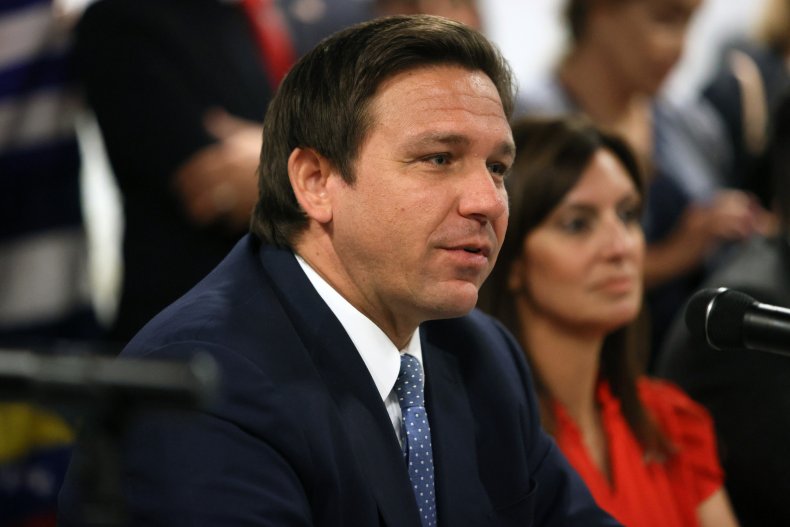 His remarks came as Florida topped the nation in new COVID-19 cases, with hospitalizations in some areas climbing to its highest rate since the pandemic started last year. The state recorded 67,413 new cases of COVID-19 over the past week, which accounts for 20 percent of total infections across the country, according to the Centers for Disease Control and Prevention.
But negative reactions to DeSantis' vaccine push among vaccine-resistant individuals and new polling data suggests that it could be too late to change the minds of those who refuse to get the shot.
Former National Security Advisor Michael Flynn accused DeSantis of "trying to be politically correct" in his promotion of the vaccine. "That's a dangerous place to be for people in this country who do have influence," Flynn said.
Conservative podcaster Stew Peters discussed DeSantis' vaccine push with guest Carlos Cortez, who falsely accused the governor of taking bribes.
"It was all about bribery," he said, calling the governor a "sellout."
"Everybody has a number. When you get someone to fold, you just put a lot of money on the line," Cortez added. "We don't know if DeSantis' family was threatened."
A new Associated Press-NORC poll found that most unvaccinated Americans are unlikely to change their minds, with 45 percent saying they definitely won't and 35 percent saying they probably won't get vaccinated.
Meanwhile, DeSantis has also received criticism from the other side, with Florida physicians accusing the governor of not doing enough to protect citizens from catching the virus.
"It's better late than never," Dr. Mona Mangat, an immunologist in St. Petersburg, said of the governor's vaccine endorsement.
"But at the same time as DeSantis says vaccines are effective, he's also banning businesses from requiring proof of vaccination. He's taking away private companies' ability to protect their employees and customers by requiring the safe and reading available vaccine."
Newsweek reached out to DeSantis' office for comment.
Correction, 7/20, 5:20 p.m.: This story has been edited to clarify that the allegations about bribery were made by guest Carlos Cortez. Newsweek regrets the error.