Michael Flynn Criticizes DeSantis, Hannity for Vaccine Push: 'They Know That They Have Influence'
Former National Security Advisor Michael Flynn criticized Florida Governor Ron DeSantis and Fox News Host Sean Hannity yesterday for promoting COVID-19 vaccines.
Flynn accused the two of "trying to be politically correct" as he spoke Friday on The Right Side With Doug Billings.
"Don't let political correctness get in the way of health choices," he warned.
Flynn said DeSantis and Hannity "know that they have influence," noting DeSantis is viewed as a contender for the 2024 GOP presidential nomination.
"For guys like DeSantis and Sean Hannity, I mean, they have to make a decision for themself," he said. "And if their decision is one that is going to be swayed or influenced by trying to be politically correct, that's a dangerous place to be for people in this country who do have influence."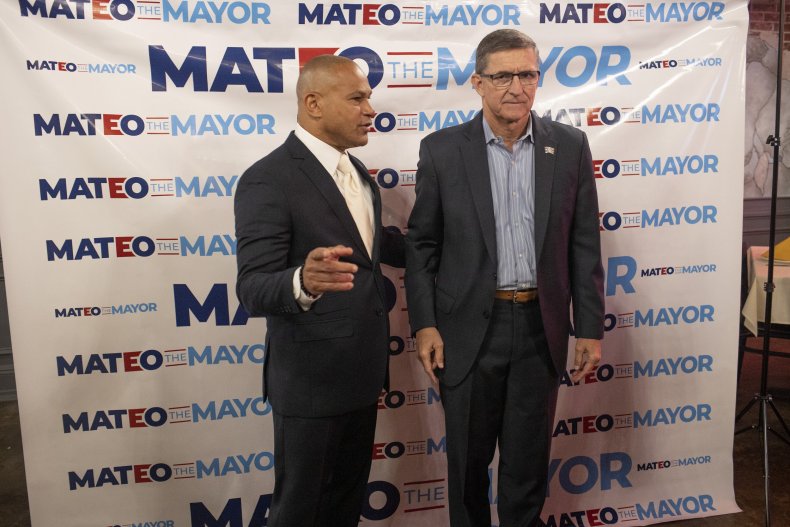 His criticism follows the high-profile Republicans showing support for COVID-19 vaccines in the past week.
"If you are vaccinated, fully vaccinated, the chances of you getting seriously ill or dying from COVID is effectively zero," DeSantis said during a press briefing on Wednesday. "If you look at the people being admitted to hospitals, over 95 percent of them are either not fully vaccinated or not vaccinated. And so these vaccines are saving lives."
DeSantis' comments came as Florida sees a spike in COVID-19 cases due to the Delta variant. More than 18,000 new COVID cases were reported in Florida on Friday, according to data from John Hopkins University. That compares to about 1,500 on June 25.
Hannity said on Monday he believes in the vaccination and urged viewers to "please take COVID seriously. I can't say it enough. Enough people have died. We don't need any more deaths."
Hannity also told viewers to "research like crazy."
"Talk to your doctor, your doctors, medical professionals you trust based on your unique medical history, your current medical condition, and you and your doctor make a very important decision for your own safety," he said
He added on Thursday that he won't directly advise anyone to take vaccines because he is not a medical professional, and added that he's always said the virus should be taken seriously.
Spokespeople for DeSantis and Fox News did responded to requests for comment as of Saturday morning.