Sen. Bernie Sanders Calls for 'Political Revolution' And Confronts Falling Polls in Fox News Interview
Hoping to appeal to the show's conservative base of viewers, presidential hopeful Bernie Sanders appeared on Fox News Sunday and called for a "political revolution" and addressed his slip in polling numbers over the last few months.
"We need fundamental change," the independent Vermont senator told host Chris Wallace. "We need a political revolution. We need millions of people working class people whose lives have been decimated for the last 45 years to stand up to Wall Street, to stand up to insurance companies and the drug companies. A political revolution—that is what I believe in."
When confronted with a Fox News analysis that showed his second-place lead for the Democratic ticket slipping from 23 percent in March to 13 percent in mid-June, Sanders seemed unfazed. (Other polls show Sanders hovering a few points higher than 13 percent, though a noticeable slip is still present. As of mid-June, data showed him sandwiched between former Vice President Joe Biden, in first place, and Mass. Senator Elizabeth Warren, in third.)
"Well, I explain it in the sense that polls go up and polls go down," Sanders told Wallace. "I am beating President Trump fairly decisively, which is consistent with all of the polling that I have seen. I think, frankly, I am the strongest candidate to defeat Trump," he added, noting that he believed his campaign could compete in the battleground states.
In fact, a Fox News poll released earlier in that same show on Sunday found that if the election were held today, Sanders would have bettered Trump by 9 percentage points. Only Biden performed better in that poll, leading the president by 10 points.
Sanders was less direct when asked why he was a better choice for the Democratic ticket than Warren.
"Senator Warren is a friend of mine, and she's a great senator," he said, before discussing stagnant wage increases in the U.S.
"We have an economy today that is working phenomenally well for the top 1 percent, while the working class in this country is still being decimated," he said, citing data from the Federal Reserve System.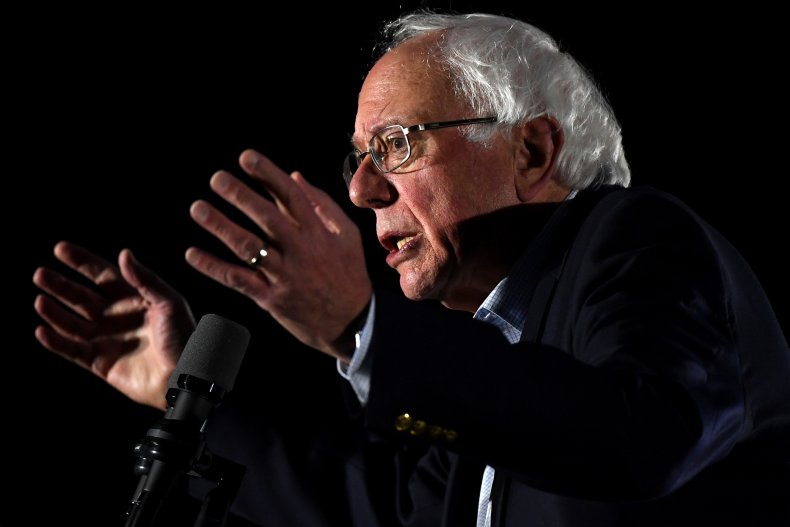 Though Wallace's weekly political show airs on the Fox broadcast network, Sanders' appearance on Fox News Sunday came as progressive contenders for the Democratic ticket war with what it means to be associated with the Fox News brand and channel that has demonstrated a clear ideological preference toward Trump.
While some Democratic hopefuls have appeared in town halls on Fox News, Warren has refused to appear on the network, calling the channel "a hate-for-profit racket" that gives "a megaphone to racists and conspiracists." According to a report dated in mid-May, Calif. Senator Kamala Harris also intends to give the network's town hall events the cold shoulder. Meanwhile, the Democratic National Committee rebuffed the network when scheduling debates back in March, citing its apparent allegiance to supporting the Trump administration's agenda.
Aside from Sanders, other contenders—including South Bend, Mayor Pete Buttigieg and Julian Castro—have argued that appearing on the conservative network is necessary to appeal to a wide swath of would-be voters.