Sen. Chuck Schumer: President Donald Trump Sinks To 'New Low' With Attacks on Democratic Party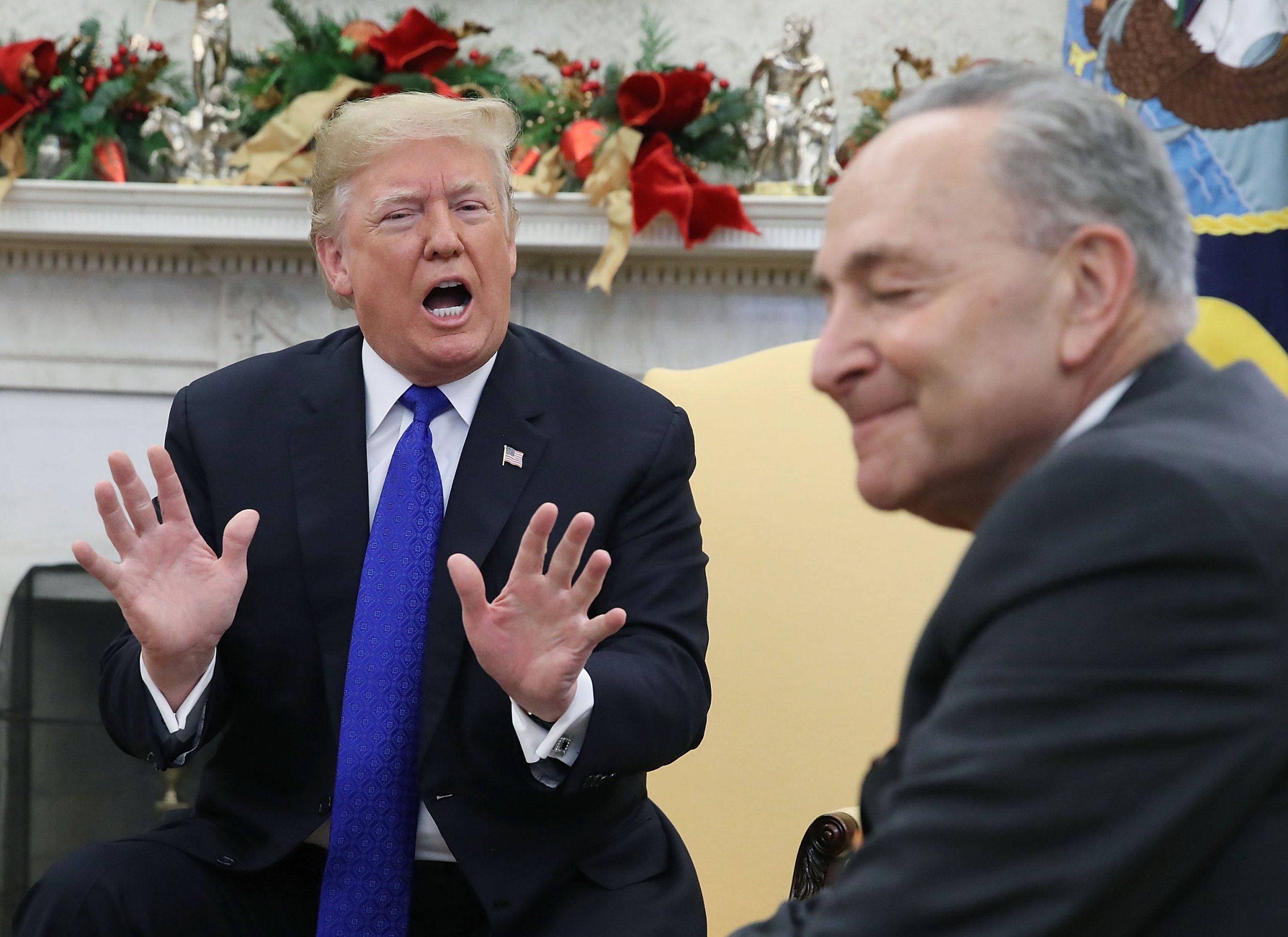 Democratic Senator Chuck Schumer blasted President Donald Trump on Friday for accusing the Democratic Party of being the "anti-Israel" and "anti-Jewish party" in statements to White House reporters. The New York lawmaker, who is Jewish, said the utterance marked a "new divisive low" for the blustery commander-in-chief.
"For the president, who when neo-Nazis marched in Charlottesville in front of a synagogue and said 'burn it down' and he said 'both sides' are to blame, this is a new divisive low," Schumer wrote in a Facebook post. "His comments show the president is only interested in playing the politics of division and not in fighting anti-Semitism."
Schumer continued: "Mr. President, you have redefined chutzpah."
Schumer's statement was a direct response to an exchange the president had with White House reporters earlier Friday, in which Trump lambasted an anti-hate measure from the House of Representatives. The resolution was originally intended to denounce anti-Semitism exclusively but was then broadened following pushback from those who argued that it should also denounce other types of bigotry prevalent in the U.S.
"I thought yesterday's vote was disgraceful," the president said. "They have become an anti-Israel party; they've become an anti-jewish party, and I thought that vote was a disgrace." He further suggested that other lawmakers agreed with him if they were being "honest."
The resolution, which passed 407-to-23, was introduced following the controversy surrounding Minnesota Rep. Ilhan Omar's remarks about Israel. The freshman representative has been outspoken over the country's treatment of Palestinians and the influence of lobbying group AIPAC in U.S. political affairs, drawing rebukes from some who framed her statements as "anti-Semitic."
In addition to Schumer, other lawmakers called the president's rebukes hypocritical and pointed to Trump's tempered responses to a wave of other religious and race-based controversies. Hate-tracking groups, including the Southern Poverty Law Center, have suggested that his presidency unleashed neo-Nazis groups into the mainstream and emboldened white supremacists. Trump's campaign has also weathered criticism for fanning racial and cultural tensions for political benefit, a lingering charge that Florida Rep. Ted Deutch resurfaced in his response.
"I condemn the use of anti-Semitism by my colleagues, Democrat and Republican, AND by your campaign," Deutch tweeted in response to Trump. "This isn't political. It's life and death. Please stop."
The Democratic Coalition, an organization that campaigns for Democratic lawmakers, took it a step further and opined that Trump was "the most racist president to ever occupy the Oval Office."
Meanwhile, Democratic Sen. Brian Schatz of Hawaii tried to pivot the conversation back to the federal administration's stances on healthcare and attempts to build a wall along the southern border.
"...They are suing in federal court to take your healthcare away and are raiding military construction money for the wall," he wrote, linking to video of Trump making the statements.