Sen. Marco Rubio Blames Power Outage On 'German Dam' Explosion, Doesn't Realize 'Germán Dam' is Journalist's Name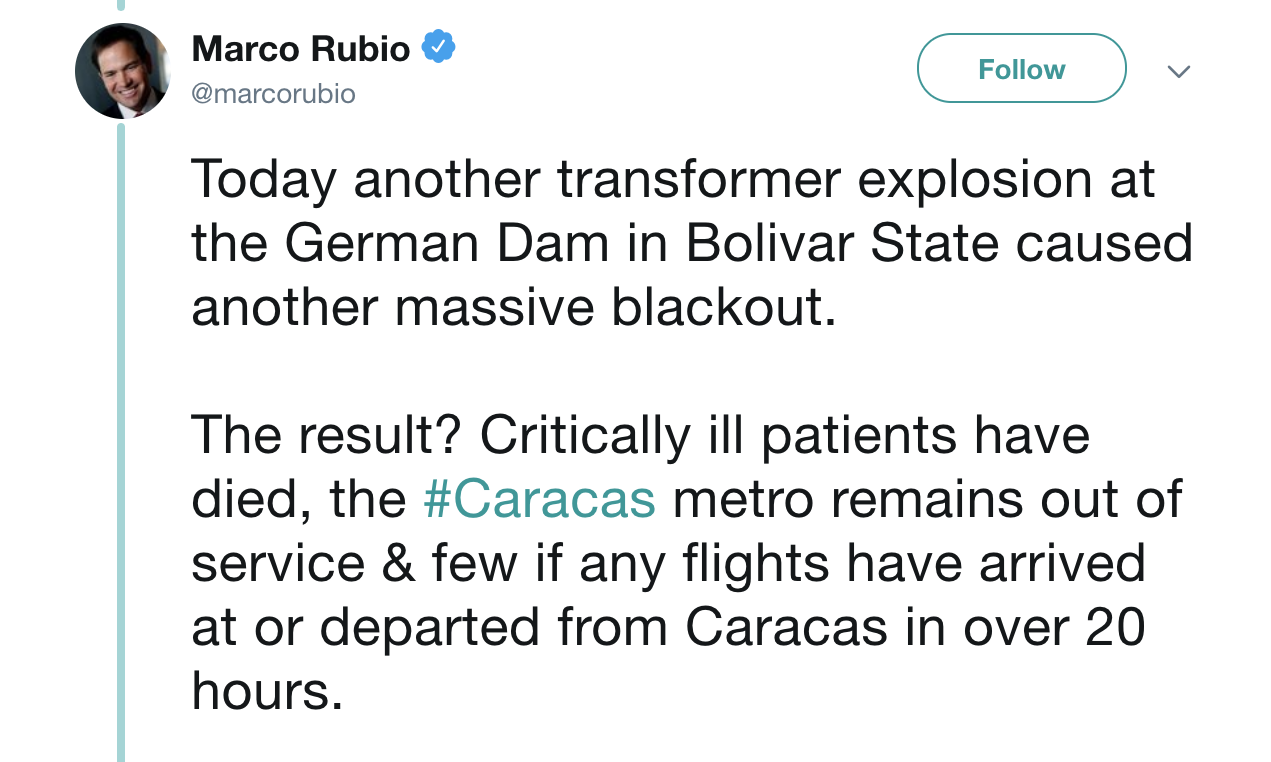 Florida Senator Marco Rubio has been a vocal critic of the regime of disputed Venezuelan President Nicolás Maduro, particularly in recent days as widespread power outages wreak havoc throughout the South American nation. However, Rubio's zeal to highlight this ongoing problem led the lawmaker to make an embarrassing goof.
"Today another transformer explosion at the German Dam in Bolivar State caused another massive blackout," tweeted Rubio on Saturday. "The result? Critically ill patients have died, the #Caracas metro remains out of service & few if any flights have arrived at or departed from Caracas in over 20 hours."
While there was indeed an explosion that took out large chunks of the power grid, there does not appear to be any German Dam in the Venezuelan state of Bolívar.
Rather, it looks like Rubio goofed and somehow confused the name of South American journalist reporting on the outages with the actual source of the blackout — as noted by none other than journalist Germán Dam himself.
In a tweeted reply to the senator, Dam confirmed and clarified that yes, "an important transformer exploded in Bolivar and that, in part, again collapsed the Venezuelan Electric System; However it was not in a dam, much less german. My name is German Dam, I am one of the journalists who published the information."
The original Rubio tweet remains live on the senator's feed, as part of a longer thread about the blackouts in Venezuela.
Late last week, the Maduro government attempted to blame the blackouts on "the electric war announced and directed by American imperialism against our people," and Venezuelan Communications Minister Jorge Rodriguez specifically named Rubio as a culprit during a televised address to the nation.
Rubio responded to the allegation that he was somehow to blame for the blackout by responding, "I must have pressed the wrong thing on the "electronic attack" app I downloaded from Apple. My bad."
The senator has previously advocated for the use of force to remove Maduro from power and replace him with Juan Guaidó, the opposition leader recognized by the U.S., Canada, the European Union, Brazil, Colombia, and several others as the rightful president. Last week, told a Senate Foreign Relations Committee hearing that "the Maduro regime is a clear danger and threat to the national interests and, I would argue, national security of the United States."