Sen. Warren Doubles Down on 'Failed' Jerome Powell Amid SVB Collapse
Senator Elizabeth Warren, a Massachusetts Democrat, on Sunday continued to speak out against Federal Reserve Chair Jerome Powell in the wake of the recent collapse of Silicon Valley Bank (SBV).
Powell, who remains Fed chair under President Joe Biden, was first appointed to the position by former President Donald Trump in 2018. With Powell and the help of Republicans and some Democrats in Congress, Trump was able to roll back numerous banking regulations, including provisions of the Dodd-Frank Act that subjected banks with over $50 billion in assets to greater oversight and "stress testing."
The newer, looser regulatory provisions established by Trump and Powell have been argued by some to be a primary factor behind the failure of SVB, the second-largest bank collapse in United States history. With around $209 billion in total assets, the bank was not subject to stress testing that would have determined its ability to weather financial shocks, including the bank run by panicked depositors that ultimately led to its collapse.
On Sunday, Warren appeared on CBS News' Face the Nation and NBC News' Meet the Press where she criticized Powell for his hand in rolling back banking regulations. Warren said that Powell had "failed" at the jobs set out for him and added that, in her view, he should not be chairman of the Fed.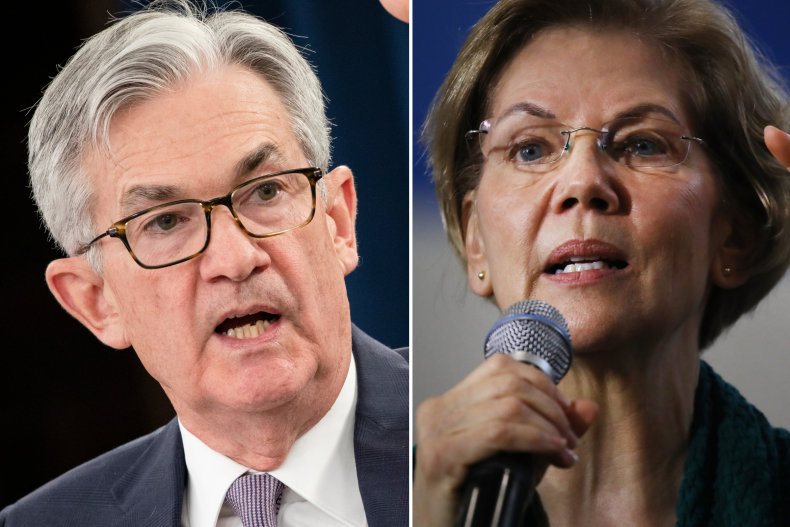 "Donald Trump ran for president saying he would lighten the regulations on these banks," Warren said during her appearance on Face the Nation. "And then Jerome Powell just literally took a flamethrower to these regulations in order to make them less and less effective."
She added during her appearance on Meet the Press the same morning: "My views on Jay Powell are well known at this point. He has had two jobs: one is to deal with monetary policy, one is to deal with regulation. He has failed at both."
When pressed by host Chuck Todd about if she would advise Biden to replace Powell, Warren said that she does not believe "he should be chairman of the Federal Reserve," but did not outright call for Biden to replace him.
"I've said it as publicly as I know how to say it," the Democratic senator added. "I've said it to everyone."
Warren, alongside fellow progressive Representative Katie Porter, a California Democrat, is leading a push to repeal the 2018 Trump legislation that they argue loosened banking regulations too much and led to the collapse of SVB and other institutions. The repeal would bring the asset threshold for stress testing back down to $50 billion from its current limit of $250 billion, among other provisions that were rolled back in 2018.
When reached for a response to Warren's criticisms by Newsweek, a spokesperson for the Federal Reserve said that the agency had no comment at this time.
Newsweek reached out to the White House press office via email for comment.
Updated, 03/19/2023, 6:25 p.m. ET: Changed to reflect response from Federal Reserve.