'Senate Chaplain' Trends After Opening Prayer at Impeachment Trial: 'For We Always Reap What We Sow'
U.S. Senate Chaplain Barry Black opened Friday's impeachment trial against President Donald Trump with a prayer that included a reminder of the Golden Rule and an admonition that Senators "can't ignore [God] and get away with it, for we always reap what we sow."
Black's prayer preceded a day of impeachment arguments which culminated in the Senate deciding to block new testimony from witnesses from being heard during the trial. Trump's acquittal is expected to be voted on sometime within the next week.
"Eternal Lord God," Black prayed, "you have summarized ethical behavior in a single sentence: Do for others what you would have them to do for you. Remind our senators that they alone are accountable to you for their conduct."
Newsweek attempted to call Chaplain Black's office but could not reach anyone for comment.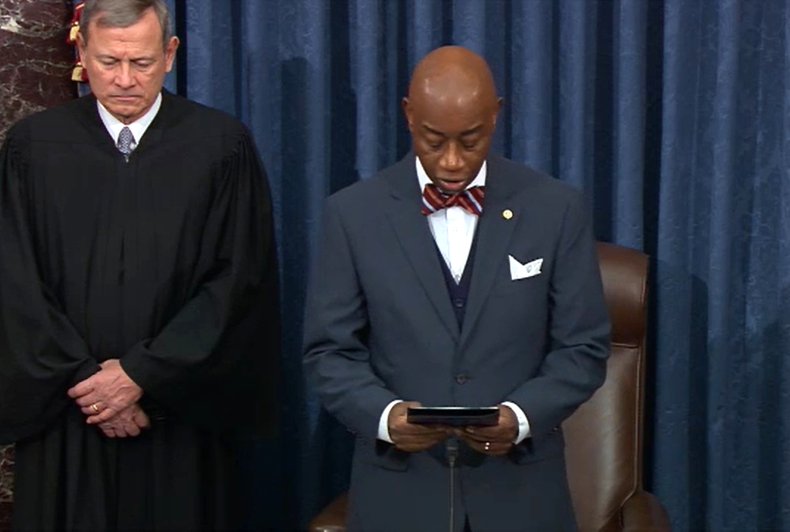 Black's prayer became the fodder for internet discussion with the phrase "Senate chaplain" gaining traction on Twitter. Some interpreted his prayer to be aimed directly at Senate Republicans, most of whom had already indicated their intention to vote against hearing from witnesses.
"Oh my," tweeted podcast host John Aravosis. "The US Senate chaplain is pulling no punches during the opening prayer of today's impeachment trial. This sounds like a pointed sermon directed at Republican senators."
"The Senate chaplain warned the Senate in prayer today, saying to God, 'They can't ignore you and get away with it. We always reap what we sow,'" tweeted Rev. Dr. William J. Barber II. "Does [Senate Majority Leader Mitch] McConnell recognize that he & the other Senators & this nation will reap what they are sowing?"
"They are sowing lies, arrogance & tactics akin to white supremacy, treating Trump like a king in blatant violation of the Constitution," Barber continued. "A 'no' vote on witnesses today will sow to the wind & we will all reap the whirlwind."
Christian attorney Brandon Beckham tweeted, "Radicals among @TheDemocrats are improperly interpreting today's prayer by the #SenateChaplain to be a 'warning' to @GOP. I disagree. It's a bipartisan #Prayer for Senators to vote what's right. As a #Christian, I believe a quick Acquittal is what's right."
Twitter user @redhotchili_63 tweeted, "Even the #senatechaplain is politically polarized. It is not going to get better with socialist trying to win @DNC #POTUS nomination."
Some people like journalist Sophia Nelson weren't convinced that Black was taking a side at all.
"A careful study of #senatechaplain Barry Black indicates he is likely Republican," Nelson tweeted. "Appointed to 2003 to the Senate. So the shade he may be throwing in these powerful prayers could be at the DEMS. It's hard to read. Very interesting to know what he is thinking..."
Black became chaplain of the U.S. Senate in June 2003 after 27 years of service in the U.S. Navy. He holds degrees in divinity, counseling, management, ministry and psychology.