A vote to subpoena additional evidence for President Donald Trump's impeachment trial, including witnesses such as former national security adviser John Bolton, failed Friday to muster enough support in the GOP-controlled Senate.
The unsuccessful endeavor makes this the first presidential impeachment trial in U.S. history without witnesses and brings Trump one step closer to becoming the third president to be acquitted of articles of impeachment.
The fruitless effort for witnesses came despite Democrats' assistance from Republicans Mitt Romney of Utah and Susan Collins of Maine. The final tally, 49-51, fell two votes short after GOP wildcards Lisa Murkowski of Alaska and Lamar Alexander of Tennessee ultimately decided against subpoenaing witnesses and documents relating to the allegations that Trump withheld military aid from Ukraine while pressuring officials to investigate former Vice President Joe Biden and his son, Hunter.
"There is no need for the Senate to re-open the investigation, which the House Democratic majority chose to conclude and which the managers themselves continue to describe as 'overwhelming' and 'beyond any doubt,'" Senate Majority Leader Mitch McConnell (R-Ky.) said in a statement.
A final vote to acquit or convict the president will occur Wednesday at 4 p.m.—the day after Trump's State of the Union address. There are several procedural matters that must first take place, such as passing a resolution to outline the procedures for closing arguments from House impeachment managers and Trump's defense team, as well as speeches from senators.
To not allow witnesses and documents, Senate Minority Leader Chuck Schumer (D-N.Y.) said, "is a perfidy" and "one of the worst tragedies that the Senate has ever overcome."
"America will remember this day, unfortunately, where the Senate did not live up to its responsibilities, where the Senate turned away from truth and went along with a sham trial," he added.
There is also the lingering question of how a trio of Democratic toss-ups—Joe Manchin of West Virginia, Doug Jones of Alabama and Kyrsten Sinema of Arizona—will vote on the articles. Republicans have boasted about the idea of a "bipartisan acquittal."
In recent days, two stories from The New York Times based on an unpublished manuscript of Bolton's forthcoming book said that Trump intended to withhold military aid to Ukraine until it announced probes into the Bidens. Bolton also reportedly wrote that months before the financial freeze, the president directed him to get dirt on the Democrats from Ukrainian officials and to establish a meeting between Rudy Giuliani, Trump's personal attorney, and Ukraine President Volodymyr Zelenskiy.
Trump denied Bolton's accounts.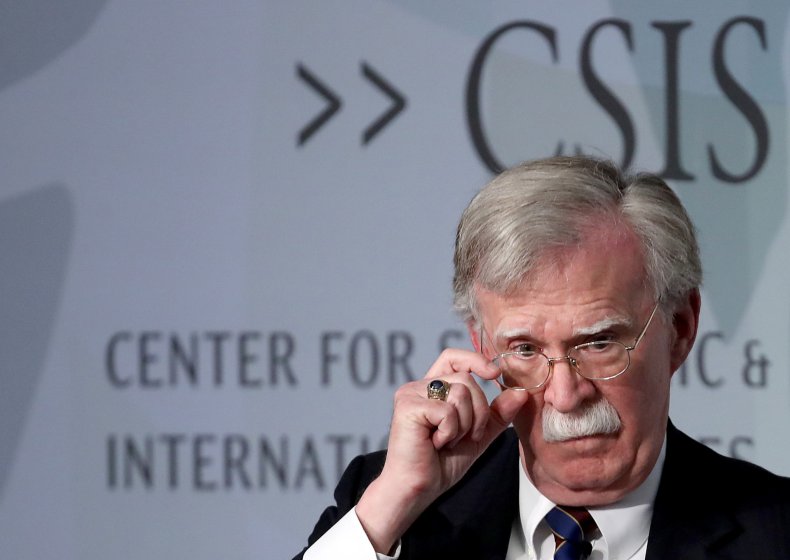 Still, the news appeared not to move the needle for Republicans on witnesses, including Bolton and acting White House chief of staff Mick Mulvaney. It reignited Democrats' demands for witnesses. They equated a trial without witnesses to a "cover-up" and a "meaningless" acquittal.
"The acquittal will have no value because Americans will know that this trial was not a real trial," Schumer said.
"It will be no exoneration," Rep. Sylvia Garcia (D-Texas), an impeachment manager, said on the Senate floor amid debate leading up to the vote. "It will be no vindication."
Lead impeachment manager Rep. Adam Schiff (D-Calif.) said Trump's trial will set the precedent for every impeachment trial "from this point to the end of history."
"You can bet in every impeachment that follows, whether it is a presidential impeachment or the impeachment of a judge, if that judge or president believes that it is to his or her advantage that there shall be a trial with no witnesses, they will cite the case of Donald J. Trump," he said.
Although an increasing number of Republicans believe the president's Ukraine dealings were "inappropriate," they say his actions do not rise to the level of impeachable conduct.
"Can anyone doubt that at least half of the country would view his removal as illegitimate—as nothing short of a coup d'état?" Sen. Marco Rubio (R-Fla.) said Friday in a statement. "It is difficult to conceive of any scheme Putin could undertake that would undermine confidence in our democracy more than removal would."
The Sunshine State lawmaker added "Just because actions meet a standard of impeachment does not mean it is in the best interest of the country to remove a President from office."
Sen. Richard Burr (R-N.C.) said he's thought for some time that Trump's actions with regard to Ukraine, including his infamous July 25 phone call with Zelenskiy, were inappropriate but not impeachable.
Alexander explained late Thursday night his belief there was "no need for more evidence," despite saying the impeachment managers proved Trump withheld aid as he lobbied Ukraine to conduct a probe into the Bidens.
"The question then is not whether the president did it, but whether the United States Senate or the American people should decide what to do about what he did," Alexander, who is not seeking reelection this year, elaborated. "I believe that the Constitution provides that the people should make that decision in the presidential election that begins in Iowa on Monday."
Murkowski, who announced her decision against witnesses in the hours leading up to the vote, said that "given the partisan nature of this impeachment from the very beginning and throughout, I have come to the conclusion that there will be no fair trial in the Senate."
"I don't believe the continuation of this process will change anything. It is sad for me to admit that, as an institution, the Congress has failed," she explained in a statement.