Republicans Boast of Potential Bipartisan Acquittal for Trump; Three Democrats Undecided on Vote
Republicans went into the first day of the question-and-answer portion of President Donald Trump's impeachment trial Wednesday confident that, whether or not they hear from witnesses, there's a chance the president may walk away from the impeachment process stronger, thanks to a bipartisan acquittal.
"We've already had Democrats come across and join with Republicans when it came to the impeachment articles in the House," said Rep. Mark Meadows of North Carolina, who's part of group of House Republicans charged with defending Trump to the public rather than in the Senate. "To have a bipartisan acquittal verdict certainly would carry the same message."
A trio of Democratic senators—Joe Manchin of West Virginia, Doug Jones of Alabama and Krysten Sinema of Arizona—are considered wildcards in terms of whether they'll vote to convict the president of abuse of power and obstruction of Congress.
Trump, who tweeted about the potential scenario where Democrats could join Republicans to acquit him, wrote that "Cryin' Chuck Schumer will never let that!" in reference to the Democratic Senate minority leader.
The House's vote in December to impeach the president resulted in Democratic defectors. And Republicans have highlighted potential unity cracks among the Democrats in the Senate, with GOP leaders touting it as "bipartisan opposition" to Trump's impeachment.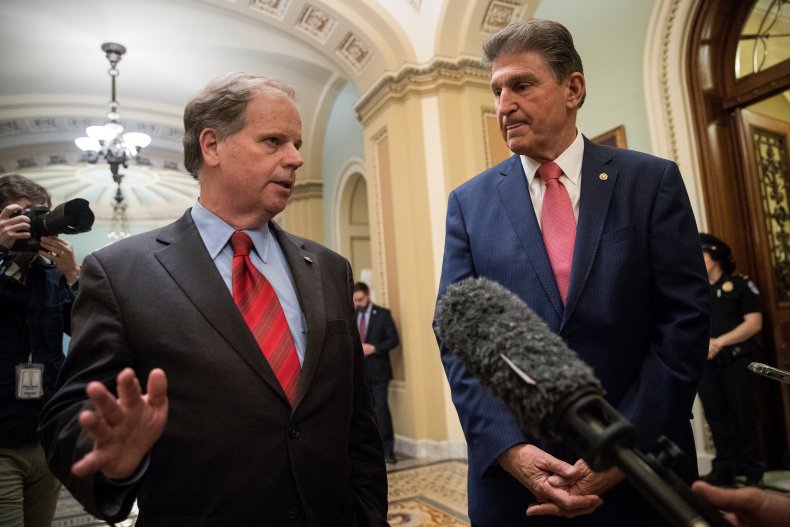 "I've heard it, I've used it. If I get one Republican vote, I talk about my bipartisan majority," Senate Democratic Whip Dick Durbin of Illinois said. "That's natural around here, but I think people understand if it's just one, two, three people, as opposed to a larger number. It's in the eye of the beholder."
A bipartisan acquittal could also bolster Republicans' pushback to the argument they're attempting a "cover-up," as Democrats have suggested for their opposition to witness testimony.
"What happens in terms of the final vote, I think, is undetermined," said Sen. Brian Schatz (D-Hawaii), while Sen. Chris Murphy (D-Conn.) said he "wouldn't be shocked" if there were Democrats who voted to acquit.
Jones brushed aside the messaging around what it could mean if any Democrats vote with the Republicans.
"I don't listen to political arguments. I don't listen to anything like that," he said. "I'm judging based on my own conscience."
Jones, who faces a tough re-election this fall, said he wants to hear from "relevant witnesses," which most Democrats have said are people like former national security adviser John Bolton. Currently, Democrats appear to be two votes shy of being able to subpoena new witnesses or documents. Senators Mitt Romney of Utah and Susan Collins of Maine are the lone Republicans signaling they'll support such an endeavor.
"I'm a lawyer by trade. I've tried a ton of cases and in every case, a judge says, 'Please don't start deliberating, please don't make up your mind until you hear all the evidence,'" Jones said. "About the obstruction [of Congress] charge, the more I see the president of the United States attacking witnesses, the stronger that case gets."
Manchin has advocated for witnesses but wants Chief Justice John Roberts to determine each person's relevancy to the trial. He took an unusual step Wednesday morning, siding with Republicans by saying one "relevant witness" would be Hunter Biden, former Vice President Joe Biden's son. Trump wanted Ukraine to investigate both Bidens, including Hunter for his appointment to a board position at Ukrainian gas company Burisma while his father was in office.
"I think that any Democrat worried about what the eventual decision they have to make on acquittal or conviction would have to worry about how they vote on witnesses as well," Sen. Mike Braun (R-Ind.) said.
Democrats, and even some Republicans, have shot down the idea of a Bolton-Biden witness deal, saying it's not a "fantasy football trade."
"I think [Hunter Biden] could clear himself," Manchin told MSNBC. "But being afraid to [subpoena] anybody who might have pertinent information is wrong, no matter if you're a Democrat or Republican. If it's relevant, then it should be there.
"By golly, I've gotta go home and look West Virginia in the eye and say, 'This is why I did it.' If I don't have an answer and I can't explain it, I can't vote for it," he elaborated. "I take my oath seriously about impartiality. I have not made a decision yet [on acquittal or conviction]."