Senate Committee Looking Into Tony Bobulinski After Allegations Hunter Biden's Business Partner Confirmed China Deals
The Senate Committee on Homeland Security and Government Affairs confirmed that it has reached out to Tony Bobulinski regarding his connection to Hunter Biden and Joe Biden.
On Thursday, Bobulinski released a statement to multiple media outlets describing his business ties to the Bidens.
"The committee is working to validate information being revealed by multiple sources. As part of those efforts, we have reached out to several individuals named in recently revealed emails, including Tony Bobulinski. We look forward to their cooperation in helping us uncover the truth," a spokesperson for the committee told Newsweek on Thursday.
Bobulinski, who claims to be supportive of Democrats, was the recipient of a May 2017 email reported by the New York Post last week. That email, which was reportedly from a business associate of Hunter Biden, outlined "renumeration [sic] packages" for a Chinese venture. The email laid out how equity would be distributed under a provisional agreement, representing "10" going to Hunter "for the big guy." In a Thursday statement to the New York Post and Fox News, Bobulinski said that the "big guy" was a reference to Democratic presidential nominee Joe Biden.
"The reference to 'the Big Guy' in the much publicized May 13, 2017 email is in fact a reference to Joe Biden," Bobulinski said in the statement, which he later emailed to Newsweek when reached for comment.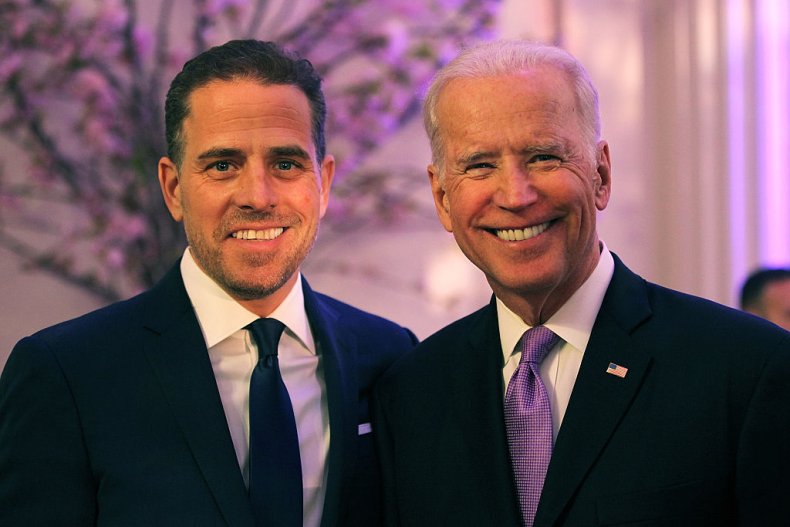 "Hunter Biden called his dad 'the Big Guy' or 'my Chairman,' and frequently referenced asking him for his sign-off or advice on various potential deals that we were discussing. I've seen Vice President Biden saying he never talked to Hunter about his business. I've seen firsthand that that's not true, because it wasn't just Hunter's business, they said they were putting the Biden family name and its legacy on the line," he said.
Newsweek reached out to the Joe Biden presidential campaign and Hunter Biden's lawyer for comment, but they did not respond by the time of publication. Last week, Joe Biden campaign spokesperson Andrew Bates dismissed the reporting by the New York Post.
"The New York Post never asked the Biden campaign about the critical elements of this story," Bates said. "They certainly never raised that Rudy Giuliani—whose discredited conspiracy theories and alliance with figures connected to Russian intelligence have been widely reported—claimed to have such materials."
Hunter Biden's attorney George Mesires has previously dismissed the allegations as well, suggesting they are not credible because they initially came from documents and emails shared with the New York Post by Giuliani, President Donald Trump's personal lawyer.
Bobulinski said in his statement that the Senate Homeland Security and Government Affairs Committee and Senate Finance Committee asked for "all documents" connected to his business relationship with the Bidens. "I have extensive relevant records and communications and I intend to produce those items to both Committees in the immediate future," he said.
Newsweek reached out to media representatives for the Senate Finance Committee for comment, but they did not immediately respond. Both committees are chaired by Republicans. Newsweek also reached out to the ranking Democratic members on the committees, but they did not immediately respond.
Bobulinski said that he is the CEO of Sinohawk Holdings, which he says was working with the Bidens regarding their business deals in China. Sinohawk Holdings was incorporated on May 15, 2017 in Delaware—two days after the email outlining remuneration for the Bidens was reportedly sent to Bobulinski. Bobulinski did not respond to multiple requests from Newsweek to provide further documentation confirming his business ties to the Bidens.
Democrats have previously dismissed the reporting from the New York Post as being part of a Russian disinformation campaign. Several media outlets have reported that the FBI is investigating the reports as a possible Russian effort, but Director of National Intelligence John Ratcliffe said this week that there is "no intelligence" backing those reports.
The FBI has neither confirmed nor denied the media reports of an investigation. In a letter reported by CNN, the FBI's assistant director for congressional affairs Jill Tyson told Senator Ron Johnson, a Wisconsin Republican who chairs the Senate Committee on Homeland Security and Government Affairs, that it has "nothing to add" to Ratcliffe's comments.
Significant questions have been raised about the credibility and authenticity of the reports involving Hunter Biden. Social media companies Twitter and Facebook took action to limit the spread of the New York Post articles online last week, drawing accusations of censorship from many Republicans.
The emails and other documents reportedly came from a laptop that was abandoned at a computer repair shop in Delaware. The owner of the shop has said he gave a copy of the information to Guiliani and that the FBI confiscated the laptop.
While Trump and other Republicans have jumped on the reports to criticize Joe Biden ahead of the election, the president and his children have their own foreign business entanglements. According to reporting by The New York Times, Trump International Hotels Management L.L.C. maintains a bank account in China and the president's company paid nearly $190,000 in taxes to the East Asian nation between 2013 and 2015. Multiple trademarks for Trump and his daughter Ivanka Trump were approved in China after he became president, amid ongoing trade negotiations with the country.