Senate GOP to Use Biden SCOTUS Nominee to Prove 'Moral High Ground'
Senate Republicans are preparing for next week's Supreme Court confirmation hearings and they're planning to use President Joe Biden's pick, Judge Ketanji Brown Jackson, to prove their "moral high ground."
"Republicans are resigned to the obvious, and that is: The president won the election, he gets to nominate her, and we're a long ways from the next election," Republican Senator Kevin Cramer told Politico. "Democrats have made it more personal in every case as compared to us. And so I think we have earned the moral high ground in that regard."
Cramer is joined by other members of the GOP, who told the publication that they're preparing to differentiate themselves from their Democrat counterparts by not taking a party-centric approach and by considering Jackson's nomination without getting into "the gutter."
Several Republican senators made subtle jeers at the Democrats for the confirmation hearings of now-Justice Brett Kavanaugh, who testified against the sexual assault allegations made against him in 2018.
"The best message I can give you at this point, but I think you've heard me say it before: It's going to be a fair, thorough hearing, and we're not going to get in the gutter like the Democrats did," Senator Chuck Grassley said.
While the senators plan to position Jackson's hearings in contrast to Kavanaugh's, the circumstances around her nomination make her a relatively safe, lower-stakes pick.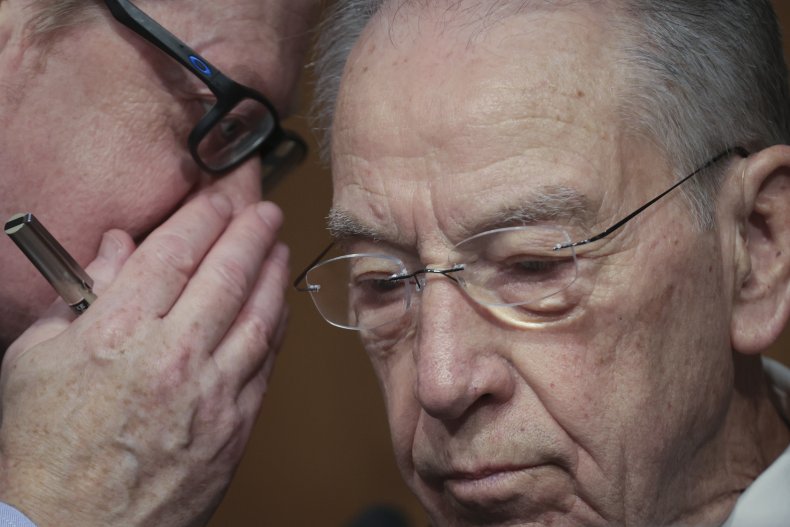 Last month, Biden nominated Jackson to fill the Supreme Court vacancy caused by the retirement of Justice Stephen Breyer. Because Jackson would replace one of the bench's liberal justices, she won't shift the ideological balance of the court should she be confirmed. The high court would remain a 6-3 conservative majority.
Jackson has also earned the support of Republican senators in the past. Senators Susan Collins, Lisa Murkoswki and Lindsey Graham all voted to confirm her to the U.S. Court of Appeals for the D.C. Circuit last year.
"She's not a stranger to the members of the committee ... Her judicial philosophy, her approach to judging will be the subjects I'm going to focus on," Senator John Cornyn told Politico.
Republicans have said they won't use one single approach when it comes to evaluating Jackson. Democrats notably honed in on one particular issue during the confirmation hearings for each of former President Donald Trump's nominees.
During Justice Amy Coney Barrett's hearing, the Democrats rallied behind the Affordable Care Act, which they argued her appointment would strike down. During Justice Neil Gorsuch's, they pointed to the Republicans' refusal to allow former President Barack Obama to nominate a replacement in the wake of Justice Antonin Scalia's death.
"We're very different from the Democratic conference in terms of this idea of an orchestrated theme or message," Republican Senator Thom Tillis said. "There will be some, but we'll go at in the way that we historically do. I think we all come in pretty independent."
However, Democrats are carefully watching the GOP and expecting the minority party to use the hearing to get a leg up on the 2022 midterms rather than getting personal with Jackson.
Republicans are "setting it up that they're just so wonderful people. You know what I have to say about that," Democratic Senator Mazie Hirono said. "They can't find enough ways that they can really attack her, so maybe they're putting out a narrative that 'look how reasonable and wonderful we all are.'"
Jackson's hearings are set to begin on March 21.