Senate Leader Dick Durbin Sides With Progressives, Breaks With Biden on Ending Filibuster
Senate Majority Whip Dick Dubin of Illinois, the number two Democrat in the chamber, broke with President Joe Biden on ending the filibuster Sunday by saying "we'll change the rules" if enough members support the move.
Durbin's remarks came one day after the Senate passed the $1.9 trillion stimulus bill largely along party lines, with all 48 Democrats and two independents who caucus with them supporting and 49 Republicans opposing the bill.
Progressives renewed their push to end the filibuster after the Senate parliamentarian ruled that the $15 minimum wage measure was out of the scope of the budget process called reconciliation, which requires only a simple majority. Members of the left wing of the party warned that Biden would fail in delivering the agenda he promised throughout his campaign without changes to the structure of the chamber.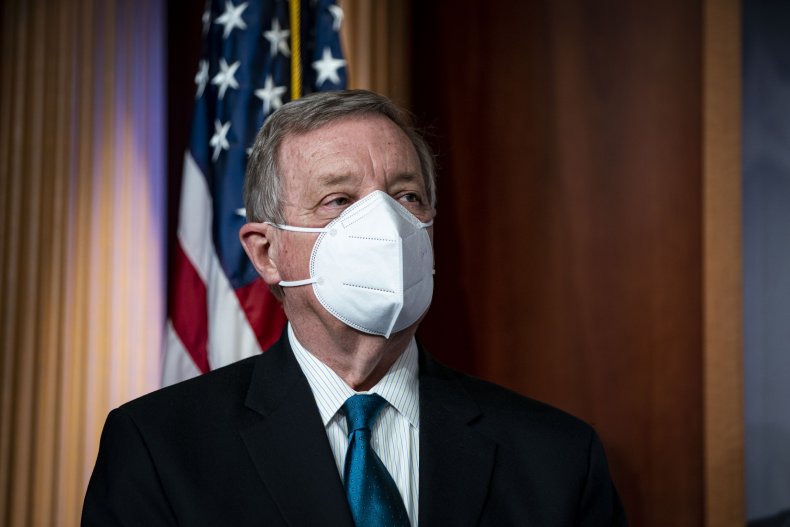 Durbin on Sunday agreed with that warning. "There's truth to it," he said, according to The Hill. "Unfortunately, we've reached that point. And if enough members in the Senate agree, we'll change the rules."
Under the filibuster rules, most legislation requires at least 60 votes to pass the Senate. With the chamber evenly divided and Republicans against Biden's agenda, finding 10 lawmakers to cross party lines seems insurmountable. All 50 Senate Democrats would need to support ending or amending the filibuster rules for structural changes to be made.
White House Communications Director Kate Bedingfield told CNN's Jake Tapper earlier Sunday that Biden is still committed to seeking bipartisan support and opposes ending the filibuster.
Proponents of eliminating the filibuster are unlikely to have enough votes. Moderate Democratic Senators Joe Manchin of West Virginia and Kyrsten Sinema of Arizona have already said they would oppose ending the filibuster.
But Durbin expressed hope that they could change their minds "when they come to understand the futility of what we're engaged in. We can't even consider serious issues because of the Senate rules."
Manchin on Sunday reiterated his opposition to killing the filibuster, but indicated that he could be open to amending the legislative rule to ensure that using it was more "painful."
With the filibuster in play, several current Democratic bills will likely fail in the Senate, including the recently House-passed H.R.1 election and ethics reform measure, as well as the Equality Act.
Last week, Senate Majority Leader Chuck Schumer insisted that the chamber will no longer be a "graveyard" where bills go to die, but declined to support ending the filibuster.
"We're going to come together as a caucus and figure out a way to get the bold action the American people demand. But we will put bills on the floor," he said at a press conference.
Newsweek reached out to the White House for comment.