Senate Passes Bill Allowing Capitol Police to Request Assistance Without Prior Approval
The U.S. Senate has unanimously passed a bill that would allow U.S. Capitol Police (USCP) in Washington, D.C., to request assistance without prior approval during an emergency.
The bill would let the chief of Capitol Police unilaterally request assistance from the D.C. National Guard or federal law enforcement agencies in emergencies without prior approval of the USCP Board, according to the U.S. Senate Periodical Press Gallery.
The U.S. House will now have to vote on a companion bill before it becomes law.
"This bipartisan bill addresses a major security challenge that was evident on January 6th, and is part of our ongoing effort to strengthen Capitol security moving forward," Missouri Republican Senator Roy Blunt, one of the bill's two co-authors, said in a statement.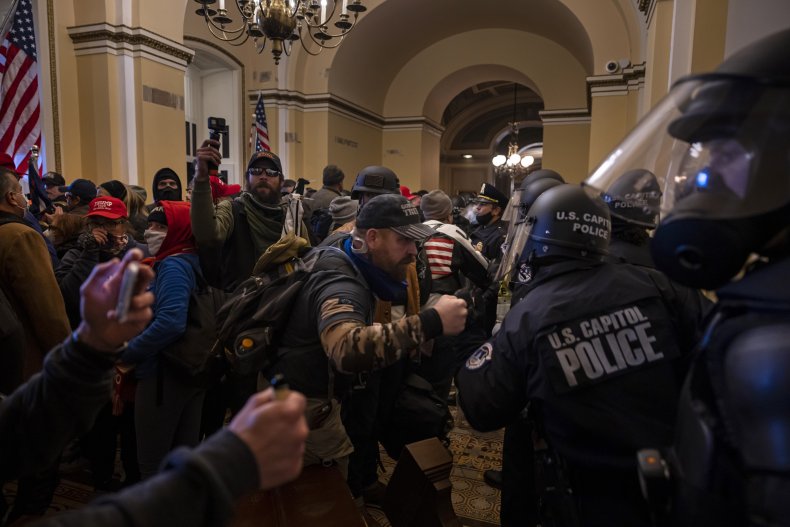 On that date, 1,200 USCP officers defending the Capitol were overwhelmed by tens of thousands of supporters of then-President Donald Trump, former USCP chief Yogananda Pittman told the House Appropriations Committee in a January 27 hearing.
"Capitol Police officers and their law enforcement partners were left alone to defend the Capitol and our democracy itself from violent insurrectionists, while the Chief of the Capitol Police was delayed in obtaining approval to request help from the National Guard," the bill's other co-author, Democratic Minnesota Senator Amy Klobuchar, said.
On January 4, then-USPC Chief Steven Sund requested the Capitol Police Board to declare a state of emergency and authorize a request for additional troops from the National Guard, according to The New York Times. However, the board denied Sund's request.
Sund had requested the troops in anticipation of possible violence on that day, since Trump and other conservative figures had convened a "Stop the Steal" rally to counter the congressional certification of the election's results.
When the riots started, Sund asked the board for backup from the National Guard. But it took over an hour for the board to fulfill the request. This was because the commander of the D.C. National Guard, Major General William J. Walker, required additional approval from the Pentagon before he could dispatch such forces.
Trump's supporters sought to overturn the election due to Trump's baseless claim that he had only lost due to an unprecedented nationwide conspiracy of voter fraud.
Trump's former attorney general, his former head of U.S. cybersecurity infrastructure, over 60 court cases filed by Republicans, as well as numerous statewide audits have not uncovered any evidence that the 2020 election was stolen.
Five people died in connection with the riots and roughly 140 USCP officers were injured. The police injuries include a broken spine, a lost eye, lost fingers, brain damage and multiple cases of PTSD. Four Capitol Police officers have died by suicide since the insurrection.
Ransacking the Capitol, the rioters shattered windows while trying to access congressional chambers, smeared feces in the hallway and stole computer equipment, potentially constituting a national security breach.
For months after the insurrection, the federal building had increased police and National Guard presence, metal detectors, severely limited public access and fencing topped with razor wire surrounding the federal building.
A Capitol security assessment, completed in March by a task force ordered by Democratic House Speaker Nancy Pelosi, suggested numerous enhanced security features to protect the Capitol.
The suggestions included background checks for all personnel, a quick response force on-site and enhanced intelligence-gathering capabilities for Capitol Police. The report also called for retractable mobile fencing as well as security cameras and other measures to protect Congress members' home district offices.