Twelve Republican Senators Rebuke Donald Trump, Vote to Terminate National Emergency
Twelve Republican senators voted Thursday to terminate President Donald Trump's national emergency, siding with Democrats to rebuke his attempt to use funds not appropriated by Congress to construct portions of his southern border wall.
Those senators included Susan Collins of Maine, Lisa Murkowski of Alaska, Rand Paul of Kentucky, Mike Lee and Mitt Romney of Utah, Lamar Alexander of Tennessee, Pat Toomey of Pennsylvania, Jerry Moran of Kansas, Rob Portman of Ohio, Roy Blunt of Missouri, Marco Rubio of Florida and Roger Wicker of Missouri. All Democratic senators voted to terminate the declaration.
But the president has reiterated he will veto the measure, immediately tweeting after the vote, "VETO!" In a subsequent tweet, he added, "I look forward to VETOING the just passed Democrat inspired Resolution which would OPEN BORDERS while increasing Crime, Drugs, and Trafficking in our Country. I thank all of the Strong Republicans who voted to support Border Security and our desperately needed WALL!"
It will be the first veto of Trump's presidency, with a second soon to likely follow due to his intention to also veto a resolution passed Wednesday that would end U.S. support for the Saudi-led war in Yemen. Seven Republicans sided with Democrats on that vote.
"I see them as two totally unrelated issues that just happened to occur this week," said Collins, who is often a swing Republican vote in the Senate. "As far as the emergency declaration is concerned, I truly believe that this is the case where the Senate has to stand up for its constitutional responsibilities and institutional prerogatives."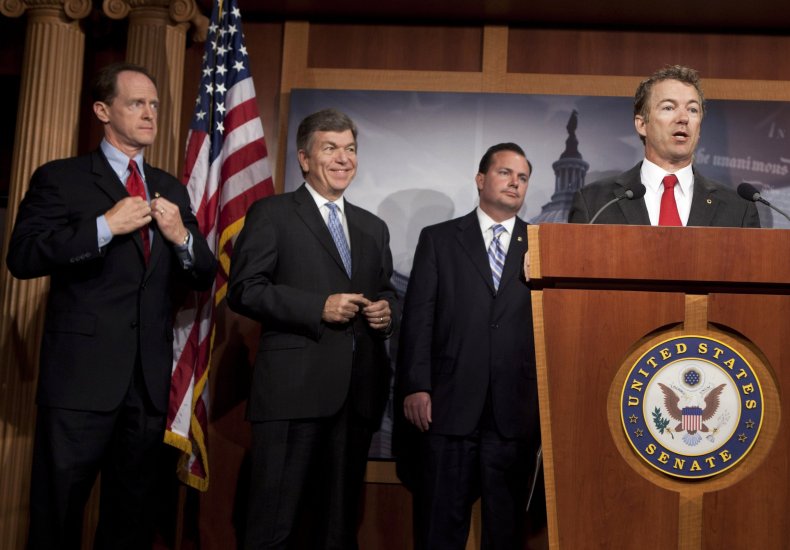 Congress does not have enough votes to secure a two-thirds veto-proof majority, leading the executive action taken by the president to likely be tied up in ongoing court battles for the foreseeable future. Trump is seeking a total of $8 billion for his wall: $1.375 billion appropriated by Congress, $600 million from the Treasury Department's drug forfeiture fund, $2.5 billion from the Defense Department's drug interdiction efforts and roughly $3.5 billion from Department of Defense military construction.
"I think the military construction projects we've already authorized are important, including the number in Ohio I mentioned," Portman told reporters. "We clearly have a [border] crisis and we have to address it. But there's a way to do it without creating this bad precedent, without having that funding tied up in courts and without having military construction projects at risk."
The number of Republicans who supported the termination of Trump's emergency declaration increased in the days and hours leading up to the vote, with Alexander, Romney, Moran, Blunt, Lee, Portman and Rubio being last-minute additions. The twelve GOP senators who defected to vote with Democrats disagreed it was about rebuking Trump, highlighting their belief that the declaration was simply outside a president's constitutional authority.
"I hope the only signal it sends is that there are some of us who view our oath to the Constitution in the way that I view it," Alexander told reporters, who said Trump urged him to vote his conscience during a two-hour meeting with the president on Wednesday. "It's not appropriate for a president to ask for money, Congress decides what to spend and then the president spends the amount he wants anyway under the National Emergencies Act."
Blunt, the fourth top Senate Republican and a member of leadership, said that while "it may sound" like a personal rebuke, it wasn't.
House Speaker Nancy Pelosi suggested last month that the next time a Democratic president was in office, they could use Trump's precedent to bypass Congress and delcare a national emergency on gun violence.
"I was aggressively opposed to the Obama administration's attempts to circumvent Congress's appropriating authority to prop up Obamacare," Blunt said in a statement after the vote. "The same principal should apply, regardless of which party occupies the White House."
As a result of their opposition to Trump's unilateral move, Senate Republicans have already shown support for amending the National Emergencies Act to curtail the power of future emergency declarations. Spearheaded by Lee, a new measure would automatically terminate a president's national emergency declaration after 30 days, unless approved by Congress.
"I think the basic premise of Mike [Lee's] bill is correct," Moran said. "The way to do it constitutionally is to let the president declare an emergency, allow it to run 30 days, unless you have a vote of approval."
Moran said the proposal is still in the works and wants the White House's input.