Senator Bernie Sanders Laughs Out Loud After Trump Praises Australia's Universal Health Care System, Will Quote Him in Senate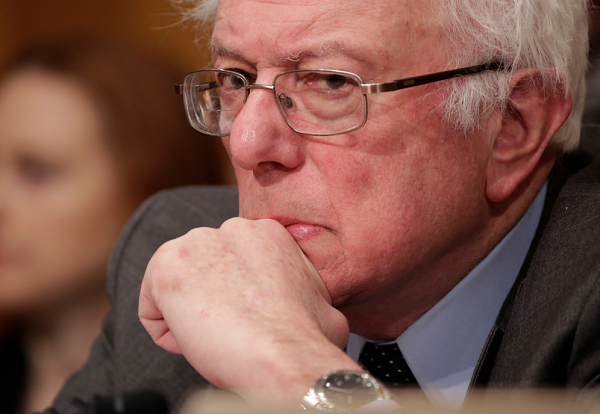 Senator Bernie Sanders said he would use President Donald Trump's own words against him to debate the GOP health care bill in the Senate after the president praised Australia's universal health care system Thursday.
Following a tight vote in the House for a bill to repeal and replace Obamacare, Trump met with Australia's Prime Minister Malcolm Turnbull in New York Thursday evening.
Read more: Why did 20 Republicans vote against Donald Trump's American Health Care Act?
"The deductibles are going to come down. It's going to be fantastic health care. Right now Obamacare is failing," Trump said as he sat with Turnbull aboard the USS Intrepid after his fresh Congressional win. "We have a failing health care—I shouldn't say this to our great gentleman, my friend from Australia 'cause you have better health care than we do."
Trump's statement made Vermont Senator Bernie Sanders laugh out loud during his appearance on MSNBC's "All In with Chris Hayes" late Thursday.
That's because Australia's health care system offers publicly funded universal health coverage for all Australians. The Medicare system brought in by the Australian government in 1984 pays for visits to general practitioners and other medical practitioners, subsidized prescription medicines, and hospital treatments.
Under the American system, most people pay insurance premiums monthly to be covered for these medical services. Those with pre-existing conditions like cancer or depression will pay more because they are at greater risk of needing those services.
"The president has just said it! That's great. Let's take a look at the Australian health care system," Sanders said. "Maybe he wants to take a look at the Canadian health care system, or systems throughout Europe," he added. "Let us move to a Medicare for all system that does what every other major country on Earth does, guarantee health care to all people at a fraction of the cost per capita that we spend."
Canada's health care system is similar in many ways to Australia's one. This year Canadian provinces will receive $37.1 billion CAD ($26.9 billion USD) from the country's federal government to pay for their health care system.
According to data from the Organization for Economic Cooperation and Development (OECD) health care costs in Canada rose from $4,100 per capita in 2009 to $4,600 in 2015. In the United States, on the other hand, both public and private costs rose from $7,680 to $9,450 per capita.
Democrats, and more than a handful Republicans, say Trump's health care plan will leave millions of Americans without insurance and raise private costs for those with pre-existing conditions. The plan's $880 billion cut to the public Medicaid program to insure low-income Americans will leave 14 million additional people without insurance by 2018, according to Congressional Budget Office projections. In 2015, approximately 28.4 million Americans under the age of 65 were uninsured.
The bill is set for revisions in the Senate under Republican majority leader Kentucky Senator Mitch McConnell. While it is "an important step" to repeal President Obama's health care law, "Congress will continue to act on legislation to provide more choices and freedom in health care decisions," he said.
Sanders meanwhile emphasized that he will use the president's praise of Australia's universal health care to debate Republicans when the bill arrives in the Senate. "Thank you Mr. President ...Thank you Mr. President. We'll quote you on the floor of the Senate," Sanders said.