Senator Blasts Ted Cruz's 'Magic Money Tree' Comment About Stimulus Talks: 'It's Not a Godd**n Joke'
Two senators from opposing political parties criticized each other's comments about ongoing pandemic stimulus discussions in an exchange shared with their Twitter followers on Monday.
The interaction began when Massachusetts Senator Ed Markey, a Democrat, posted his idea for the next round of economic aid on Twitter. Every American should receive $2,000 each month until three months after the pandemic is over, he suggested in the tweet. Markey also said every American should receive a retroactive chunk of money equaling $2,000 per month since the pandemic first inspired shutdowns in March.
The proposal is part of a bill Markey introduced in the Senate in early May with support from California Senator Kamala Harris and Vermont Senator Bernie Sanders, both Democrats. The bill said Americans who earn $120,000 per year or less would be eligible to receive the monthly payments, but Markey's Monday post said the payments should go to "every person in our country."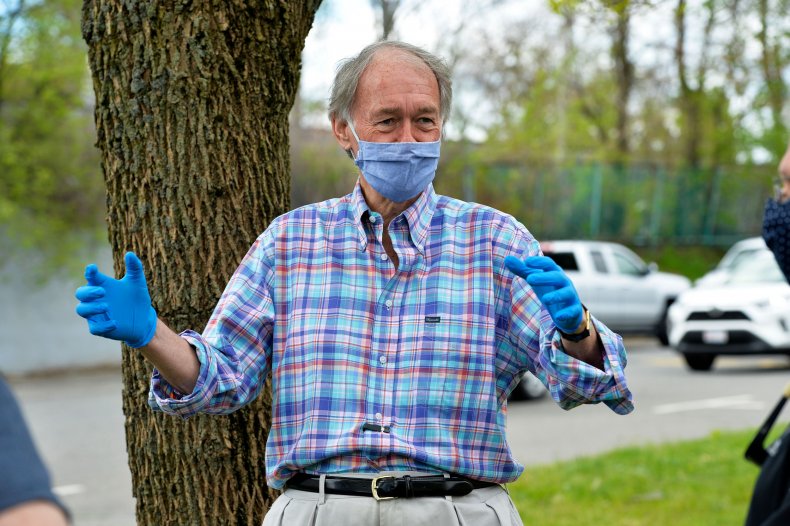 In response to Markey's tweet, Texas Senator Ted Cruz, a Republican, appeared to mock the idea. "Why be so cheap? Give everyone $1 million a day, every day, forever. And three soy lattes a day. And a foot massage," Cruz tweeted. "We have a magic money tree—we should use it!"
Markey quickly slammed Cruz's response in a new post on Twitter. "It's not a godd**n joke Ted." Markey's post said. "Millions of families are facing hunger, the threat of eviction, and the loss of their health care during a pandemic that is worsening every day. Get real."
Newsweek reached out to Markey's and Cruz's offices for further comment but did not receive a response in time for publication.
While lawmakers on both sides of the aisle have said they want to deliver more aid to American citizens before the summer is over, talks on what exactly a new stimulus plan will look like stalled as officials with President Donald Trump's administration and congressional Republicans disagreed with leading Democratic lawmakers in July and August. Monthly payments are among the ideas on which the parties disagree, though many have expressed support for one-time stimulus payments.
As discussions ended last week without any resolution on a new relief package from Congress, Trump took action over the weekend and signed a series of executive orders aimed at assisting those who are struggling as a result of the pandemic. One of the orders is expected to provide unemployed Americans with a $400 weekly unemployment benefits bonus, which was modeled after a similar $600 weekly bonus eligible workers received through the end of July as part of the Coronavirus Aid, Relief, and Economic Security (CARES) Act. Unlike that first bonus, U.S. states and territories must apply to receive federal support for those $400 checks, 25 percent of which their local unemployment programs must cover.
Though most states took steps to reopen their economies in May and June after the pandemic triggered business closures across the country during the spring, some governors were forced to reinstate restrictions this summer in response to rising infection rates, causing many businesses to close for the second time since March. By Monday, August 10, health officials reported more than 5 million COVID-19 cases in the U.S., according to data compiled by researchers at Johns Hopkins University.