Senator Calls Stimulus Deadlock 'Stupidity On Steroids' Amid Bipartisan Push for Checks Before Christmas
Democratic Senator Mark Warner called the ongoing stimulus deadlock "stupidity on steroids" on Monday amid a bipartisan push to deliver further relief to Americans before Christmas.
Eight months have passed since President Donald Trump signed the CARES Act and negotiations for a second stimulus package have been ongoing for more than five months with no deal in sight.
As Americans head into the holiday season with no financial support amid the worsening pandemic, a group of at least nine Senators from both sides of the political aisle have reportedly formed a group to push through a stimulus bill during the lame-duck session.
Warner confirmed that he was a member of the informal bipartisan group trying to break the stalemate in an appearance on MSNBC. "It would be stupidity on steroids if Congress didn't act before the holiday," the senator said.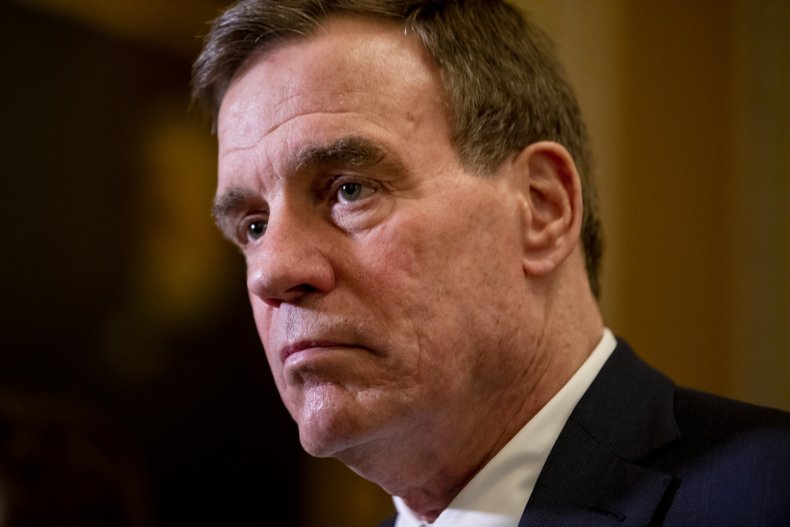 "The idea that people are going to lose unemployment before the holidays or be pushed out of apartments January 1st, or that we're not going to give adequate funding for testing or vaccine distribution, it would be the worst self-inflicted harm in recent times," he continued.
Warner believes that both sides of the political aisle must compromise to reach a deal. "The Democrats aren't going to get what they want with their $2 trillion plan, and clearly, the so-called skinny plan is not nearly enough to provide a bridge," he explained. Senate Majority Leader Mitch McConnell's $500 billion skinny stimulus proposal would not provide enough funds for a second round of checks.
The deadline to pass the next federal budget falls on December 11 and Congress must approve another spending bill by that date to avoid a government shutdown. Warner and the group's discussions include figuring out a way to get lawmakers to seize on the window to approve a stimulus package. However, given how far apart Democrats and Republicans remain in negotiations, most congressional lawmakers do not think the chances of that are very likely.
Both sides have agreed on another round of $1,200 checks earlier this year, so that would likely be included in the package. But Democrats have refused to budge on opposing Republicans' demand for liability reform, while the GOP doesn't want to include billions of dollars in aid to Democratic states.
If a package that includes checks is passed by December 21, Americans would likely be able to receive a payment by December 31.
McConnell and Senate Minority Leader Chuck Schumer both emphasized the need for additional relief on Monday. "There's no reason, none, why we should not deliver another major pandemic relief package," the Republican said. "We need a true bipartisan bill, not 'this is our bill, take it or leave it' that can bring us together," the Democrat added.
Warner's office declined Newsweek's request for further comment.