Senator Mazie Hirono (D-Hawaii) has warned that the Supreme Court could "nullify" Roe v. Wade now that conservative justice Brett Kavanaugh has been confirmed as the ninth member of the top judicial body.
Hirono told ABC's "This Week" on Sunday that she does not believe the Supreme Court will directly overturn the landmark ruling on the unconstitutionality of anti-abortion laws, but that lower-level judicial and legislative decisions will threaten the historic decision and its established precedent.
"The states are very busy passing all kinds of laws that would limit a woman's right to choose. It's those things that will go before Justice Kavanaugh," Hirono explained. "Even if they don't [overturn Roe v. Wade], they will nullify it pretty much," she said.
"I actually studied his cases, and I read his, particularly his dissents, which are very telling, very much against reproductive choice," the senator pointed out earlier in the interview.
After a bitter confirmation process, Kavanaugh was officially sworn in as the 114th Supreme Court justice on Saturday. The conservative judge faced national backlash and two FBI investigations over allegations of sexual assault brought forward first by Dr. Christine Blasey Ford, and then several other women.
Ford, a professor in California, accused Kavanaugh of sexually assaulting her while he was intoxicated at a high school party in the early 1980s. The respected academic testified in front of the Senate Judiciary Committee that she was "100 percent" certain that the justice was her attacker.
But the body, which has a Republican majority that has tended to support the rights of men over women, decided to move forward with Kavanaugh's nomination, leading to his confirmation by the Senate, which is also Republican controlled, this weekend.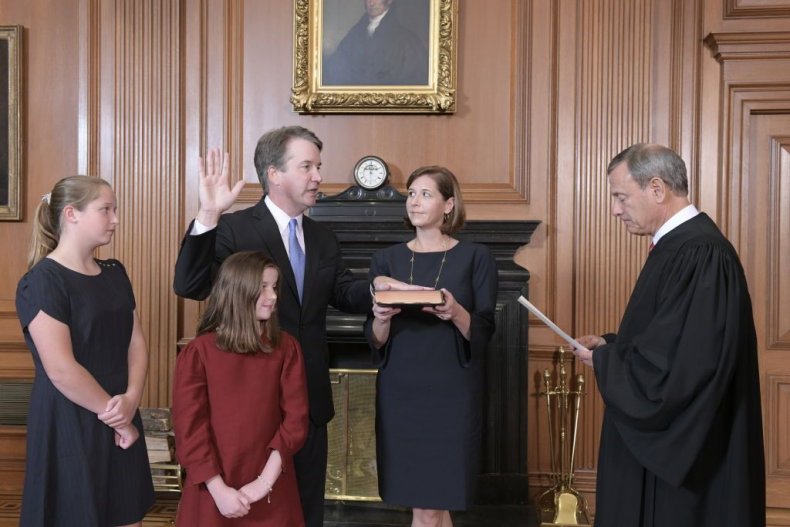 Although Kavanaugh has faced significant criticism for his opinions on abortion, he evaded a question during his testifmony before the Senator Judiciary Committee, saying he considers Roe v. Wade "settled law", The Hill reported -- a phrase that means little functionally.
White House adviser and political commentator Kellyanne Conway also appeared on "This Week," saying that any rulings about abortion will not overturn Roe v. Wade entirely. However, she suggested that the Supreme Court may hand down rulings that regulate and limit abortions.
"To be pro-choice in 2018 means that you are for sex-selection abortion, that you are for late-term abortion, tax-payer-funded abortion, abortion after the heartbeat or after non-partisan scientists say the baby can feel pain," Conway argued, using a series of talking points often cited by those on the right who oppose abortion.
"That is the issue here," she said. "Those cases will get to the Supreme Court one day."