Senator Says There Is 'Increasing Talk' That Mitch McConnell Should Recuse Himself From Impeachment Trial
A Democratic Senator has said there is "increasing talk" that Mitch McConnell should "recuse himself" from President Donald Trump's likely impeachment trial.
Sen. Sherrod Brown of Ohio told MSNBC on Tuesday that the GOP Senate Majority Leader had no "respect for the institution" after McConnell told reporters he was "not an impartial juror" and viewed the anticipated trial of the president as a "political process."
The Democratic senator also claimed his own biases against Trump were "immaterial" and said he would decided how to vote "based only on the evidence."
McConnell told reporters yesterday that there was "not anything judicial" about the impeachment process and called it a "political decision."
He said: "I think it's pretty safe to say in a partisan exercise like this people sort of sign up with their own side. I think we're going to get an almost entirely partisan impeachment. I would anticipate an almost entirely partisan outcome in the Senate as well."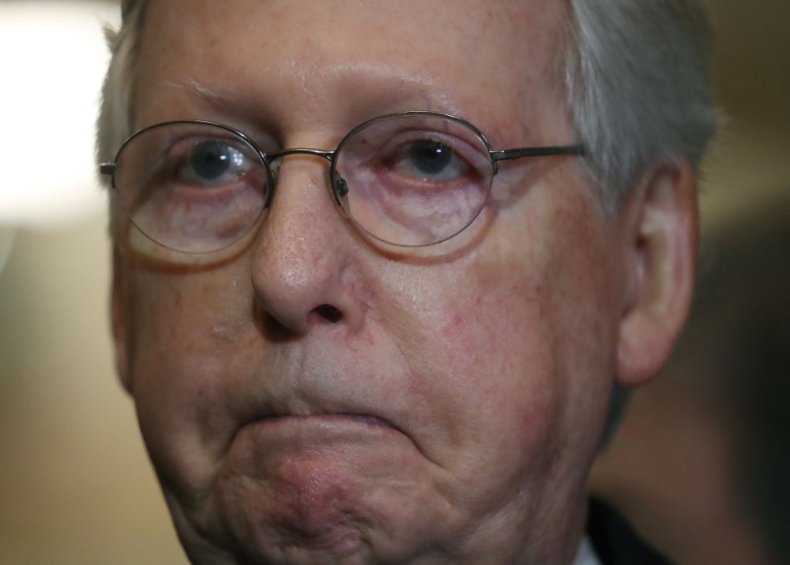 The Republican Majority Leader also told Fox News last week that he would coordinate President Trump's trial defense with the White House and believed there was "zero chance" of the commander-in-chief being removed from office.
Speaking about McConnell's statements on MSNBC's Meet the Press Daily, Sen. Brown said: "I'm not easily shocked by Mitch McConnell. Almost nothing he's done in his career has really shocked me."
He later said that McConnell "doesn't have respect for the institution" of the Senate, adding: "There is increasing talk that he should recuse himself from this trial, when we are supposed to sit their and judge the evidence."
The senator from Ohio accepted he had his own biases against President Trump, but called them "immaterial" and said he would make up his mind "based only on the evidence."
"All of us should be open," Sen. Brown said. "Maybe Trump will bring witnesses. Maybe he'll bring Mulvaney. Maybe he'll bring Bolton forward, and maybe he'll change our minds.
"I need to at least be open to that, that's what a juror does. Jurors are supposed to listen—not decide ahead of time."
Newsweek has contacted Mitch McConnell's office for comment.
The impeachment process is set to reach its height today, with the full House given a scheduled six hours of debate and a vote on the articles of impeachment brought against the president.
Politico reported that the vote on whether to impeach Trump will take place between 6:30pm and 7:30pm ET Wednesday after the House Rules Committee outlined the debate framework on Tuesday.
If a majority of House representatives vote in favor of the articles of impeachment charging the commander-in-chief with obstruction of Congress and abuse of power, he will face a trial in the Senate.
In an open letter to House Speaker Nancy Pelosi released by the White House yesterday, President Trump said "more due process was afford to those accused in the Salem Witch Trials" and dubbed the impeachment process "invalid" and "partisan."