John McCain Quotes: 15 Sayings to Remember the GOP Senator of Arizona
Former prisoner of war, one-time presidential hopeful and, at the end of his life, a major Trump critic. GOP Senator John McCain of Arizona, who died at home on Saturday, will be remembered in different ways by different people.
Seen as a hero and a true patriot by many Americans, McCain's legacy will continue long after his death. Here are 15 quotes to celebrate his life.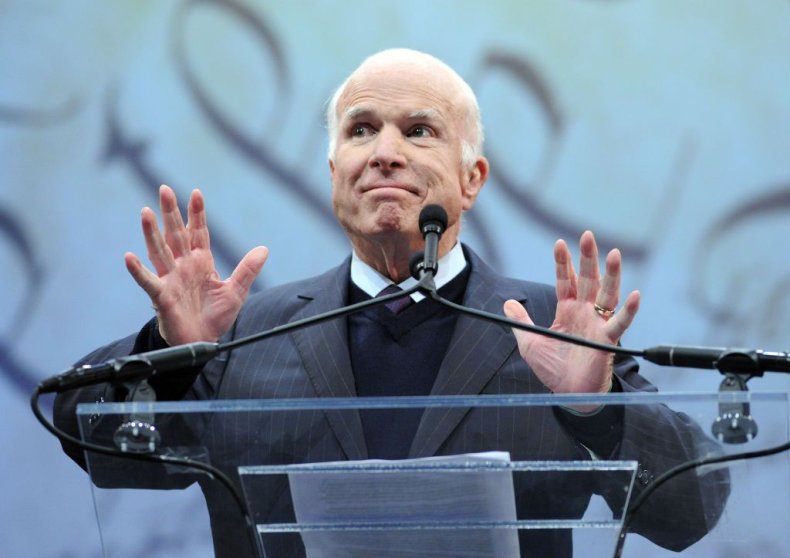 "In the real world, as lived and experienced by real people, the demand for human rights and dignity, the longing for liberty and justice and opportunity, the hatred of oppression and corruption and cruelty is reality."
"War is wretched beyond description, and only a fool or a fraud could sentimentalize its cruel reality."
"Our shared values define us more than our differences. And acknowledging those shared values can see us through our challenges today if we have the wisdom to trust in them again."
"Everyday, people serve their neighbors and our nation in many different ways, from helping a child learn and easing the loneliness of those without a family to defending our freedom overseas. It is in this spirit of dedication to others and to our country that I believe service should be broadly and deeply encouraged."
"Courage is the enforcing virtue, the one that makes possible all the other virtues common to exceptional leaders: honesty, integrity, confidence, compassion and humility."
"I fell in love with my country when I was a prisoner in someone else's."
"To argue against the global economy is like stating opposition to the weather —it continues whether you like it or not."
"I admire [President Barack] Obama, and I like him. I think he has a great deal of talent. He should be applauded for his eloquence and for his ability to motivate millions."
"I believe in evolution. But I also believe, when I hike the Grand Canyon and see it at sunset, that the hand of God is there also."
"Civic participation over a lifetime, working in neighborhoods and communities and service of all kinds—military and civilian, full-time and part-time, national and international—will strengthen America's civic purpose."
"America's greatest strength has always been its hopeful vision of human progress."
"Glory belongs to the act of being constant to something greater than yourself, to a cause, to your principles, to the people on whom you rely and who rely on you in return."
"Frankly, I would never accept an award from Vladimir Putin because then you kind of give some credence and credibility to this butcher, this KGB agent, which is what he is."
"Fear is the opportunity for courage, not proof of cowardice."
"Many good people mistake their reputation for their character. It is a mistake I have made many, many times."