Senator Joni Ernst Calls for Judiciary Committee to Get COVID Tests, While Lindsey Graham Refuses
With the confirmation hearings for Judge Amy Coney Barrett due to start on Monday, Senate Judiciary Committee member Joni Ernst (R-Iowa) has called for the committee members to be tested for COVID-19. However, some of her fellow Republicans on the committee have refused.
Ernst, speaking to reporters at a stop on her two-day "Joni's Ride Across Iowa" fundraiser in which the senator rides a motorcycle across her home state, said the committee members should be tested, according to the Des Moines Register.
"I actually do think that it would be smart to do that," Ernst said. "I hate to do [testing] without having reasons to do so, but I think if we're going to be working in close proximity over long hours it's probably not a bad idea."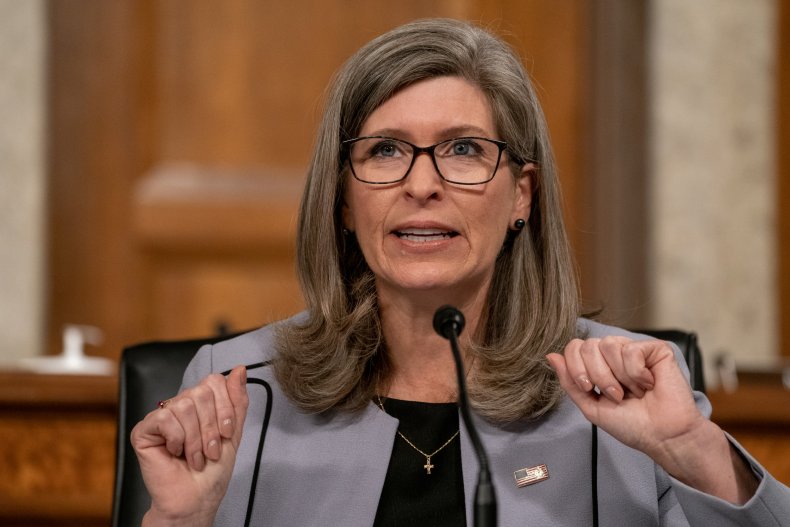 While Ernst pushes for testing, some of her GOP colleagues are not willing. Senator Chuck Grassley, 87, said last week he would not take a test, despite having a committee meeting with Utah Senator Mike Lee, who has tested positive for COVID-19. Grassley's office said that his doctors did not recommend tests, as the committee observed social distancing, and that Grassley did not sit next to Lee, according to the Register.
South Carolina Senator Lindsey Graham, the chair of the Senate Judiciary Committee, has also invoked his doctor in explaining why he won't take a COVID test. Speaking to WSPA-TV, Graham said that the hearing room would be set up based on the latest guidelines from the Centers for Disease Control and Prevention (CDC).
"Are you going to require that all of your coworkers be tested whether they need to or not? You can't make that requirement. If you did, it would break our economy," Graham said. "So we're going to run the hearing in a medically compliant way, but I'm not going to live my life differently than you have to live yours."
"I've got a letter from my doctor saying that I am CDC compliant, there's no reason to test me," he added.
Newsweek reached out to the CDC for comment.
A number of Republicans who attended the nomination ceremony for Barrett on September 26 at the White House Rose Garden have tested positive for COVID-19, including President Donald Trump, former New Jersey Governor Chris Christie and Judicial Committee members Thom Tillis (R-N.C.) and Lee. The event has been connected with at least 37 cases of coronavirus, according to Tableau Public, and has been called a "superspreader event."